For a company that analysts thought had long ago saturated the market, McDonald's (NYSE:MCD) continues to show why it's the best run quick-service restaurant chain in the world. Even as growth in the U.S. has stagnated over the past few months, the company was able to post an incredible 81st consecutive month of positive same-store sales growth in January. (Click to enlarge)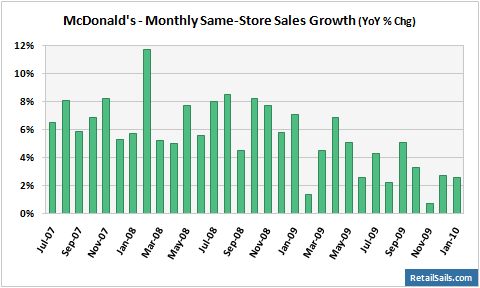 McDonald's reported an increase of 9.1% in systemwide sales for the month, while comparable sales were up 2.6% vs. the year-ago period. Excluding the effects of currency translation, total systemwide sales increased 4.3%.
"McDonald's continues to deliver great tasting, high quality food at an outstanding value to the growing number of customers we serve around the world every day," said Chief Executive Officer Jim Skinner. "As we raise the bar on our menu, convenience and value offerings, I am confident that we will exceed our customers' expectations again in 2010."
While the company appeared to be immune to the effects of a depressed consumer spending environment through most of the recession, growth in the U.S. has stalled over the past four months. Some of this weakness is no doubt due to extremely difficult prior-year comparisons and a consumer who is increasingly dining at home. However, we believe the dollar menu price wars with Wendy's (NYSE:WEN) and Burger King (BKC), as well as increased breakfast competition from the likes of Starbucks (NASDAQ:SBUX) and Dunkin' Donuts have started to take their toll.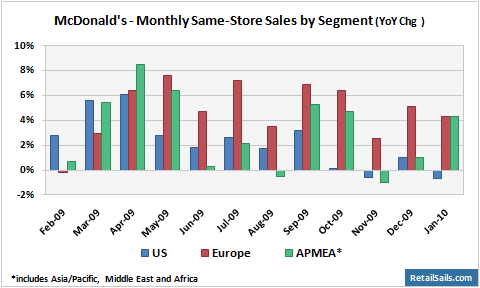 The weakness in the U.S. was more than offset by continued strength internationally, as comparable sales were up 4.3% in both Europe and APMEA (Asia Pacific, Middle East, & Africa). Total system-wide sales rose 15.5% in Europe (6.7% excluding F/X) and 15.2% in APMEA (7.2% excluding F/X) for January. The company announced plans to close approximately 430 restaurants in Japan over the next 12-18 months "in conjunction with the strategic review of the market's real estate portfolio." It expects to record after tax impairment charges totaling approximately $40 million to $50 million, primarily in the first half of the year.

McDonald's will continue to be challenged by competitors fighting to offer the best values, and at some point its incredible streak will come to an end. However, it has one of the strongest and most-recognized brands in the world, and we believe it will emerge from the recession as one of the clear retail winners.

Disclosure: No Positions