The latest rash of Internet superstars ranging from Google (NASDAQ:GOOG), to Facebook (NASDAQ:FB), and most recently Twitter (NYSE:TWTR) are all in the business of selling ads; we may not want them, but the alternative of paying for their services is akin to closing the barn door after the horse has bolted.
On the face of it business continues to run smoothly; Twitter is trading at a post IPO pop at over $45, the market continues to have an appetite for these companies even though many investors are wary. The contrary view is that all these companies are chasing the same advertising dollars, and while they may offer different products and services they're all competing against each other. To widen the scope further, it could be argued that Facebook et al. are all in the same business as print, television, and radio; they all sell advertising and are after the same clients. With all these companies chasing the same opportunity how will the new growth companies fare against the old guard?
The old guard are made up of Media Conglomerates, the following is a non-exhaustive list of which the new digital upstarts are fighting for advertising dollars:
Viacom (NASDAQ:VIAB) $15 Billion Revenue, $2 Billion profit
News Corporation (NASDAQ:NWSA) $34 Billion Revenue, $1.1 Billion profit (has since split into two companies)
Liberty Media (LMCA) $11 Billion Revenue, $2 Billion profit
CBS (NYSE:CBS) $14 Billion Revenue, $1.3 Billion profit
BskyB (BSYBY) $10 Billion Revenue, $1.9 Billion profit
Comcast (NASDAQ:CMCSA) $62.5 Revenue, $6 Billion profit
Time Warner (NYSE:TWX) $29 Billion Revenue, $3.5 Billion profit
Size of the market
U.S. advertisers are estimated to spend $171.01 Billion in 2013, this is a 3.6% increase from 2012 according to eMarketer, and is estimated to increase to $196 billion in 2017.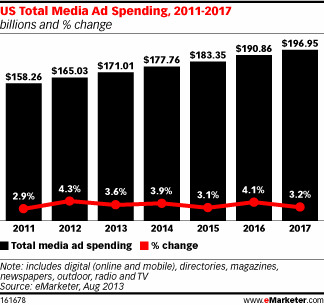 TV continues to capture the largest share of paid revenue, and this is predicted to continue. Digital media is set to reap the strongest growth to a projected $61.4 billion in 2017, of this over half will be from mobile, which correlates with the red hot mobile market that is set to continue for several years to come.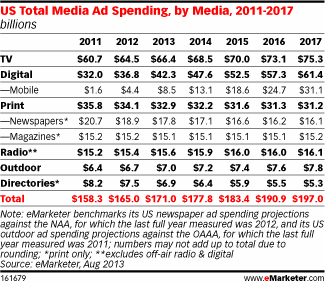 One clear sign that jumps out from this table is that traditional media is losing out, with the exception of TV: print, radio, outdoor and directories are all flat lining and in real terms, shrinking.
The following excel sheet breaks it down even further highlighting the growth and share from 2013 to 2017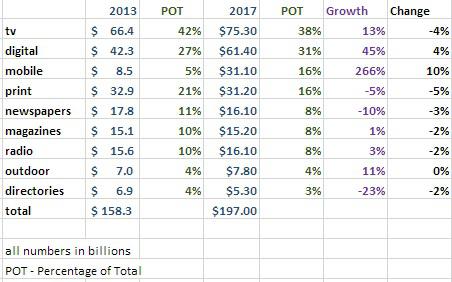 It shows digital with a healthy growth of 45%, and mobile with an even more remarkable 266% increase, Mobile is truly the place to be.
When viewed in this manner it becomes more understandable why companies such as Facebook and Google are willing to offer, reportedly, in excess of £3 Billion for Snapchat - a company with less than 20 staff.
Recent comscore data puts Instagram as the number 10 mobile app property in the US with a 25.9% reach, i.e. 25.9% of mobile users use the service.
Top 15 Smartphone Properties & Mobile Apps
September 2013
Total U.S. Smartphone Mobile Media Users, Age 18+ (iOS and Android Platforms)
Source: comScore Mobile Metrix

Top 15 Properties

% Reach

Top 15 Mobile Apps

% Reach

Smartphone Browsing + App Audience

100.0%

Smartphone App Audience

100.0%

1

Google Sites

90.0%

Facebook (Mobile App)

74.3%

2

Facebook

84.0%

Google Play (Mobile App)

53.9%

3

Yahoo! Sites

82.2%

Google Search (Mobile App)

53.2%

4

Amazon Sites

65.5%

YouTube (Mobile App)

49.6%

5

Apple Inc.

50.8%

Pandora Radio (Mobile App)

49.3%

6

AOL, Inc.

50.1%

Gmail (Mobile App)

44.9%

7

Pandora.com

49.6%

Apple App Suite (Mobile App)

44.2%

8

Microsoft Sites

46.5%

Google Maps (Mobile App)

43.0%

9

Wikimedia Foundation Sites

43.5%

Yahoo! Stocks (Mobile App)

30.9%

10

CBS Interactive

39.8%

Instagram (Mobile App)

25.9%

11

Turner Digital

38.1%

Apple Maps (Mobile App)

25.6%

12

eBay

35.3%

Yahoo! Weather Widget (Mobile App)

24.4%

13

ESPN

33.4%

The Weather Channel (Mobile App)

21.9%

14

Glam Media

33.0%

Twitter (Mobile App)

21.1%

15

Weather Company, The

31.0%

Facebook Messenger (Mobile App)

18.0%
*Apple App Suite includes iTunes, Apple App Store, and Apple Game Center
It's difficult to quantify exactly how much of the advertising spend the number 10 property could garner, but to illustrate I will put it at a conservative estimate of a 2% share, 2% of $31.1 Billion (projected mobile ad revenue in 2017) is $622 Million in revenue for Instagram alone, suddenly that $1 Billion price tag is looking like a steal. This could be calculated more accurately by looking at current ad revenues from Facebook and Twitter and trying to provide a more meaningful percentage as you look further down the chart. I haven't done this because Facebook is much further along in its advertising strategy and Twitter is still in the middle of ramping up and optimizing its advertising effort. Making this kind of calculation may be more worthwhile in several quarters.
Final thoughts
There is a large shift from traditional media to digital media and an even faster move to mobile advertising. Many analysts are calling some of the recent valuations of small Internet companies the signs of a bubble, but there really are tremendous profits available to any companies that take a meaningful slice of the mobile market. If Instagram hadn't sold out it could be sitting on a valuation in the same ballpark as Twitter's $20 Billion market cap.
In the past I've been of the opinion that all these mobile companies chasing ad revenue makes it difficult for continued growth, the figures don't bear this out. There is a big shift from traditional advertising to digital, which will lead to increased revenue, and profits for several years to come, and companies such as Facebook, which have already made significant strides in digital and mobile advertising, are well positioned to be leaders in this space.
Disclosure: I have no positions in any stocks mentioned, and no plans to initiate any positions within the next 72 hours. I wrote this article myself, and it expresses my own opinions. I am not receiving compensation for it (other than from Seeking Alpha). I have no business relationship with any company whose stock is mentioned in this article.