There's a growing trend in America that might surprise you - more households have pets than kids. Since 2000, the US population has grown over 10% while the number of households with children under age 18 has stagnated at around 38 million according to the most recent US Census data. A survey by US Today revealed that there are around 82.5 million households that claim some kind of pet, more than double than those with children. In fact, there are more households with just dogs than kids - 43 million.
The causes of this trend stem from a number of issues, from improved contraceptives, to a changing employment landscape, but one thing's for sure: people own more pets than ever before. According to data collected by the American Pet Products Association, Americans are expected to spend more than $55.53 billion on their pets this year, up from $45.5 billion in 2009. More than $27 billion is predicted to come from vet services and medications alone.
This makes PetMed Express (NASDAQ:PETS) potentially the right company at the right time for savvy investors. Drawing off of business models like 1-800-Flowers (NASDAQ:FLWS), PetMed Express operates as 1-800-PetMeds selling prescription and over-the-counter medications and other products for pets of all types, primarily through its website, where 80% of the company's sales are generated. Through their brand awareness, the company has over 7 million customers and offer medications at a considerable discount from standard vet services - as much as 20% in many cases.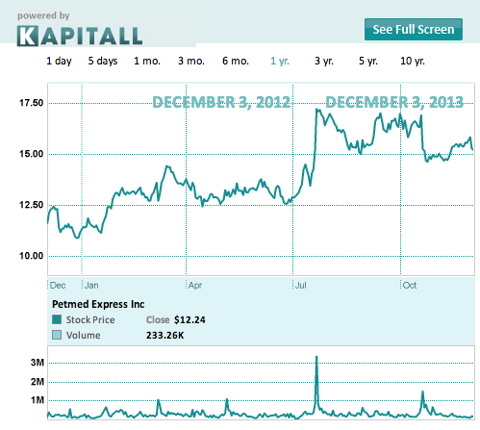 (Click for dynamic chart. Sourced from Zacks Investment Research.)
Pet owners spare no expense to help their best friends and trust PetMed Express to deliver the right products in a timely fashion. Reorder sales were up 5.3% for the second quarter, providing evidence of customer loyalty to the company brand. As the baby boomers retire, analysts expect even more to be spent on pets that provide comfort to an aging population.
PetMed Express is a growing company with an enviable financial position. The company carries no long term debt and has $51 million in cash and short term investments. The only debt it carries is $10.5 million to accounts payable. That has enabled the company to increase its dividend by 70% since 2009 and currently offers a hefty 4.4% dividend yield.
At a P/E of around 16, PetMed Express looks cheap compared to the pet services industry average of 21. The company is looking to expand its portfolio from pharmaceuticals into the pet supplies marketplace, allowing them to compete with the $7.7 billion dollar industry giant PetSmart (NASDAQ:PETM). PetMed's stock is up 45% year-to-date but has come back off its high and currently trades at about $15 - a good potential entry point for investors.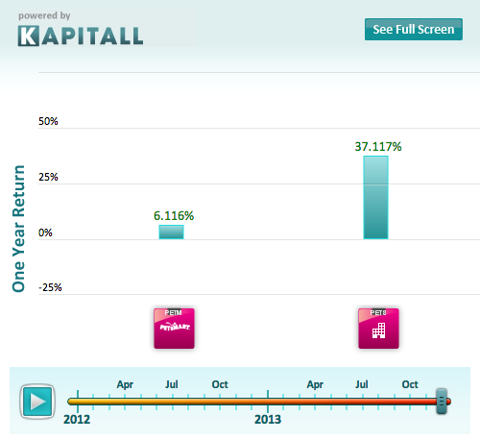 (Click to see returns over time. Sourced from Zacks Investment Research.)
PetMed Express could face pressure from PetSmart, who has a larger customer base and bigger advertising budgets. Increased brand awareness and expansion is essential for the company to prosper long-term. And a new competitor to the pet arena is Wal-Mart (NYSE:WMT), which recently launched its own online pet pharmacy. Plus online retail giant Amazon (NASDAQ:AMZN) already has a presence with health products and directly competes with PetMed Express for market share. Despite these obstacles, PetMed Express has the cheapest valuation based on P/E, strongest balance sheet with no long term debt, and biggest opportunity for growth based on its growing brand presence.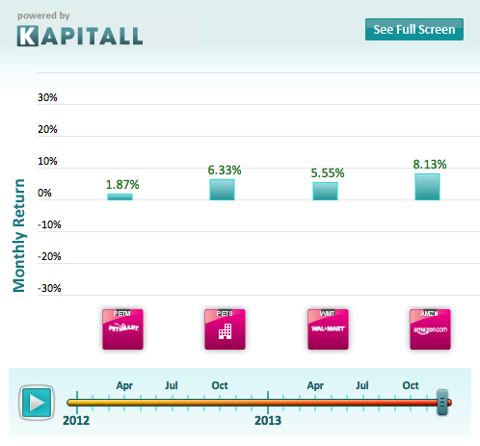 (Click to compare returns over time. Sourced from Zacks Investment Research.)
Disclosure: I have no positions in any stocks mentioned, and no plans to initiate any positions within the next 72 hours.
Business relationship disclosure: Kapitall is a team of analysts. This article was written by Daniel Cross, one of our writers. We did not receive compensation for this article (other than from Seeking Alpha), and we have no business relationship with any company whose stock is mentioned in this article.