In 2012 and 2013 we witnessed early signs of a turnaround in R&D product flow and going forward we can optimistically expect the end of a painful era of declining R&D productivity. The new product flow should accelerate from now onwards, as increasing critical mass of the "New Science" and a more balanced regulatory outlook under a strong FDA leadership are converging.
An evaluation of all key earnings driver for the Industry suggests that it is poised for high single growth over the next few years. We see the favorable forces outweighing the unfavorable forces to drive the industry on a growth trajectory. We see the new drug innovation to more than counter balance the pressure of patent expiry. Recent and expected new drug approvals over the next few years should add about $100b to the industry, while the sales loss due to patent expiration is estimated to be in the same range. Emerging and rest of world markets which currently comprise about 21 percent of the global pharmaceutical market will make all the difference for the industry. The emerging market continue to grow in mid teens and the size should double by 2018.
Favorable Forces
1) R&D / New Drug Innovation
Recent New Drug Approvals
Major Outcome Clinical Studies
Expected R&D Breakthroughs in select therapy areas
2) Austerity Measures to control costs
3) Emerging markets Growth Opportunity
4) Volume Expansion
Unfavorable Forces
1) Patent Expiry
2) Reimbursement Pressures
3) Biosimilars
Recent New Drug Approvals
The USFDA approved a record 39 new drugs in 2012, which is the highest over the last 16 years (since 1996). More important than the mere number of approvals, is the peak sales potential of these drugs. A large number of these new drug approvals are potential mega-blockbusters, and should turn around the fortunes of many companies.
The 39 novel drugs approved in FY 2012 includes groundbreaking treatment for a form of cystic fibrosis, the first human cord blood product ever approved, and the first drugs to treat advanced basal cell carcinoma (a form of the most common skin cancer) and the bone marrow disease myelofibrosis.
Among the 25 New molecular entities approved by USFDA in 2013 till date, there are many best in class and first in class treatments like Eliquis for atrial Fibrillation from Bristol-Myers (NYSE:BMY), Kadcyla for HER2+ve breast cancer from Roche (OTCQX:RHHBY), Tecfidera from Biogen Idec, Tivicay or Dolutegravir for HIV from GSK, Invokana a first in class SGLT2 inhibitor from Johnson and Johnson (NYSE:JNJ), Pomalyst from Celgene for multiple myeloma patients who have progressed on previous therapies, Dabrafenib and Trametinib from GSK - best in class treatment for BRAF+ve metastatic melanoma patients.
All of these drugs just discussed hold multibillion dollar sales potential.
Expected R&D breakthroughs in select therapy area
Since last so many years, innovation in the pharma Industry has failed to impress stakeholders (patients, physicians and investors), but in 2013, we saw a trend that continued investment in new science and R&D has begun to deliver. Proof of concept data on new therapies in disease areas like Breast cancer, Cardiology, Diabetes, Ophthalmology, Lung cancer and Melanoma was presented at major conferences. These upcoming treatments have shown breakthrough improvement over current standard of care and could potentially transform the quality of life of patients going forward.
1) OPHTHALMOLOGY - Fovista from Ophthotech (OPTH) is the first and only therapy to show disease modification and significant visual gain both in Wet AMD patients - A $3 - $6 billion product Opportunity
Age Macular Degeneration (AMD) is a disease characterized by progressive degenerative abnormalities in the macula of the eye, a small area in the central portion of the retina. and has long been recognized as the leading cause of severe and irreversible loss of central vision in adults over the age of 50. Wet AMD is a major unmet need as most patients fail to gain significant vision with monotherapy using an anti-VEGF agent (Lucentis / Eylea), the current standard of care.
The proof of concept data on Fovista when administered in combination with Roche's Lucentis (ranibizumab) demonstrated robust efficacy - The combination showed a phenomenal 62 percent benefit over Lucentis alone. Lucentis targets VEGF, Fovista targets a different growth factor, PDGF. Since both of them promote the abnormal growth of new blood vessels under the retina, they deliver a double-whammy to wet AMD.
Clinical Trial Data on Fovista
In the Phase 2b clinical trial involving 449 patients with wet AMD, Ophthotech's Fovista (anti-PDGF), administered in combination with Lucentis anti-VEGF therapy, met the pre-specified primary efficacy endpoint of mean vision gain. Patients receiving the combination of Fovista (1.5 mg) and Lucentis gained a mean of 10.6 letters of vision on the ETDRS standardized chart at 24 weeks, compared to 6.5 letters for patients receiving Lucentis monotherapy (p=0.019), representing a 62% additional benefits, which represents a paradigm shift in the treatment of wet AMD.
2) Lung Cancer and Melanoma - Anti-PD1 an immunotherapy that promises significantly longer Overall Survival for Melanoma and Lung Cancer Patients - > $10 b peak sales opportunity
Unlike traditional chemotherapy, which affects the entire body, immunotherapy drugs only tracks down cancerous cells thus improving safety and efficacy. Designed on the same lines is BMY's anti-programmed death (PD)-1 monoclonal antibody BMS-936558 or Nivolumab which has shown impressive activity in patients with melanoma, non-small-cell lung cancer (NSCLC), and renal cell cancer that has progressed despite standard therapy.
Early clinical data points to the ability of this new drug to produce durable response and thus may transform the life of cancer patients. Bristol Myers recently shared long term data on Nivolumab at the World Conference on Lung Cancer and the data suggests remarkable benefit as a monotherapy. The one year survival rate in heavily pretreated NSCLC patients was as high as 42 percent, and the two year survival rate was also as compelling at 24%. The data suggested a median overall survival benefit of 9.9 months. With about 50 percent of the patients enrolled in the study heavily pre-treated, the data is more than impressive.
3) SAR236553/REGN727 - PCSK9 ANTIBODY - THE NEXT BIG THING FOR CV DISEASE AFTER STATINS > $10 billion market opportunity
PCSK9 inhibitors are monoclonal antibodies directed against the protein PCSK9 which binds to LDL receptors on the liver. Phase 2 data presented this year at ACC Sanofi / Regeneron's SAR236553/REGN727 - PCSK9 Antibody demonstrated robust efficacy when added to statins. SAR236553/REGN727 over 8 to 12 weeks significantly reduced mean low-density cholesterol (LDL-C, or "bad" cholesterol) by 40% to 72% in patients with elevated LDL-C on stable dose of statins.
According to Dr Steven Nissen (Cleveland Clinic, OH), the likelihood that PCSK9 inhibition approach to cut LDL is likely to be successful in improving CV outcome. It has been found that patients with genetic deficiencies in Pcsk9 were healthy and had a significantly lowered risk of developing coronary heart disease.
PCSK9 are a new class of drugs and are administered by subcutaneous injection weekly. By not allowing binding of PCSK9 to the LDL receptor, the LDL receptor is recycled to the surface after endocytosis, thereby effectively up-regulating the removal of LDL from the bloodstream by the liver. These drugs are administered by subcutaneous injection weekly and in early trials have been shown to demonstrably lower LDL levels.
The role of PCSK9 in lipid metabolism was discovered a few years ago based on population studies. Genetic data have shown that patients with natural loss-of-function mutations in PCSK9 have significantly lower LDL-C and a lower risk of coronary heart disease.
At ACC last year, Sanofi (OTCPK:SNYNF) / Regeneron (NASDAQ:REGN) presented data on SAR236553/REGN727 from a Phase 2 dose finding study which enrolled 183 patients with elevated LDL-C (greater than or equal to 100 mg/dL) despite being on a stable dose of atorvastatin. The objective of the study was to evaluate the effect of adding SAR236553/REGN727 to existing statin therapy.
The data showed that treatment with SAR236553/REGN727 over 8 to 12 weeks significantly reduced mean low-density lipoprotein-cholesterol (LDL-C, or "bad" cholesterol) by 40% to 72% in patients with elevated LDL-C on stable dose of statins
In another trial which enrolled patients with primary hypercholesterolemia with elevated LDL-C (greater than or equal to 100 mg/dL) who were on a stable low dose of atorvastatin (10 mg) with an objective to compare the effect on LDL-C lowering of switching to a high dose of atorvastatin alone (80 mg) versus a high dose of atorvastatin combined with SAR236553/REGN727. Patients who received SAR236553/REGN727 plus atorvastatin 80 mg achieved a mean reduction of 73% in LDL-C, compared to a mean reduction of 17% for patients who switched to atorvastatin 80 mg alone (p < 0.001) after eight weeks. The study also included a third arm in which SAR236553/REGN727 was added to the stable low dose of atorvastatin. Patients in this arm achieved a 66% reduction in mean LDL-C. Patients in the study were followed for a total of 16 weeks for safety.
5) Metastatic Melanoma - Dabrafenib (BRAF Inhibitor ) and Trametinib (MEK Inhibitor) combination - Unprecedented 12 month survival benefit
Roche's Zelboraf (BRAF inhibitor) was approved for the treatment of metastatic melanoma patients with BRAF mutations in 2011. Although Zelboraf demonstrated robust PFS benefit compared to the standard of care dacrbazine, overall impact on Overall survival was not as robust as majority of patients quickly develop resistance to BRAF inhibitors.
In order to overcome this resistance, GSK has attempted a combination therapy (BRAF inhibitor + MEK inhibitor) that can help suppress development of resistance. Results from a Phase 2 trial evaluating the combination of Dabrafenib (BRAF inhibitor) and trametinib (MEK inhibitor) demonstrated the best PFS benefit observed from any therapy so far.
Results from the study showed 61 percent of patients, in the combination arm, to have reduction in risk, resistance and death, with prolonged response averaging 9.4 months.
Median follow-up was 14 months. Median progression-free survival was 9.4 months for the full-dose combination vs 5.8 months for the monotherapy arm (P < .0001), representing a 61% reduction in risk of disease progression. Median progression-free survival was 9.2 months for the arm using half-dose trametinib, which was also significantly better than monotherapy (P = .006). For every subgroup analyzed (based on age, sex, baseline disease stage, baseline LDH, and presence of brain metastasis), the full-dose combination extended progression-free survival vs monotherapy.
The most significant statistic from the study was an increase from 33 percent of patients reaching the 12-month survival mark two years ago to 79 percent of patients reaching that mark today.
New Drug Innovation - Growth Drivers 2013 - 2118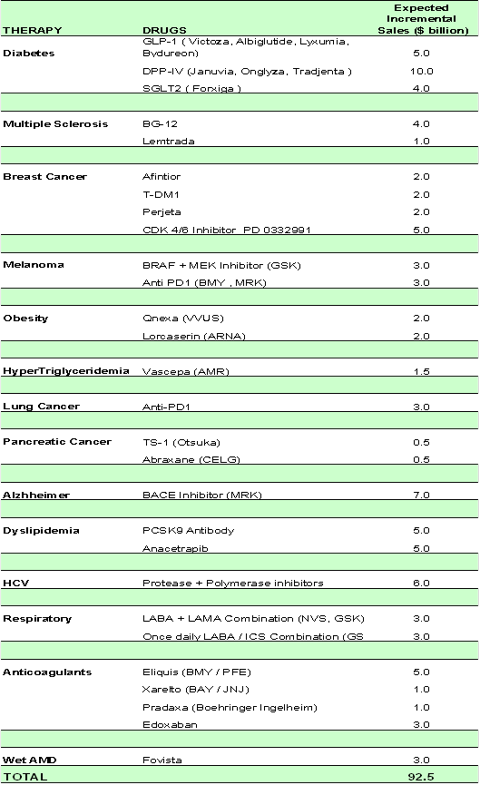 Patent Expiry Pressures
According to a report by Evaluate Pharma, the pharma industry will loose about $100b in sales to generic competition by 2018. While on the other hand, if we look at the projected sales addition due to ongoing innovation in various therapy areas and recent new drug approvals this should be much more than make up for the loss.
Conclusion
With breakthrough therapies across several therapy areas shaping up well in the late stage pipeline, we would see a rejuvenation of the pharma industry growth rates in the next five years. Large pharma names that are dominating this newly found R&D success include Bristol-Myers, GlaxoSmithKline, Novartis and Roche.
Austerity measures in the Europe have already hit the pharma stocks earnings and further downside is highly unlikely. Emerging markets continue to support the pharma industry growth and they continue to get only more important for the innovator pharma companies growth.
Disclosure: I have no positions in any stocks mentioned, and no plans to initiate any positions within the next 72 hours. I wrote this article myself, and it expresses my own opinions. I am not receiving compensation for it (other than from Seeking Alpha). I have no business relationship with any company whose stock is mentioned in this article.