Back in July (2013) I wrote an article on W.P. Carey (NYSE:WPC) and as I explained then I felt like the share price was getting "close to the top of the roller-coaster" and I was "feeling uneasy that the growth could continue." I went on to say:
The valuation has reached a point where there is not much of a buffer to protect against market fluctuations.
Since that article (over four months ago), Carey shares have fallen by around 10.9% while the dividend yield has increased around 15% or from 4.81% to 5.48%.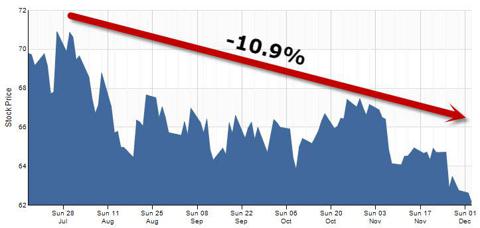 Last Friday Carey filed a Proxy stating that the stockholders of Corporate Property Associates 16 (CPA16) are to hold a meeting on January 24, 2014 to consider and vote upon a proposal to approve the merger with CPA16 and Carey. Back in July (2013) Carey announced the transaction and the company is now inching closer to completing the rollup in the first quarter of 2014.

I have always admired Carey, deemed the pioneer of the Sale/Leaseback structure, and the New York-based REIT has enjoyed extraordinary success building a globally-recognized Triple Net lease platform. Even within the broader Equity REIT Universe Carey has excelled at growing and maintain earnings (Funds from Operations). Carey is one of just eleven REITs that has paid and maintain annual dividends for over ten years.

The Proposed CPA:16 Merger
Carey intends to acquire CPA:16 early next year in a transaction valued at $4 billion, including pro-rata debt. The transaction is expected to be accretive to Adjusted Funds from Operations (or AFFO) per share and Carey anticipates that the transaction will allow it to increase the combined company's annualized dividend to a minimum of $3.52 per share.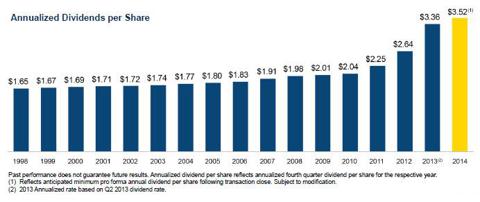 Carey's annual dividend growth has averaged 4.5% from 1998 through 2013 and the AFFO payout ratio was 79.4% (Q2-13). Carey's current dividend yield of 5.48% and in the lower third of the peer group.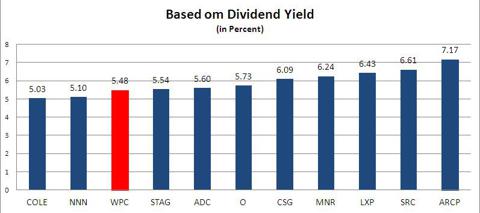 The proposed CPA:16 deal is a 100% stock-for-stock transaction whereby each share of CPA:16 will be converted into Carey common stock based on the following exchange ratio:
Floating exchange ratio and fixed $11.25 share price for CPA:16 with a collar 12% above and below a Carey reference share price of $69.42.
As a result of the collar, the exchange ratio will not exceed 0.1842 or be less than 0.1447.
Exchange ratio will be set using a volume weighted average price for Carey prior to closing.
As a result of the merger Carey is expected to have modest increased leverage (from 28% to 36%).
For Carey investors the CPA:16 deal improves the overall quality of earnings through increased diversification and continuing the shift in revenue mix towards stable real estate income. In addition, Carey will become competitive with the larger peers, notable American Realty Capital Properties (ARCP) and Realty Income (NYSE:O). Here's a snapshot of Carey's current market cap compared with the peer group:

CPA:16 was formed in 2003 and the current non-traded REIT portfolio consists of 494 properties leased to 140 corporate tenants. The company has over 47 million square feet with an average occupancy rate of 97%. The combined (merged) portfolio will consist of 734 properties and 231 tenants. With 86 million of square feet in 15 countries Carey will become a much diverse REIT with annualized rent of around $643 million.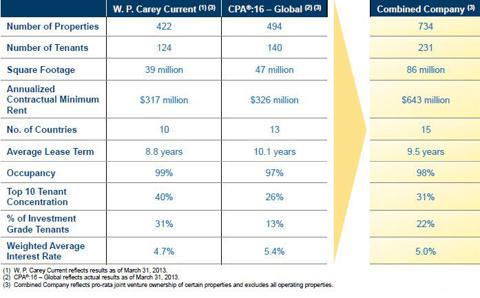 Here is a snapshot of Carey's global reach: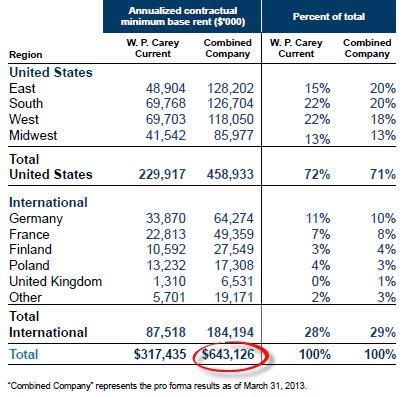 There is no other Triple Net REIT (than Carey) that has such International exposure. Here's a snapshot of the diverse geographic model: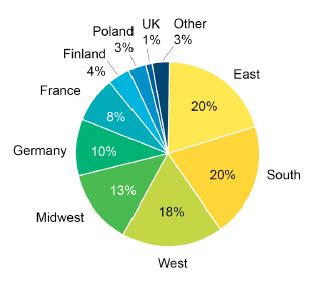 Here's a map of the combined geographically diverse portfolio: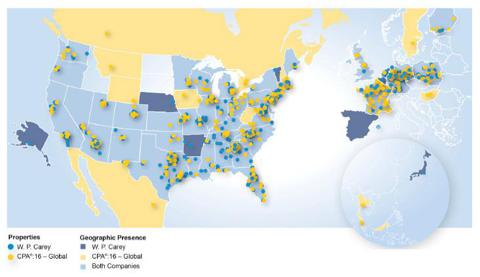 Carey is also well-represented with a variety of Industrial (30.2%), Office (23.3%), Warehouse/Distribution (18.4%), Self Storage (4.5%), Retail (13.3%), and Other.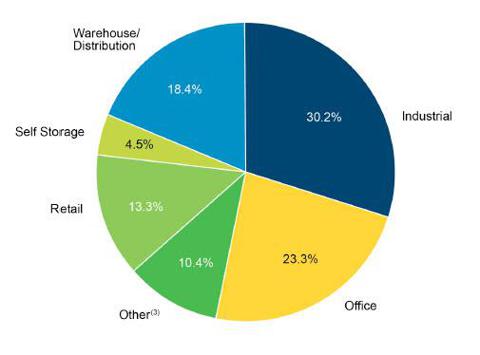 As noted, Carey's combined portfolio will include 231 tenants. Here is a snapshot of the diversification by Tenant Industry: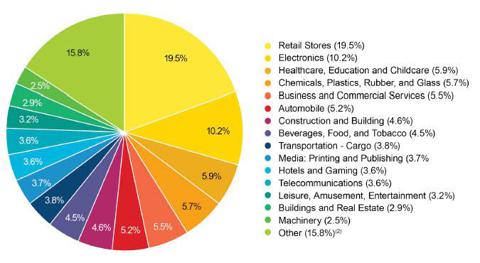 Upon merging with CPA:16 Carey's Top 10 Tenant diversification will be reduced from 40% to around 31% of annualized rent with only one tenant contributing more than 5%.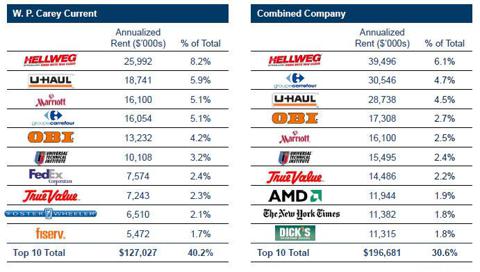 Somewhat Different Net Lease REIT
Carey is a unique Net Lease REIT with a larger percentage of uncapped CPI Leases than its peer group. Upon merging with CPA:16 Carey will have around 97% of leases with either fixed or CPI-based increases. Around 70% of Carey's leases have CPI increases and that is especially attractive since CPI leases adjust in periods of rising interest rates. Unlike most traditional net lease transactions (with fixed rent increases), the CPI leases offer significantly higher internal growth and defense against inflation.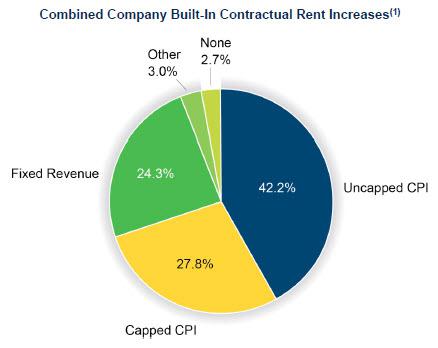 Also, upon merging with CPA:16 Carey will have fewer limited near-term lease maturities and the company's weighted average lease term will increase from 8.8 years to 9.5 years.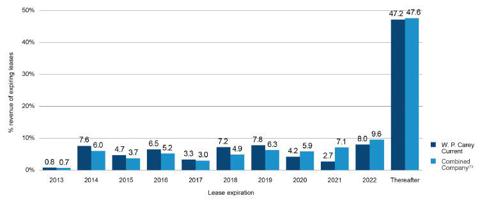 Another differentiator for Carey is its Investment Management business that has completed 14 prior non-traded REIT liquidation programs. This segment was Carey's original business, the one the founder Bill Carey established over 40 years ago as a pioneer in the concept of offering retail investors access to securitized pools of net lease assets. Unlike most of the other Net Lease peers (excluding COLE), Carey derives a solid stream of fee income from the Investment Management operation. Accordingly, Carey can access two distinct channels for equity capital versus only one for a typical public REIT.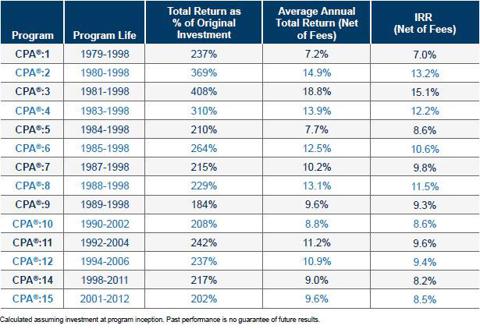 The Latest Quarter
In the latest quarter (Q3-13) Carey reported Adjusted Funds from Operations (or AFFO) of $1.03 per share for the quarter or $3.09 per share year-to-date. Also the company raised its annualized dividend by 2.4% to $3.44 per share, which represented the 50th consecutive quarterly increase. Here is what Carey's CEO, Trevor Bond, said on the earnings call:
Clearly, our #1 priority now is to close on our proposed merger with CPA:16, which we announced back in July and which we still expect to close in the first quarter of 2014. But of course, it is still subject to the approval of both W. P. Carey and CPA:16 shareholders. If the merger closes, however, it's our expectation that we would raise the dividend to $3.52 per share at a minimum. And aside from the benefits of scale and liquidity, that should obviously be the primary goal and litmus test for any merger.
Bond also pointed out that "growth and scale alone will enhance shareholder value unless it leads to sustained AFFO per share growth." He went on to say:
The cause-and-effect relationship between increased size and AFFO per share growth is not axiomatic nor do we think that size alone will result in a higher valuation for W.P. Carey. There are other necessary ingredients and those are what we're trying to focus on. Among those other ingredients are: first, conservative leverage and a predictable, reasonable cost of debt. ..Another important success factor is manage -- fostering management debt as well as maintaining and communicating clear alignment of interest between management and shareholders. Also we think our share value will grow if we continue to enhance the value of our wholly captive Investment Management platform. And finally, we think that the market will award higher multiples to the REITs that are able to demonstrate not just external, but also internal growth, which we intend to achieve in 3 different ways.
Is Now Time to Buy This Sale/Leaseback Pioneer?
As mentioned above, Carey is considered the pioneer of the Sale/Leaseback model and for those of you who aren't familiar with the term, "Sale/Leaseback", I wrote an article about it HERE.
One of the ways that Carey has been successful in growing its earnings consistently is by executing Sale/Leaseback transactions. During the latest earnings call an analyst asked Bond (the CEO) about the sustainability of the Sale/Leaseback model and Bond replied:
We think that as the economy continues to expand globally that you will have more companies that start to see sale-leaseback as an attractive alternative form of capital raise as opposed to debt, for instance. And we think that they'll have more confidence and more intention to actually utilize that because they'll have more of a need for it…And going forward, we think that the sale-leasebacks will be done by corporate owners in order to expand as well, particularly here in the U.S. So that's why I feel that the supply of opportunities will eventually expand and hopefully enough to accommodate the increased inflow of capital into the space. We're certainly seeing that abroad and we think it'll continue.
As I consider the history for Carey's well orchestrated Sale/Leaseback business, the FAST Graph below provides overwhelming evidence that the differentiated investment strategy is working well. I always like to show the less dramatic chart first, without the black price line. This illustrative Fast Graph reveals the stable dividend history (shaded aqua blue area) and the share growth (dark green area):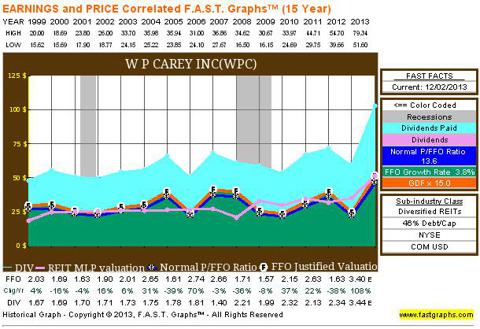 Now I will add the price line (black line) and you can see that prior to 2012 Carey was trading at a reasonable valuation range; however, in early 2012 the shares got expensive, much like the rest of the Triple Net Lease REITs.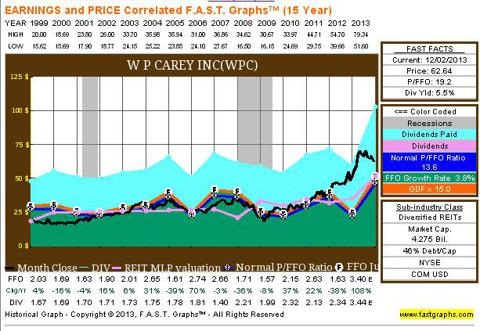 However, as I zoom in on the more recent period, I can see that Carey has become a much more attractive stock. As noted at the outset (of this article), the price of the shares have declined by around 10% and the valuation is now somewhat fairly valued. You can see the spike in growth in 2013 and that provides more cushion and less risk.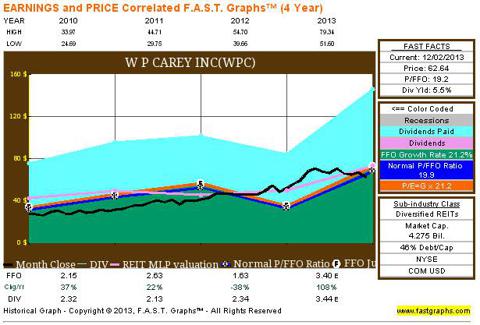 Now buy using FAST Graph's estimated earnings calculator I can forecast future growth and better predict the safety of the shares based upon 10 percent annual FFO growth. We already know that CPA:16 will provide meaningful accretion in 2014 that will remove considerable uncertainty as it relates to dividend safety.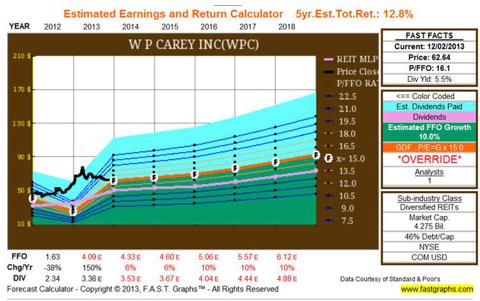 In summary, Carey is moving closer to my Target BUY range. I'm looking for an ENTRY PRICE of $60.00 and when and if I'm able to be a shareholder I intend to hold on for the "long run". Of course that was the founder, Bill Carey's mantra as often explained:
These returns demonstrate our success in fulfilling our most important corporate mission: Investing for the long run. Our aim is to help our investors build and maintain lifestyles, and have the resources they need to meet their obligations and achieve their dreams, without constant worry about where the income to fund will come.
Someone told me long ago never to use the words "should've, would've, or could've" however, assume that I would've invested $10,000 in W.P. Carey 15 years ago. What would I own now?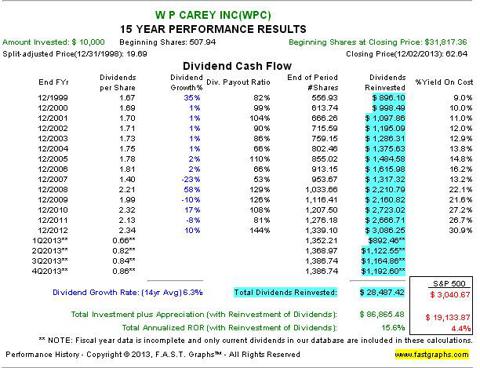 I would have $86,865 with an average annualized return of 15.6%. Not bad considering the outcome if invested in the S&P 500 would've been $19,134. Oh well.
Maybe this phrase is more fitting:
I shall invest…I will invest…and I can invest…in this Sale/Leaseback legend when the shares hit $60.00. Patience is the virtue...Remember, that's how I SLEEP WELL AT NIGHT.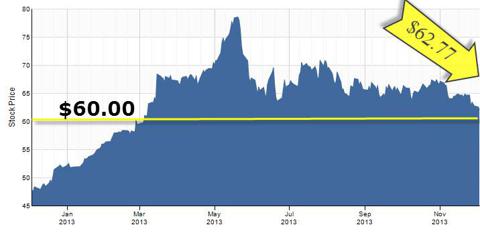 Check out my monthly newsletter, The Intelligent REIT Investor and my NEW 3D portfolio (coming in December).
Source: SNL Financial, FAST Graphs, and W.P. Carey Investor Presentation.
Disclaimer: This article is intended to provide information to interested parties. As I have no knowledge of individual investor circumstances, goals, and/or portfolio concentration or diversification, readers are expected to complete their own due diligence before purchasing any stocks mentioned or recommended.
Disclosure: I am long O, ARCP, VTR, HTA, CSG, DLR, UMH, ROIC, STAG, CBL, GPT, HCN. I wrote this article myself, and it expresses my own opinions. I am not receiving compensation for it (other than from Seeking Alpha). I have no business relationship with any company whose stock is mentioned in this article.