Oil prices continue to rally, with the catalyst today being two-fold. First it appears that the Saudis are set to keep the OPEC quotas in place and may even look to lower their production levels in order to offset increases in Iraqi and Iranian crude that those countries seem likely to produce above their quotas. Inventories also fell in the US, with a drop at the all important Cushing, OK, complex.
Natural gas prices continue to rise, but although we have seen cooler weather recently it has warmed up across the southeastern United States and elsewhere. We should see another large drawdown in storage figures for natural gas but think that with the higher temperatures we are seeing that $4/MMbtu might be closer to the near-term highs than many think. A pullback could be approaching the natural gas market in the next few weeks.
Chart of the Day:
Winter Storm Cleo is causing severe winter weather out West, however we have quite warm weather all up and down the East Coast, and it is the East Coast which has many of the country's large population centers. The first map below shows the current temperatures, and the second map shows the difference in current temperatures from normal lows. Looking at these two maps indicates to us that natural gas usage might be falling right now.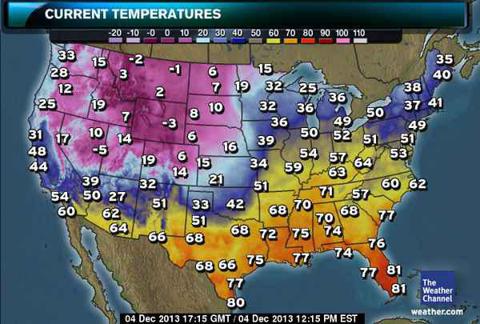 Source: Weather.com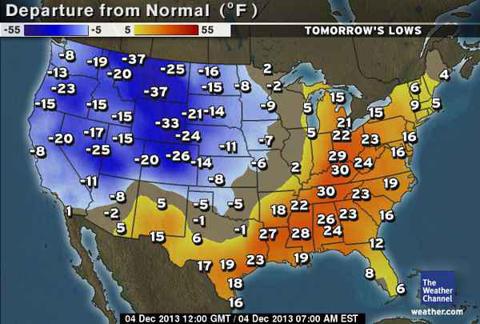 Source: Weather.com
Commodity prices this morning are as follows:
Gold: $1,226.20/ounce, up by $5.40/ounce
Silver: $19.29/ounce, up by $0.225/ounce
Oil: $96.82/barrel, up by $0.78/barrel
RBOB Gas: $2.7371/gallon, up by $0.0134/gallon
Natural Gas: $3.991/MMbtu, up by $0.015/MMbtu
Copper: $3.23/pound, up by $0.029/pound
Platinum: $1,362.30/ounce, up by $6.50/ounce
The Permian...
The Permian Basin continues to attract a lot of attention due to its various plays and oily nature. The liquids continue to be the most desired target in the industry and the Permian acreage is some of the best in the country with multiple benches and high liquids production.
There are a lot of names in the play which have performed well and become analyst favorites, but one name which we have been following more closely lately has been Clayton Williams (NASDAQ:CWEI) which saw its shares rise sharply yesterday after being upgraded at Global Hunter to a "Buy" from a "Neutral" rating and the firm's price target raised from $82/share to $100/share. Global Hunter believes that Clayton Williams' shares will continue higher as investors begin to appreciate their 100k acre position in the play and better understand the geology. Further, Clayton Williams is also believed to be an attractive takeover target for companies looking to enter the Permian's Delaware Basin, or add to their current land holdings. Global Hunter mentioned Concho Resources (NYSE:CXO), a $10 billion market capitalization company, as a possible name looking to add to their current acreage position and potential acquirer of Clayton Williams.
After yesterday's rally due to the upgrade and analyst comments, Clayton Williams finds its shares trading near 52-week highs.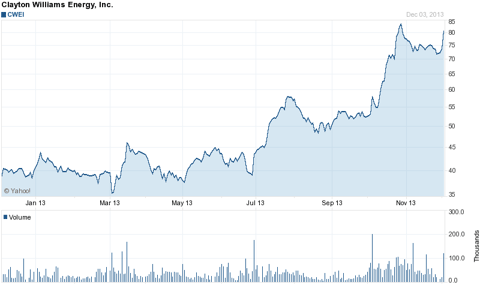 Source: Yahoo Finance
Our two favorite names in the area are Rosetta Resources (NASDAQ:ROSE) and Diamondback Energy (NASDAQ:FANG) which themselves will probably end up being takeover targets. In the meantime both companies have great acreage to develop and should benefit as investors rotate back into the sector. Another name readers might be interested in is Pioneer Natural Resources (NYSE:PXD) which is the big name in the area that possesses a kicker in an up-and-coming shale play elsewhere which is high in liquids content.
Disclosure: I have no positions in any stocks mentioned, and no plans to initiate any positions within the next 72 hours. I wrote this article myself, and it expresses my own opinions. I am not receiving compensation for it (other than from Seeking Alpha). I have no business relationship with any company whose stock is mentioned in this article.