The market and the economy has been through some terrible times over the past few years. This in turn has had a dramatic effect on share prices. Some share prices have bounced back, others have not. I have been looking at those companies with share prices that remain depressed and have sorted them into two groups:
Companies with a business that has fundamentally changed with the events of the past two years. For the purposes of this exercise, I am assuming this could be the reason why the share prices are depressed and may not return to their pre-recession levels. Therefore I have discarded them.

Those companies with businesses that remain fundamentally intact, but are suffering from the reduced economic activity that accompanies a recession. If these companies can survive the recession, then it may be a matter of "just add water" or in this case "economic activity" for their share prices to recover to pre-recession levels.
Many of the companies in this latter group are trading at 10%-20% of their pre-recession levels. If it took 5 years for the effects of the recession to dissipate and for the share prices to return to their pre-recession levels – it would still be a nice return. We can afford to be patient.
Over the next few weeks, I will make a few postings about some of the companies I have identified. I hope you find them useful and I would love to hear your comments if you think I am way off base.
To kick things off, let's start with TravelCenters of America (NYSEMKT:TA). It traded between $40 and $47 in mid 2007 and is now trading for between $4 and $5.
TravelCenters' business is fairly simple to understand. You have probably seen their convenience stores on the highway. They provide gas and food to travelers with a special focus on truckers. In fact, they have a whole range of services to make a trucker's life better ranging from the basics like showers to large-scale parking lots to truck repairs.
In a recession you would think the number of trucks on the road transporting goods would fall off and adversely affect a business like TravelCenters of America and you would be right. Here is what management said in their latest 10Q:
We believe the same site fuel sales volume decrease resulted primarily from a decline in trucking activity attributable to the significant decline in economic activity in the U.S. throughout 2008 and continuing into 2009, particularly the declines in the shipments of durable goods, including new home building supplies, as well as a decline in imports into the U.S. that are transported by truck combined with increased fuel conservation efforts by truck operators throughout 2008 and continuing into 2009 as a result of the historically high cost of fuel in 2008.

We believe the same site nonfuel revenue decrease reflects decreased customer traffic in our travel centers as a result of many of the factors affecting our fuel sales volumes, and also resulted because our customers have reduced discretionary spending as a result of the recent U.S. economic recession.


These comments ring true to me. Encouragingly, things seem to be improving. Their year to date volume reduction was 10.4% compared to only3.6% for the September quarter:
On a same site basis for our company operated sites, fuel sales volume decreased by 159.5 million gallons, or 10.4%, during the nine months ended September 30, 2009, compared to the same period in 2008.
Versus
On a same site basis for our company operated sites, fuel sales volume decreased by 18.0 million gallons, or 3.6%, during the three months ended September 30, 2009 compared to the same period in 2008.
Recent reports from trucking companies like Con-way (NYSE:CNW) indicate that they are also seeing volumes increase:
The demand environment in the Truckload segment also appears to be strengthening. We saw an unusually strong amount of activity in December and the January bid cycle showed firming in pricing with some early bids coming back with low single digit increases. A number of signals would seem to indicate that a recovery is beginning to take hold in the truckload market. After what we've been through in the last year, that's very encouraging.
If other trucking companies are experiencing similar improvements in activity, then that can only be good for TravelCenters of America. If trucks are moving, they need fuel, servicing, and repairs. Their drivers need food and drink.
You might want to do some further due diligence by looking at comments from other trucking companies like YRC Worldwide (NASDAQ:YRCW), Fedex (NYSE:FDX), United Parcel Service (NYSE:UPS), etc. For me, I am satisfied that the recession would have caused a significant drop in business and that the business will probably come back as the economy recovers.
The next question is, can TravelCenters of America survive until the economy does recover. The good news is that over the past three quarters the company has reported – the cash flow has been about break even.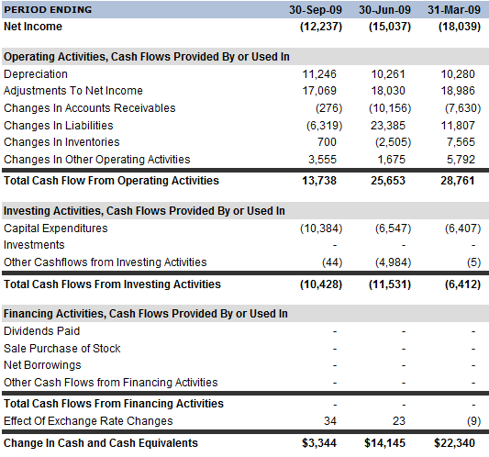 The screenshot from Yahoo shows a combined $40 million positive cash flow over the 3 quarters. But there are two adjustments you need to make:
Add $5 million capital they invested in a related insurance company, and

Subtract $45 million in rental payments they deferred (This rent was expensed on the P&L, but the payment was deferred under an agreement with the landlord. I will discuss this rental deferral further below)
Make those two adjustments and you end up with an adjusted Net Cash Flow of zero through what has been a terrible economic time. If they were not burning cash during 2009, then I think they can hang on till the recovery arrives. It also makes them profitable.
Another strength of the company is its cash position. TravelCenters had $185 million in cash on its balance sheet at the end of September. $90 million of that is earmarked to pay the deferred rent referred to above by July 1st 2011. So a more realistic cash figure after deducting the payment of the deferred rent is $95 million (compare this to the market capitalization of around $80 million).
Some people see this deferred rent liability as a major negative, but I do not because it appears they can afford to repay it when due. In fact, I view this "rent deferral" arrangement as a positive because it shows they have a supportive landlord.
I had a look at their competitors to see if there were any major changes that would negate the benefits of a recovery. The wildcard is the bankruptcy of a competitor called Flying J Inc. and what will become of its business. Other competitors include Pilot Travel Centers (who may purchase Flying J), Loves Travel Stops, The Pantry (NASDAQ:PTRY), and Susser (NYSE:SUSS).
My view is selling gas and diesel will always be a highly competitive business. I do not think this fact has changed since the company's shares traded at $47 in mid 2007 and I do not expect it to change in the future. Therefore it does not adversely affect my belief that as a recovery comes to the economy, a recovery may come to the share price of TravelCenters.
Other Possible Weaknesses to be aware of
Percentage payments based on revenue or gross profit.
The company has a number of arrangements where it has to pay a royalty or management fee based on certain revenues or profits. An example might be the fast food franchises like Subway and Popeye's Chicken (AFCE) that operate in some of their centers. Paying these franchisors a percentage of gross is standard business practice. In fact, these fast food brands could encourage people to pull into the travel center. You need to decide if you think the negative is offset by the positive.


They do not own their travel centers
The company has long term leases on their travel centers from what appears to be a supportive landlord. When it comes down to it, they are a retailer of gas, diesel, food, etc. Most retailers rent their real estate – so this does not concern me overly.
This is something I would like to see cleaned up as it is too complicated to make the true motivations of all parties transparent. This quote from their 10Q says it all:

We were formerly a 100% subsidiary of Hospitality Trust and currently Hospitality Trust is our principal landlord and owns 1,540,000 of our outstanding common shares. One of our Managing Directors, Barry Portnoy, is also a Managing Trustee of Hospitality Trust and is the Chairman and majority owner of Reit Management & Research LLC, or Reit Management, our management and shared services provider. Thomas O'Brien, our other Managing Trustee, and our President and Chief Executive Officer, is also an executive vice president of Reit Management. Andrew Rebholz, our Executive Vice President, Chief Financial Officer and Treasurer, is a senior vice president of Reit Management. In addition to providing services to us, Reit Management also provides services to Hospitality Trust. As of September 30, 2009, we owned a 16.67% share of Affiliates Insurance. The other shareholders of Affiliates Insurance Company are Reit Management, Hospitality Trust and three other companies to which Reit Management provides management services, and all of our Directors are also directors of Affiliates Insurance.
All three of these possible weaknesses were there in mid 2007 when the shares traded at $47. So if we are comparing like with like, they cancel each other out anyway.
Conclusion
Some questions to ask yourself are:
Will people continue to need to stop on the highway to buy fuel, food, and services?

If so, are the volumes likely to recover to the mid 2007 levels?

If so, is there any reason why TravelCenters would not also recover to those mid 2007 levels in the long term?

If you paid $5 for a share today, would you be happy with the return on your investment if the price grew to $20 or $30 or $40 over the next five years?
I hope you find this an interesting prospect. Do the research yourself to determine if this company should be part of your portfolio.
Disclosure: Long TA