"The best time to invest is at the point of maximum pessimism" - John Temple
Or to put another way "Buy low sell high". As we've said before, easy to say, much harder to do in practice.

Firstly, a mindset of speculation is needed as this is long term investing. Capital that can be locked away for a period of years should be used. We then look for long term value opportunities; or where in the world would the average investor dare not tread?

At the moment the Greek stock market is a probable candidate. Yes, it would be a brave man to even contemplate "walking on to the floor" of the Athens stock exchange and announcing, in a loud deep voice, "I am a buyer".

But if you want to find deep value then this represents an opportunity. The price to book value of the average stock listed on the Athens exchange is a mere 0.890! One could argue all they like about the level of growth and earnings but when we see a nation's stock market trading well below book value we see long term value!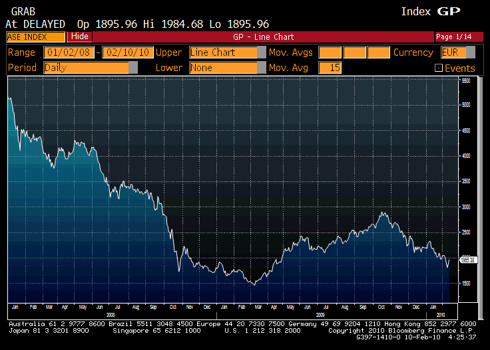 Apart from futures on the FTSE/Athens 20 Future, the best way to get access to the Athens stock exchange is via the Lyxor MSCI Greece ETF that trades on Euronext (code GRE).

Disclosure: Long GRE FP Equity