By David Urani
New home sales were encouraging, with October posting a 444k annual rate versus the 425k consensus. That represents a 22% increase over last year and a nice rebound after a recent lull. At this level, we're right back below the April high of 446k. Significant rebounds were seen in all regions during the month, with September having shown a decline in all regions.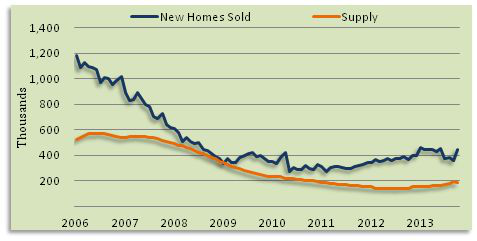 It's certainly likely mortgage rates helped out, with the 30-year having fallen from 4.32% at the end of September to 4.10% by the end of October (and from more than 4.5% at the beginning of September).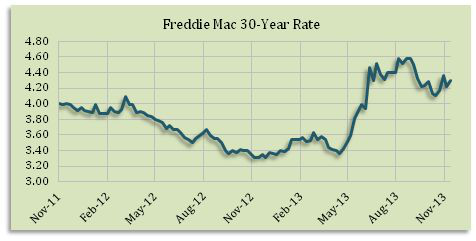 Inventory also slipped for the first time in eight months, by 3.7%. Overall, supply continues to be quite low at just 183k units, which represents a 5.3-month supply at current sales rates and that should continue to be supportive of home values.
Yet homebuilders aren't catching a break today, with the Dow Jones US Home Construction Index actually down slightly, which is likely because of that pesky treasury yield rising back to its highest rate since September. As always it seems to be the case these days; good economic data means Federal Reserve taper comes sooner rather than later, which means higher mortgage rates. It's that same vicious cycle for homebuilders lately.