When we talk about leading wireless service providers in the US the first name that comes to mind is Verizon (NYSE:VZ). The company is popular and has been in the limelight because of its multi-billion dollar deal to acquire the 45% stake of Verizon Wireless previously held by Vodafone (NASDAQ:VOD).

Year to date Verizon's stock has earned 14.68% and has outperformed the second largest wireless service provider AT&T. The share price of smaller companies in the industry was very volatile as was the case with T-Mobile and this company outperformed Verizon.
Before going into the discussion of prospects and forecasts I will highlight the company's historical performance to support my analysis.
Company History
During the third quarter of fiscal year 2013 the company's wireless segment managed to post revenues of $20.4 billion reflecting an increase of 7.2% year over year. Out of this total revenue figure $17.5 billion were service revenues that increased 8.4% compared last year's results.
The company successfully increased its retail postpaid average revenues per account to $155.74 per month reflecting an increase of 7.1% compared to the third quarter of fiscal year 2012.
The operating income margin and EBIDTA margin on service revenues were 33.8% and 51.1% reflecting an increase of 200 and 110 basis points, respectively.
The wireless segment has done reasonably well in terms of its operations. Verizon wireless successfully added 1.1 million new connections, 927,000 of which were retail postpaid connections. Most noticeably all of these new additions were organically sold.
In addition to the wireless segment during the third quarter of fiscal year 2013 consumer revenues from the company's wireline business were $3.7 billion reflecting an increase of 4.3% compared to last year's results. Consumer average revenue per account was $112.86 per month reflecting an increase of 8.7% year over year. The main contributor to this segment's revenue was its FiOS business. FiOS' revenues grew 13.4% to $2.8 billion during the third quarter of fiscal year 2013.
During the third quarter the operating margin of this segment was 1.6% and up by 120 basis points from last year.
Therefore, we can infer that the company is experiencing reasonable top line growth while maintaining operational efficiency.
Opportunities in the Market and Verizon's Preparation
According to research conducted by Ericsson, smartphone data usage will reach 10 Exa-bytes by the end of 2019. This increased data usage means a big growth opportunity for cellular service providers with the capability of managing high data traffic and widespread cellular coverage to increase their average revenue per account as well as increasing the number of new subscribers.
Investors know that company has dedicated an immense amount of capital to network deployment and upgrading during the past several years. Now the company is very much capable of handling large inflows of data.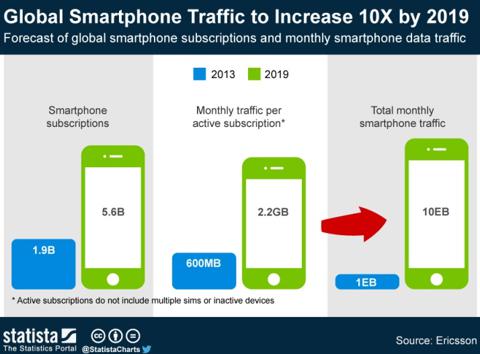 Moreover nowadays data usage is not only restricted to cell phones. The demand for other domestic and commercial devices with wireless connectivity is also becoming popular. TIA forecasts the spending on M2M technologies will cross 30 billion by 2016.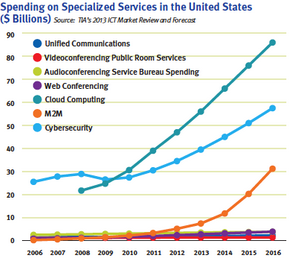 Verizon is very well aware of this trend and the company is aggressively working to develop and market these M2M products and services. Once successful, Verizon will also be able to capitalize on this growth opportunity.
Moreover, with innovation and a shift towards wireless connections the company's wire line business is expected to suffer in the coming future. Keeping in mind the changing trends, Verizon has increased its focus on growing its wireless business.
Projections
According to the data release by CITA, wireless penetration in the US reached 102% so we can infer that revenues will be increased either by offering differentiated services to attract the current users of other service providers or a cost leadership strategy.

In the table presented above I have forecasted the revenues, increase in interest expense, net income and net margins by incorporating a number of assumptions and estimations.
To forecast the revenues I have taken into account the anticipated increase in average revenue per subscriber, contribution of revenues by FIOS plus growth, anticipated increase in new subscriptions of cellular services, growth in revenues from providing enterprise services to corporations and estimated decline in overall wireline subscribers.
However, while forecasting the interest I have been quite conservative. I simply increased the interest expense with the estimated incremental interest charges to account for the effect of the recent acquisition deal.
In my calculation of net income, I have incorporated the effect of increased capital spending on replacement of copper wire with optical fiber as well as the effect of top line growth.

Moreover, I have also presented the projections of two major business segments with the assumption that in the upcoming period the revenue contribution of the wireless business will grow at a greater rate compared to the wireline business.
Conclusion
Many devices need a wireless connection and this has increased the demand for high speed connections and provided great opportunities for companies like Verizon. Moreover, the company's Enterprise and FIOS businesses are growing and I think they will provide reasonable support to the company's revenue in the future.
I think the time has arrived when company will start realizing profits on the heavy investments it made in past while pursuing the objective of system upgrades.

In the table presented above I have used the forward price to earnings ratio and two estimates of earnings per share. To calculate the estimated share price I have equally weighted both price estimates. According to the estimated share price the current price of the stock is slightly undervalued. In my opinion the stock is currently fairly valued and long-term investors looking for safe streams of dividends should buy stocks in Verizon.
Disclosure: I have no positions in any stocks mentioned, and no plans to initiate any positions within the next 72 hours.
Business relationship disclosure: The article has been written by a Blackstone Equity Research research analyst. Blackstone Equity Research is not receiving compensation for it (other than from Seeking Alpha). Blackstone Equity Research has no business relationship with any company whose stock is mentioned in this article.