Buffett's Big Mistake
I have been a Warren Buffett fan for many years. One trait that adds to his charm, as well as his investing integrity, is his readiness to admit to his mistakes in Berkshire Hathaway, Inc.'s (NYSE:BRK.A), (NYSE:BRK.B) annual reports, without equivocation or excuse. An excellent example of this is his acknowledged error in Berkshire's 2008 investment in ConocoPhillips Company (NYSE:COP). In his letter to shareholders in Berkshire's 2008 Annual Report, page 16, he states:
I told you in an earlier part of this report that last year I made a major mistake of commission (and maybe more; this one sticks out). Without urging from Charlie or anyone else, I bought a large amount of ConocoPhillips stock when oil and gas prices were near their peak. I in no way anticipated the dramatic fall in energy prices that occurred in the last half of the year. I still believe the odds are good that oil sells far higher in the future than the current $40-$50 price. But so far I have been dead wrong. Even if prices should rise, or recover, the terrible timing of my purchase has cost Berkshire several billion dollars.
To put this statement into perspective, in 2008 (the year of the great recession), Berkshire lost $11.5 billion-- its worst year ever. The book value of the company dropped 9.6%. As for its investment in COP, Berkshire lost $2.678 billion on its 5.7% share in the company. Berkshire paid approximately $82 per share for the 84,896,273 shares it held at the end of 2008, and although COP has increased substantially since its low of $37.35, set on February 27, 2009, it still has not reached the average price paid by Berkshire, and it is currently selling at $72.80 (November 29, 2013). Needless to say, Buffett had a lot of explaining to do in his 2008 letter to shareholders. In one iconic statement, he set forth a stinging indictment on whom he placed some of the blame for the crisis, and gave some sage advise that all investors should heed:
Investors should be skeptical of history-based models. Constructed by a nerdy-sounding priesthood using esoteric terms such as beta, gamma, sigma and the like, these models tend to look impressive. Too often though, investors forget to examine the assumptions behind the symbols. our advice: beware of geeks bearing formulas.(Berkshire's 2008 Annual Report, page 15)
So what does Buffett's 2008 letter to shareholders tell us about his investment philosophy and strategy? First and foremost, he acknowledges the importance of market timing, macro economics and geopolitical events, when making a major purchase, (which he failed to fully consider in his COP investment). Berkshire's recent Exxon Mobil Corporation (NYSE:XOM) share purchases also indicate that Berkshire has evolved into a company (probably because of its size), that is not afraid to invest in companies that are very much affected by macro events such as commodity prices, wars, and civil unrest. Berkshire is no longer a company looking solely for the likes of a company such as The Nebraska Furniture Mart, or See's Candies. The company needs elephants and is prepared to accept the risks of owning them.
Berkshire's XOM Investment
Berkshire's recent SEC form 13 filings show that it purchased approximately forty million shares of XOM in 2013. Most of the purchases came in the second quarter. Although the filings do not show the price paid for the shares, (and we won't know until the 2013 annual report is released in 2014), there is speculation in the financial community that he bought most of the shares in the spring of 2013 when the price dipped 5%. The SEC filings also show that Berkshire's continued to reduce its holdings in COP, which it has been selling off since their value was written down.
Although many writers have weighed in on whether or not XOM is a classic Buffett type investment, my concern in this article is whether Buffett has repeated the error of his COP investment, in that there is a obvious similarity. In the COP investment, hindsight obviously indicates that the investment was made at a time when oil and gas prices were peaking, followed by a major decline. In the XOM purchase, the recent decline from a top in oil and gas prices also looks like Buffett may have bought close to the top. Only time will tell the extent of the decline.
On October 6, 2013, I published an article on Seeking Alpha about the decoupling of the price of oil with three oil companies, XOM, COP, and Chevron Corporation (NYSE:CVX). The premise of the article was that the oil companies' share prices had continued to rise even though the price of WTI crude oil had remained flat in a range between $80.00 and $110.00 per barrel since 2011. In that period of time, WTI crude peaked a few dollars under $110 on three separate occasions before pulling back. The last peak was when it failed to close above $107 per barrel during the first week of September 2013. Since then it has dropped to the low 90s.
This calls into question whether Buffett has again purchased during a peak in oil prices (and to a lesser extent gas). Although the price of oil and gas will most likely not go down as dramatically as it did in 2008, it may still have a ways to go, and one would suspect that it will effect the profit margins and earnings of major oil companies and eventually be reflected in their share prices. Below is a graph of the spot prices of Brent Crude and WTI Crude that depicts the recent peak as well as the recent decline. It also shows the dramatic decline in 2008 that was the cause of Buffet's humbling error. I also included a graph of the natural gas prices, and a chart of the recent price history of XOM, COP and CVX.
I would imagine that Buffett did not forget about the COP blunder in 2008 when he started buying shares of XOM in 2013. Instead he simply calculated in the risk of a major decline in oil and gas prices, and simply decided that such a decline was improbable, and that the value of XOM was worth the risk. Nevertheless, in the short to medium term, Berkshire may be in the red on this investment, especially when the company and copy cat investors quit purchasing shares. Of course Buffett has often pointed out that he is not concerned with short term price movements, so he may not be too concerned with the current drop in oil and gas prices, which he may be temporary. Nevertheless he may have committed the same omission error he admitted to on the COP investment.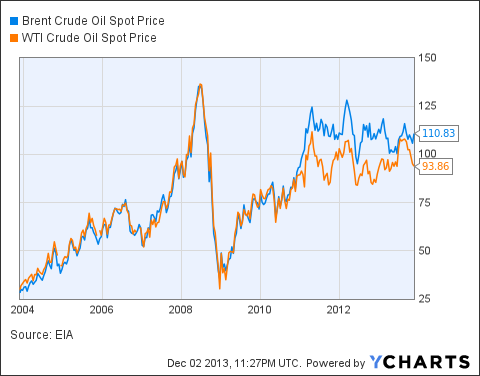 Brent Crude Oil Spot Price data by YCharts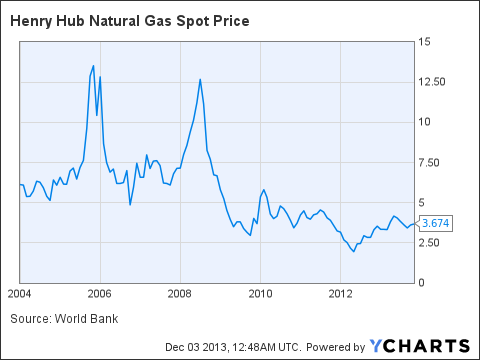 Henry Hub Natural Gas Spot Price data by YCharts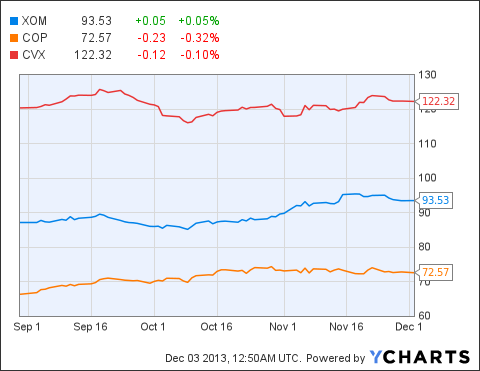 Conclusion
Although it is very unlikely that Buffett's investment in XOM will turn out as badly as his prior investment in COP, that does not mean he didn't commit the same error of investing in a big oil company at a time when the prices of oil and gas were peaking. After having been burned so badly in the COP investment, Buffett must have considered the possibility of a decline in energy prices and simply decided, that on the information he had, the price of oil was not going to take another dramatic move down. I do not know what information he was relying upon, but I do know that there is never a consensus on the direction of oil and gas prices, and that black swan events such as major oil spills and wars can cause big disruptions in energy markets. As such, energy companies do not seem to be the type of safe haven investment for which Buffett is known, although XOM certainly has the brand name, longevity, and earnings that he admires.
At this time, it is difficult to determine where the price of XOM shares will be in the next 6 months. Berkshire's recent purchases of forty million shares had to effect the price to some extent, and is probably one of the reasons why it has not gone down with the price of oil and gas (although it is strange that COP's share price has also not declined, even though its shares were being sold by Berkshire). The Berkshire copycat investors will effect the price for a while, and we still don't know if Berkshire has finished its buying. Of course the normal occurrences of supply and demand, natural disasters, and geopolitical events will also play a part, as well as the speculators. Taking all these matters into consideration, my best guess is that we will not see much of a bounce back in the price of oil and gas and it will go lower in the next year. In the meantime, I will be looking for the formation of a bigger moat around XOM before buying.
Disclosure: I have no positions in any stocks mentioned, and no plans to initiate any positions within the next 72 hours. I wrote this article myself, and it expresses my own opinions. I am not receiving compensation for it (other than from Seeking Alpha). I have no business relationship with any company whose stock is mentioned in this article.