Samsung (OTC:SSNLF) continues to release products with an emphasis on advancing components and screen technology. With the Galaxy S5 expected to launch in the early half of 2014 we should start to anticipate the financial impact of Samsung's next product.
The stakes are high, and if it doesn't innovate, it cannot protect the most lucrative business under its umbrella of businesses. So yes, if ever there was a time for creative execution, the time is now. Samsung is losing high-end smartphone share globally and is instead focused on selling cheap smartphones with average selling prices of around $300. Its smartphone business is the only business that is currently growing, implying the need for Samsung to seriously consider its options in the space.
Historic performance of Samsung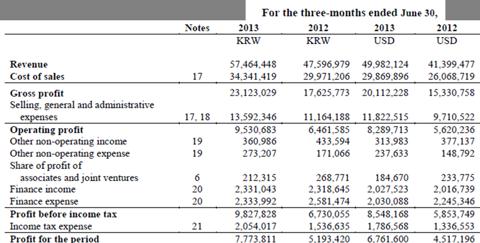 Source: Samsung
Samsung is a global powerhouse in consumer electronics, semiconductors, handsets (smartphones) and telecom networks (4G LTE). So for those who are unfamiliar to the conglomerate, yes the company earns $50 billion in revenue from a single quarter. The company is not a very high margin business, hence the profit for quarter two was $6.76 billion. Even so, most will never earn that much in a whole year, much less in a single quarter. Samsung is humongous and generates almost half the revenue of Wal-Mart (biggest retail franchise in the world). Considering the sheer scale of Samsung, I am very worried about whether or not Samsung can sustain its growth and continue to expand its bottom and top line.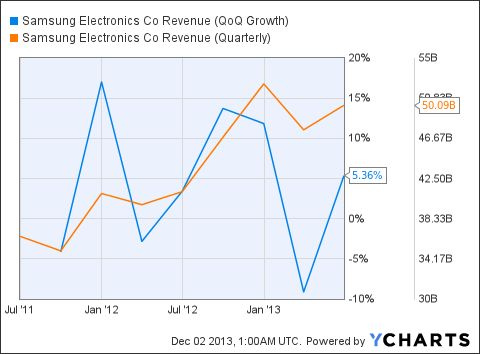 Source: Ycharts
Currently Samsung's estimated price-to-earnings multiple for the end of calendar year 2013 will be 7.4. This is fairly low for a company that has been able to sustain steady growth over the past five years. However, in the beginning of 2013, the company's quarter-over-quarter growth dropped, and only in the most recent quarter was the company able to boost its performance into positive territory.
Currently its information technology and mobile segment has grown to be the largest segment of the company.
Source: Samsung
Now, without factoring in eliminations, the IM (information technology and mobile) segment of the company represents approximately 54% of the total revenue that is generated by Samsung. Also it's the high margin devices like the Samsung Galaxy S4 and Note 3 that generate the vast majority of the operating profit.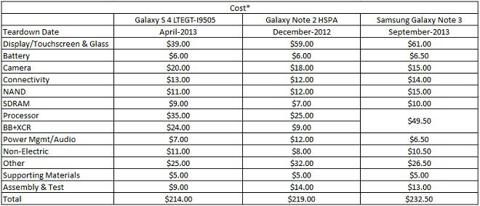 Source: GSMArena
The breakdown cost of a Samsung Galaxy Note 3 is approximately $232.50. Assuming the phone is sold at around $700, the gross margin for the product is around 66%, which is well above the company's consolidated gross margin of 39.77%. This implies that for Samsung to remain a viable investment, the company has to continue to succeed in the high-end smartphone market.
Samsung Galaxy S5: a flop could be a disaster
As I have stated earlier, the high-end is not just important, it's very important. Samsung's product strategy has been about carpet bombing advertising and releasing products in a shorter cycle. Rumors indicate that Samsung is pushing its next generation product with advances in screen technologies. The Samsung Galaxy S5 will be curved. I'm not sure what the value proposition in being able to bend a phone will be. But adding in novelty by offering a sci-fi like feature couldn't hurt, I guess.
The concept design implies that the new Samsung handset will come in an edge-lit (edge to edge) LED design, which will mean that the phone will be near borderless on the sides. Of course concept designs are just concept designs (in other words, rumors). However, Samsung is known to be an imitator and may imitate LG G3's borderless edge to edge screen design. The organic LED device will also come packed with an improved Android operating system. Improvements in Android operating systems can be safely ignored as consumers don't factor in an Android update into their purchasing decision.
The pressure for Samsung to perform is huge as the Samsung Galaxy S4 was a flop ... in terms of financial performance. Investors were hoping for Samsung to meet its own guidance earlier in the year as Samsung was hoping to ship approximately 14 million to 15 million units in the first month. However, the company ended up shipping 10 million units which was well below the expectations that both analysts and shareholders had. Brian Blair of Wedge Partners expects shipments of 85 million to 90 million units for the whole year, which is about 10% to 15% lower than the 100 million units originally anticipated.
In other words, things aren't looking too great for Samsung in the higher-end of the smartphone race. I say this because an 85 million to 90 million shipment figure for the balance of the year is good but not great. In comparison, Apple (NASDAQ:AAPL) has been able to ship 150.25 million iPhone devices for fiscal year 2013. I compare the iPhone shipment figures directly to Samsung Galaxy S4's shipment figures because some financial bloggers confuse Samsung's market share gains with Samsung's dominance in the high-end. Obviously this isn't the case. Samsung is still the challenger, not the champion of the smartphone space. In other words, Apple makes similar amounts of profit from phones, even as Samsung sells more phones.
In the United States alone, Apple is expected to gain an additional 9.6 million in smartphone shipments, for 2014. This implies that for Samsung to catch up to Apple it needs to add more than 9.6 million Samsung Galaxy S 5s and Note 3s in the United States. The reason why the United States is such an important market is because prices on devices are expected to rise by 2017.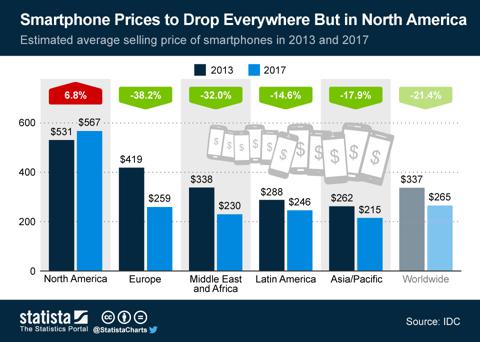 Source: Statista
By the end of 2014, Apple will be shipping 338 million units of iOS/Mac products, which implies that Samsung is falling ever further behind in the high-end. Things got so desperate that Samsung ended up boosting its advertising spend to $14 billion for fiscal year 2013. The spending is comparatively larger than Apple's more modest $1 billion in advertising. So things are looking a little tough for Samsung now. It actually has to innovate.
Does Samsung Galaxy S5 have enough punch?
While it seems that Samsung has been able to level the playing field a little more with the help of Google's application ecosystem and its own in-house solutions for semiconductors, fabrication and screen technology, it seems that Apple will also aggressively innovate for its next product cycle too.
The Samsung Galaxy S5 is expected to have an Exynos 6 eight-core 64 bit processor, 3GB of RAM, 16 megapixel camera, and a 5" Super AMOLED screen that will have a pixel density of 560 pixels. The pixel density will be well above Apple retina display's pixel density of 326. However, when pixels reach above the 300 per inch threshold the individual pixel cannot be seen by the naked eye, implying that Samsung's improvement in screen technology in the upcoming generation doesn't do a whole lot. When the retina display is compared to the super AMOLED screen in the Galaxy Note 3, and the not-yet-seen Galaxy S5, the screen technology is fairly comparable. In fact, the Galaxy Note 3 saw a significant improvement in visuals because of the improvement in brightness of the screen. A brighter screen requires more battery, which was why a better battery was also shipped in the Galaxy Note 3. So if you're wondering why the iPhone screen is comparable to Samsung devices, it can be summarized by one word, brightness. However, setting aside the screen technologies of both devices, and the technical specification, I don't see green shoots for Samsung.
There are rumors of the Apple iPhone 6 coming with a much bigger screen. To be more specific, rumors indicate that the Apple iPhone 6 will ship in two versions: 4.7 inches, and 5.7 inches. In fact, Apple may as well abandon a release of the iPhone 6C and instead put a $100 price differential between the 4.7 inch and 5.6 inch form factor. This will help to establish both a low and high-end device while protecting the value of the brand.
The CEO of Qualcomm, Dr. Paul Jacobs, mentions that there's plenty of untapped potential in smartphone technologies still:
Innovation such as LTE Advanced, LTE Broadcast, multi-band RF front ends, ultra-HD video, augmented reality, computational photography, continuous interaction user interfaces, H.265 video compression, HD audio, sensor monitoring, 802.11ac (inaudible), indoor position locations, proximity based communication, wireless charging, new display technologies, mobile payment capabilities, security features, remote device management are some of the many features that will increase the utility of 3G and 4G devices any one of which could provide a catalyst for a smartphone user to upgrade.
While it's nice that Samsung will improve the hardware specifications of the Samsung Galaxy S5. I haven't seen Samsung advance sensor inputs. The company added a couple additional swiping commands to its phones, which really isn't that much innovation. The multi-screen capability on a Samsung is nice, but it doesn't offer a whole lot of utility.
Apple seems to be taking the lead when it comes to sensors by including a fingerprint sensor, which Samsung will not so surprisingly replicate by the time of its February launch. The real kicker though is that proximity based capabilities depend more heavily on Android software, so I'm not sure how much work Google has put in towards that aspect. Samsung has NFC capabilities so the hardware is already there. I do see Samsung coming ahead with better LTE and Ultra-HD video technologies. But it may not necessarily generate advances in remote device management because it doesn't really have a very strong product ecosystem like Apple.
On the other hand, I could see further improvement in remote device capabilities with iOS 8. Perhaps further cross compatibility of resources across the Apple ecosystem along with more device pairing options. Apple may include motion sensing technologies into the iPhone 6. Any extra input into the phone could give Apple enough of an edge to stay ahead of the innovation curve when compared to Samsung. However, I also believe that the motion sensing technologies may have more to do with Apple's development of its rumored Apple iTV.
So in a sense, I think Samsung will release a great product. Perhaps retain its position as number two in high-end smartphone market share in G6 countries. But I don't think Samsung will pull ahead in markets where the GDP per capita is above $30,000. With Apple winning 76% of Japan smartphone sales in October, the Samsung Galaxy S5 may not reach as rosy of a reception when it's finally launched. Apple gained this market share as a result of gaining distribution with NTT Docomo (the largest phone carrier in Japan).
Conclusion
Samsung innovates in areas where its core competencies are clearly present. The Galaxy S5's semiconductor and display technologies will be vastly superior to other competitors at launch. However, the problem has been with the ecosystem. Samsung has no control over its operating system other than having the freedom to adjust the user interface slightly. Apple, on the other hand, can optimize the operating system to better utilize Apple's hardware.
With Apple finally releasing an updated iPhone, and winning more distribution rights in G6 and emerging economies, one has to question whether Samsung will be able to continue to grow in high end market share. Apple seems to be dominating in Japan and the United States. Sure Apple isn't nearly as dominant in Europe, but that will change given enough time.
Going forward I believe that Samsung will concede more territory in the high-end to Apple. The missed guidance with Galaxy S4 shipments could imply weaknesses in Samsung's high-end smartphone strategy. These negative assumptions seem to be factored into the price of the stock, hence the 7.4 forward P/E. I am willing to assume that the Galaxy S5 may miss guidance. Therefore the stock price may fall even further. So perhaps Samsung could be a classic example of a value trap.
Disclosure: I have no positions in any stocks mentioned, and no plans to initiate any positions within the next 72 hours. I wrote this article myself, and it expresses my own opinions. I am not receiving compensation for it (other than from Seeking Alpha). I have no business relationship with any company whose stock is mentioned in this article.