Inventory climbed to almost 3.4 million cars and light trucks entering November, according to industry data provider WardsAuto. At 76 days' supply, that was the highest for the month since 2005. Bloomberg News
Auto sales for November were released this morning. While the seasonally adjusted annualized rate of 16 million slightly exceeded the 15.75 million expectation, a look beneath the headlines reveals bearish data. As I wrote last month about October auto sales data, rather than looking at the year over year same month comparisons that are broadcast in media reports, it is far more revealing to look at the month to month sequential sales comps. In that there was overall a unit decline going from October to November, as with last month when I looked at September to October sequentially, the sales numbers reported by the OEM manufacturers are much more a product of dealer inventory "channel stuffing" than of actual sales to the end-user.
The biggest red flag with regard to reported November auto sales (i.e. dealer deliveries) is the fact that dealer inventories ballooned up to its highest point of the year and its highest October level since 2005: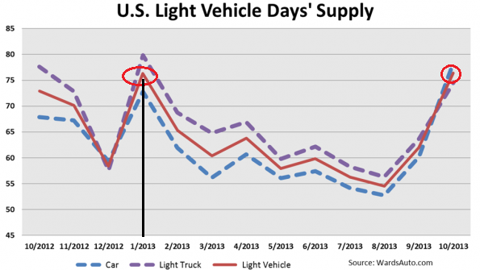 As you can see from this chart, dealer inventories going into November had spiked up to 76 days. From a calendar perspective, it was as high as it was in January. However, we would expect that dealer inventories would be at its highest point starting a new year as dealers stock up on the new model year. With dealer inventories this high going into November, it appears that dealers are having trouble "clearing" the 2013's and 2012's still on hand. This being the case, and to the extent that OEMs are now implementing aggressive sales incentives per this report from Bloomberg, my bet is that this dynamic will draw sales forward into the end of 2013, thereby "stealing" demand from buyers who were planning on waiting until next year.
For purposes of this analysis, it is important to understand that when OEMs report vehicle sales, this represents deliveries to dealers and not and actual sales transactions to the end-user. What this means is that OEMs can generate dealer delivery "sales" using incentives and cut-rate "floor plan" financing. An example of this was when GM announced in early 2013 that it was going to compete aggressively with banks to gain market share in floor plan financing.
With dealer inventory levels climbing, let's examine the sequential "sales" numbers from October to November as reported by General Motors (NYSE:GM), Ford (NYSE:F) and Chrysler. Remember, these numbers represent dealer deliveries and not end-user sales transactions. I prepared the following table to highlight the October to November month to month change in sales for all three domestic OEMs for both 2013 and 2012: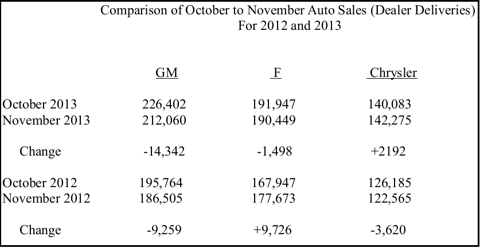 As you can see, despite the double-digit year over year comps reported by the media, going from October to November overall auto sales declined in both years. Even more interesting, the size of the total decline in the combined October/November sales for all three OEMs was 13,648 vehicles in 2013 vs 3,153 vehicles in 2012. This comparison would somewhat "normalize" any seasonal monthly variation going from October to November that might exist in the data, however it is clear that the rate of decline for the two months combined accelerated in 2013 vs. 2012.
What this tells me is that demand for autos is slowing down considerably and, while the year over year comps may look positive, in light of the inventory analysis above the reported increase in vehicle sales for November 2013 is more a product of dealer channel-stuffing than of end-user sales. If this inventory continues to accumulate at the dealer level, we will likely see some significant production cut-backs, like the one Ford has already announced in the Bloomberg article linked above. This cannot be seen as anything but a negative indicator for both OEM profitability and overall economic activity.
One last point about auto sales. To the extent that dealer inventory converts into an end-user sale, much of the year over year increase in sales is being fueled by much easier access to credit: Gains Built On Easy Credit. As this article details, not only is the use of debt to finance a car purchase growing quickly but the duration of the average loan being taken is going up quite a bit. Even more troubling, the average credit quality of the borrower is declining. From this I can infer that dealers and lenders are pushing the envelope in terms of loan risk in order try and stimulate sales and grow bank loan portfolios. This is not a sustainable trend, as we saw in 2008.
It looks like the stock market agrees with my analysis, as GM is down 3.5% and F is down 3.2% mid-day as I write this. I continue to advise portfolio managers to reduce or exit their positions in GM and F. While it is true that both of these stocks may get swept up in the Fed liquidity-fueled stock market rise, the fundamentals increasingly do not support owning GM or F as value investments. GM and F have both experienced quite robust stock gains over the last year and it's time to take profits ahead of the herd. While I'm not yet evaluating either stock as a short-sale candidate, I believe my analysis above demonstrates that the fundamental underpinnings of the auto sales market are deteriorating and, at some point in the future, the market will correct any disconnect connect between the current market values of these two companies and their outright intrinsic value. Be cautious if you continue to hold these two stocks.
Disclosure: I have no positions in any stocks mentioned, and no plans to initiate any positions within the next 72 hours. I wrote this article myself, and it expresses my own opinions. I am not receiving compensation for it (other than from Seeking Alpha). I have no business relationship with any company whose stock is mentioned in this article.