By Chris McKhann
Netgear (NASDAQ:NTGR) is up sharply after issuing a positive quarterly report and outlook this morning, but it is the puts that are active on the option market.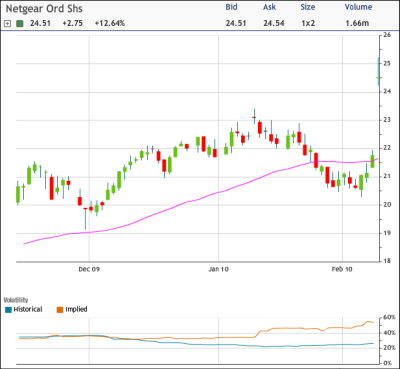 The home-networking products company traded at $24.51, up 12.64 percent after gapping higher this morning. Shares had found support around $20.50 over the last couple of weeks after retreating from levels around $23 a month ago.

We see one trade this morning that is more than 10 times the average daily total options volume just one hour into the session. A trader sold 4,000 March 22.50 puts for $0.40 against open interest of 4,057 contracts. At the same time 4,000 March 25 puts traded for $1.35. This volume was well above the open interest at that strike.

We don't know if the volume at the March 22.50 strike is to open or close, but either way this shows clear concern for the downside.
If the lower strike was sold, this is a put spread, looking for shares to fall below $22.50 by expiration. Or this could be someone rolling their position up, closing the lower strike and opening a higher one to get more exposure to any future downside.

(Chart courtesy of tradeMONSTER)