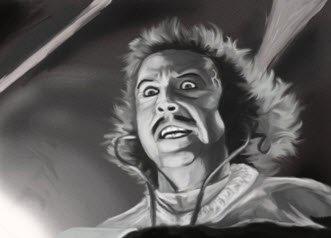 Follow us on twitter and become a fan of ETF Digest on facebook
The Fed's John Williams now gives life to previous rumors of a cut for member bank interest rates. "As everybody says, it's not going to be a game changer, but given that we're doing a lot of unconventional policy and pushing hard, I think it would make sense. If you can get the funds rate trading a little lower and bring down interest rates a little lower, that's a positive." This would be an experiment not tried previously. It may be combined with a small symbolic taper of QE. I wonder if these "unconventional" experiments are well thought through. And I don't know if anyone beyond Fed governors can say these unconventional experiments won't destroy the country ultimately.
In run of the mill economic news, the ADP Employment Report rose to 215K vs 185K expected, and prior 184K (not that we can trust this indicator's reliability); International Trade -$40.6 billion vs -$40.2 billion, and prior revised lower from -$41.8 billion to (gulp) -$43.0 billion. (This is the kind of stuff that makes for some fun headlines). Mortgage Backed Purchases Applications fell to -12.8% vs prior -0.3%, and Refi- Apps fell sharply -18% vs prior 0.1% (a total disaster). New Home Sales in September fell sharply to 354K vs 420K expected, and prior revised lower from 421K to 379K (lousy data reporting) but New Home Sales in October rose to 444K vs 425K expected, and prior 354K gave headline writers fits. ISM Non-Mfg Index 53.9 vs 55.5 expected, and prior 55.4 (a loser and negating the ADP report) and, the Fed Beige Book noted conditions were little changed from previous release showing "modest" growth and featured loud complaining regarding the Affordable Care Act (aka Obamacare).
To change the political conversation, Obama returned to a popular left-wing subject, "wealth inequality" as "a defining challenge of our time." It's hard to understand what useful policies he would promote beyond tax increases since he refuses to cut spending. With the economy already experiencing substandard growth, what would be the benefit? During the speech markets declined bouncing back once it ended.
Markets gapped lower to open trading today, then quickly reversed course until it was positive, declining during the Obama speech, only to rise again as the 2:15 PM Buy Program Express engaged roughly on time. Leading the recovery off the lows were reversals in Gold (NYSEARCA:GLD), Gold Miners (NYSEARCA:GDX), Oil (NYSEARCA:USO), Copper (JJC), India (NYSEARCA:EPI), Agribusiness (NYSEARCA:MOO) and Technology (NYSEARCA:XLK). Bonds (NYSEARCA:TLT) were much weaker. Most everything else was unchanged from Tuesday.
Due to QE & ZIRP, (and who knows what's next to emerge from the Fed Lab), we've been advising investors to stick with our long term Growth & Income portfolio, which has a long-term focus during these manipulated times. This portfolio has a large cash position with an ability to hedge when indicated.
Volume rose on the two-way price action as volatility increased. Breadth per the WSJ remained weak overall and Money Flow continues to be negative.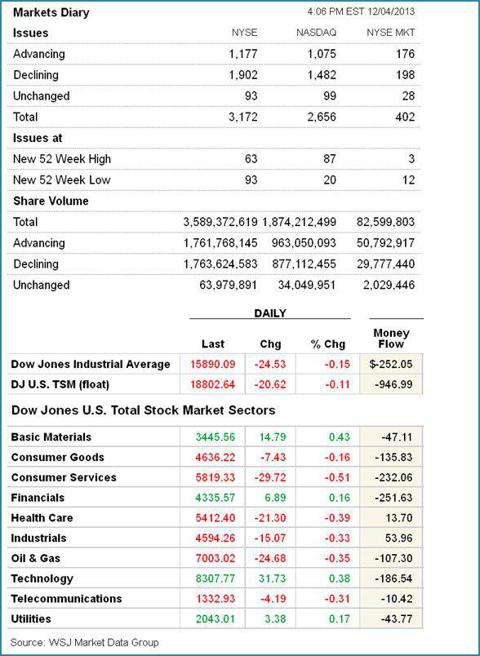 NYMO

The NYMO is a market breadth indicator that is based on the difference between the number of advancing and declining issues on the NYSE. When readings are +60/-60 markets are extended short-term.

NYSI

The McClellan Summation Index is a long-term version of the McClellan Oscillator. It is a market breadth indicator, and interpretation is similar to that of the McClellan Oscillator, except that it is more suited to major trends. I believe readings of +1000/-1000 reveal markets as much extended.

VIX

The VIX is a widely used measure of market risk and is often referred to as the "investor fear gauge". Our own interpretation is highlighted in the chart above. The VIX measures the level of put option activity over a 30-day period. Greater buying of put options (protection) causes the index to rise.

.SPX WEEKLY

RUT WEEKLY

.NDX WEEKLY

SPY 5 MINUTE

XLY WEEKLY

XLI WEEKLY

XLV WEEKLY

XLF WEEKLY

IBB WEEKLY

ITB WEEKLY

IYR WEEKLY

IYT WEEKLY

XLB WEEKLY

TLT WEEKLY

UUP WEEKLY

FXE WEEKLY

FXY WEEKLY

GLD WEEKLY

GDX WEEKLY

SLV WEEKLY

GCC WEEKLY

USO WEEKLY

DBA WEEKLY

MOO WEEKLY

VEA WEEKLY

IEV WEEKLY

EEM WEEKLY

EWG WEEKLY

EWU WEEKLY

EWJ WEEKLY

EWZ WEEKLY

RSX WEEKLY

EPI WEEKLY

FXI WEEKLY
...
Thursday brings Jobless Claims, GDP, Factory Orders and Corporate Profits. News from these reports will continue to present pundits and traders with ideas about future Fed policies.
Let's see what happens.
Disclosure: I am long IBB, VEA. I wrote this article myself, and it expresses my own opinions. I am not receiving compensation for it. I have no business relationship with any company whose stock is mentioned in this article.