First I want to thank fellow Seeking Alpha writer Factoid for mentioning me in an article earlier this week. It's always an honor to be mentioned by my peers and I really feel humbled when an expert like Factoid says:
I count the "followers" of an author. And Mr. Thomas wins that contest in a landslide.
If I had Factoid's brain and my passion for REIT investing, I would be dangerous. But, in reality, I don't have Factoid's brain so I will soak up his intelligence in an effort to pursue the most risk averse investment strategies as possible.
Some of the best value for me on Seeking Alpha has been by interacting and even debating the issues of investing. That was the case this week when Factoid made this comment:
This is the wrong time of year to be buying this year's under-performing stocks.
At the beginning of the article Factoid made the argument that "there are two phenomena in the stock market that should influence your investment decisions from now till the end of the year: retail investor tax loss selling and institutional window dressing."
I don't buy it. I simply see no validity that REITs will be sold for tax-loss-harvesting. Why didn't it start in October or November? I don't see a logical reason that REITs will start another round of sell-off simply due to tactical "cutting bait" strategies. Simply put, that argument is a stretch.
REITs are "great long-term investments," so perhaps intelligent investors should hope that Factoid is right, in which case we'll all be able to add more to REIT portfolios at an especially good price - or a higher margin of safety. However, in my opinion, Factoid has not made a case for the tax loss risk.
I Agree That Ventas is an Attractive Buy Today
Now I also like Factoid's use of the song, "You Never Even Call Me by My Name" done by David Allen Coe. I'll admit, I have never heard of that song but he used the lyrics quite impressively to describe the fact that I did not include Ventas (NYSE:VTR) in a previous article of mine. He explained that my previous article (on 3 Health Care REITs) did not mention Ventas and the analogy was much like "lacking as a country song without a mention of momma, trucks and drinking."
As I commented (in Factoid's article) I did not intentionally leave out Ventas and I think that we are in full agreement that Ventas is an exceptionally high-quality Health Care REIT.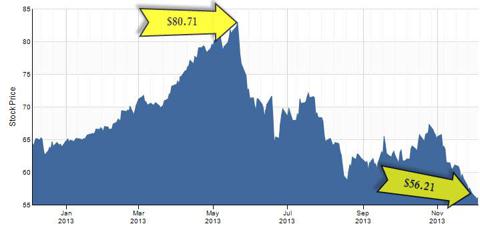 Clearly, as the FAST Graph illustrates below, Ventas is now trading at "sound value". The market closing price today was $55.97 and although we don't see a "table pounding" bargain like we saw in early 2009 (when shares traded at around $21.00), we are seeing an attractive entry range.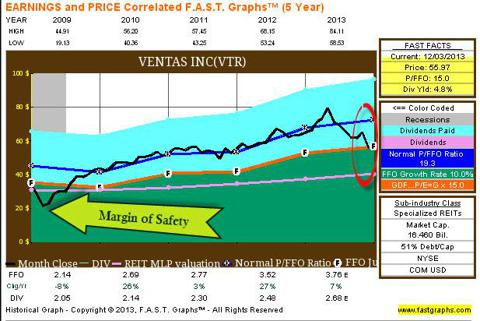 What's more enticing (for income investors) is that Ventas' dividend yield is now 4.8% - the highest dividend yield we've seen from the blue-chip in over two years.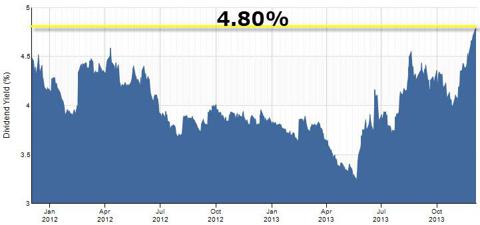 REITs and Rising Rates, What a Fool Believes
Now since Factoid had an opportunity to voice his favored song and lyrics, I will take my turn. Maybe some of you can recall the more mainstream classic by the Doobie Brothers, What a Fool Believes. Maybe this refresher helps:
He came from somewhere back in her long ago
The sentimental fool don't see
Tryin' hard to recreate
What had yet to be created once in her life
If you know the song, you're probably like me. I never really knew what Michael McDonald was saying in the song, but I think he was trying to recount a love sick relationship - a fantasy of sorts. I believe he was saying he was madly in love with a girl who never really existed. In other words, I believe he was fantasizing - not living in reality.
That's precisely how I feel about REITs and Rising Interest Rates. I'm sorry but I just don't believe in the fantasy that Rising Interest Rates and REITs have much correlation. If you read any of my previous articles (here and here) you can see that my arguments have been consistent in that economic growth more than offsets interest rate increases for REITs. But why then is Mr. Market disagreeing with me?
As a reader commented this week, "After all the decline has not been a temporary blip -- it's been sustained and almost brutal at times. Obviously this is all great if payouts are not at risk and will in fact grow rapidly because Digital Realty (NYSE:DLR) and others are well-positioned to take advantage of the ducky economy (a bit of sarcasm directed at no one). But, price seems to be telling us something different. We may all get bailed out a bit early next year because the interest rate fears seem to be ahead of themselves, but what about the next 10-20 years?"
So I suppose I am a fool because I truly don't know why the market has punished REITs-but not non-REIT stocks-since May 21. If it's the increase in interest rates, then why has the market reacted so differently most of the times historically when rates increased? If it's concerns about the pace of economic growth, then why haven't non-REIT stocks been affected?
No Crystal Ball here sports fans. I just need to be like my cohort, Factoid, and Ben Graham:
You are neither right nor wrong because the crowd disagrees with you. You are right because the data and reasoning are right.
Ask the REIT Experts at Cohen & Steers
This week I decided I would ask the experts at Cohen & Steers about the "State of the REIT Market". Here are a few of the questions I asked them.
Thomas: The market has perceived REITs to be risky, yet the fundamentals haven't changed. Do you see this as a buying opportunity? Why?
Cohen & Steers: We would not be surprised if markets remain volatile in the near term due to the uncertainty over U.S. monetary policy and the trajectory of interest rates. But our research suggests that valuations are much better than they were at the end of 2012, and they have become even more compelling over the past month across all segments of the REIT market. We believe current valuations may represent an attractive entry point or an opportunity to add to existing positions, as we have confidence that many REITs will beat their conservative guidance in 2014 due to improving tenant demand and muted supply growth.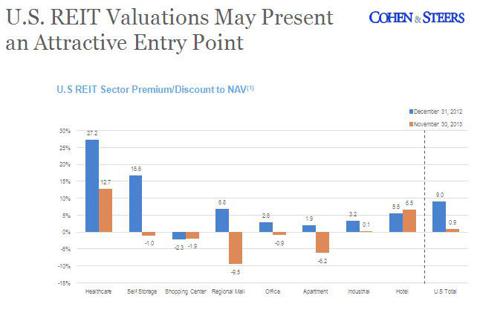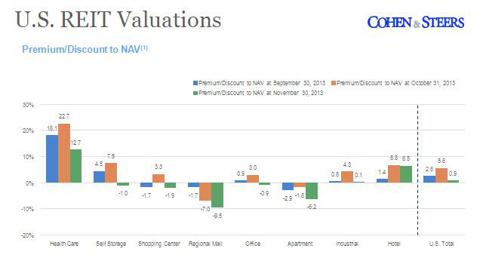 Thomas: Why should investors own real estate? What percentage of REIT concentration does C&S recommend?
Cohen & Steers: Investors might consider allocating 5-15% in real estate depending on their investment objectives, taking advantage of REITs' above-average income, long-term capital growth potential and sensitivity to changes in inflation. Speaking more broadly to include other types of real assets-listed real estate, infrastructure and commodities-we believe allocations in the range of 10-20% would be reasonable for most investors.
Thomas: Should investors be concerned with global allocations or should they just focus on domestic REIT allocation?
Cohen & Steers: While the U.S. has its share of attractive opportunities, an investor limiting themselves to the U.S. market alone would be dismissing opportunities in other compelling markets such as the U.K. and Australia, where many high-quality REITs are trading at deep discounts to their underlying asset values.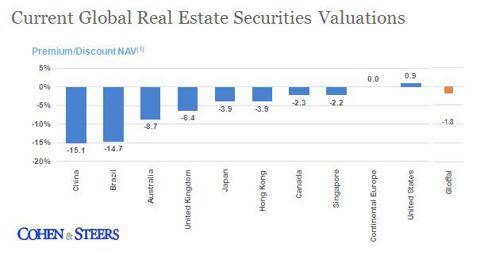 An allocation to global real estate increases potential for diversification, not just by property type, but by geography as well. It also provides access to a much larger investment universe than U.S. REITs alone. Globally there are more than 420 real estate companies with a total market capitalization of $1.3 trillion, compared with approximately 130 REITs and $530 billion in the U.S.
Thomas: With the recent activity in the Triple Net space, what does Cohen & Steers think about the sector? Are you increasing exposure in the space?
Cohen & Steers: In evaluating net lease REITs at the moment, you have to weigh the higher interest-rate sensitivity of their business model with the potential for accretive acquisitions. After increasing our allocations earlier this year, we are holding relatively steady, generally focusing on smaller companies where acquisitions are more likely to have a material impact on their bottom line.
Thomas: Tell us about Cohen & Steers and your REIT products?
Cohen & Steers: Cohen & Steers was the first investment manager dedicated to the REIT market, and has been a leading advocate for the advancement of REITs globally. We offer open-end funds, closed-end funds, ETFs and institutional separate accounts focused on various geographies, including Global, International, the U.S., Europe and Emerging Markets. We also offer real estate securities as part of an integrated real assets strategy, providing investors with a diversified, turn-key solution that in our view offers better risk-adjusted return potential than "à la carte" allocations to single-solution asset classes.
Burton Malkiel, a Princeton professor and author of the investment classic, "A Random Walk Down Wall Street," and the chief investment officer for Wealthfront, an innovative new financial advice website (see link HERE), recently told CNBC that the 60/40 rule (60% equities/40% bonds) is worse than just passé. It's dangerous! Malkiel told CNBC that he has updated the advice given in recent editions of "Random Walk."
Here is what an updated portfolio for an investor in his or her 50s would look like: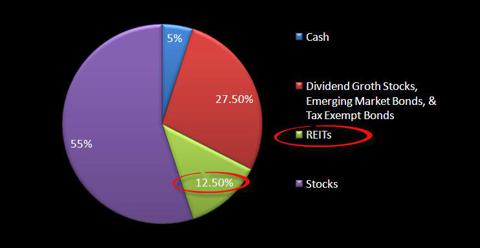 Malkiel suggests that you use that as a starting point and move allocations up or down, depending on your age.
Diversify, Diversify, Diversify
In closing, this is my 400th article written on the Seeking Alpha website. I have really enjoyed writing and more importantly I have enjoyed interacting with all of you. The interaction amongst the fellow investors has been outstanding and I am always learning from the talented articles by Charles (Chuck) C. Carnevale, David Fish, David Van Knapp, Factoids, Rubicon, and a host of others.
I am often asked the question: "What is your favorite REIT?" I normally answer by saying: "It's the one that has the biggest sale today." Then I say that "I'm not chasing just yield. I'm looking for true value and the safety of the dividend is critical." I often cite Ben Graham by saying "An investment operation is one which, upon thorough analysis, promises safety of principal and satisfactory return. Operations not meeting these requirements are speculative."
So with that in mind, here is my favorite REIT today: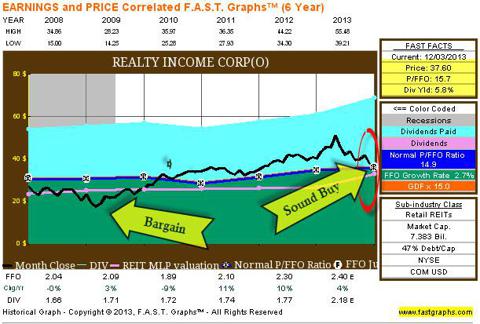 Finally, and perhaps the most important advice for this article is diversify, diversify, and diversify. The only fool that I know of is the one who puts all of his eggs in one basket. Sir John Templeton who lived to be 95 years-old, seemed to be a product of the Grahamian-era where he continually taught that "wise investors must recognize that success is a process of continually seeking answers to new questions". Accordingly, Sir John, a broadly recognized proponent of diversification explained:
The only investors who shouldn't diversify are those who are right 100% of the time.
I love my REITs but I'm no fool, I also diversify and I never forget to PROTECT PRINCIPAL AT ALL COSTS. Happy Holidays.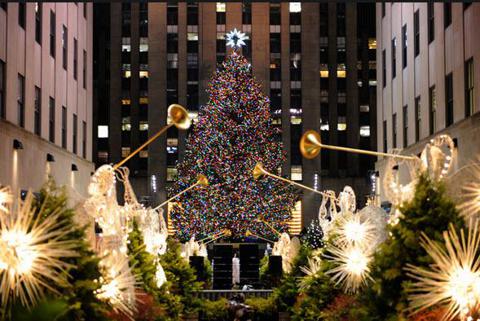 Check out my monthly newsletter, The Intelligent REIT Investor and my NEW 3D portfolio (coming in December).
Source: SNL Financial, Cohen & Steers, and FAST Graphs.
REIT mentioned: (NYSE:O)
Disclaimer: This article is intended to provide information to interested parties. As I have no knowledge of individual investor circumstances, goals, and/or portfolio concentration or diversification, readers are expected to complete their own due diligence before purchasing any stocks mentioned or recommended.
Disclosure: I am long ARCP, CBL, CSG, DLR, GPT, HTA, MPW, O, ROIC, STAG, UMH, VTR, HCN. I wrote this article myself, and it expresses my own opinions. I am not receiving compensation for it (other than from Seeking Alpha). I have no business relationship with any company whose stock is mentioned in this article.