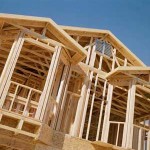 Earnings season hasn't exactly lit the world on fire this time around, but homebuilders have been a standout sector. A number of homebuilding companies have reported decent earnings on signs of a recovering housing market, but that doesn't necessarily mean the exchange traded funds will follow suit. The positive signs are there:
Many homebuilders are reporting "less bad" numbers for the fourth quarter, with write-downs and order cancellations declining and improving order rates, Matt Phillips for The Wall Street Journal reports.
Lumber future prices are up 23.2% since the end of last year.
Homebuilders received a nice amount of cash from the government's stimulus programs and tax cuts. Congress extended the net operating loss carryback from two to five years, says Stephen Rosenman for Seeking Alpha. That means homebuilders can recover taxes paid in earlier years, when they may have been more profitable.
The housing market is still seeing signs of distress: jumbo mortgage loans are defaulting and people are walking away from their homes. Stephen Roseman for Seeking Alpha reports that it should be clear that builders have made progress digging themselves out of the 2007- 2009 housing crisis.

Are the fourth-quarter numbers the result of tax breaks or a sign of true stabilization in the homebuilding sector? Only time will truly tell.

For more stories about homebuilders, visit our homebuilders category.
iShares Dow Jones U.S. Home Construction Index Fund (NYSE: ITB)
SPDR S&P Homebuilders (NYSEArca: XHB)