Opportunities Lie In Emerging Market Real Estate
In the liquidity-driven risk asset boom seen over the past few years, yield-starved investors have been pushed out on the risk curve to earn returns. Emerging market real estate is no exception to this trend. Despite this positive trend, the two companies listed in this article suffer from investment stigmas associated with their respective home countries that has driven investors away, leaving significant opportunity for those who take the time to do due diligence and research on these companies. These two companies trade for earnings valuation discounts to their peers and should generate alpha as the market appreciates their relative cheapness.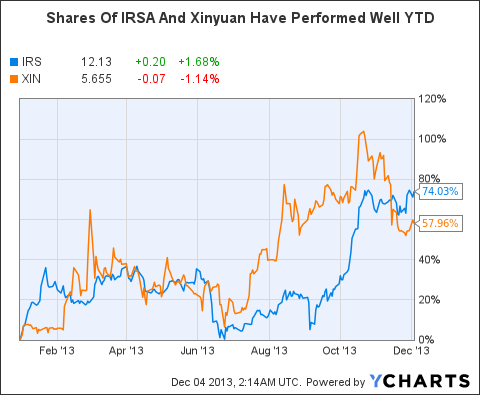 IRSA Inversiones y Representaciones (NYSE:IRS)
Otherwise known simply as IRSA, the company is based in Buenos Aires, Argentina and owns significant real estate assets including shopping centers, office buildings, hotels, residential property and land reserves throughout the country and abroad. Many investors are hesitant of investing in Argentina because of the left-wing government run by President Cristina Fernández de Kirchner of the Front for Victory party. Investors in Argentina also remain concerned about the weak performance of the Argentina Peso relative to other currencies.
However, investors have become more favorable towards Argentine equities recently partly because of optimism that the 2015 elections could bring a new President to Argentina which could catalyze a positive change for the investment climate in the country. IRSA is somewhat insulated from the troubles that the Peso has endured as their hard real estate assets perform well in an inflationary environment fueled by a weaker Peso. This is evidenced by strong gains that IRSA has reported for rents in its shopping center division where total rent rose by over 27% from Q1 2013 to Q1 2014, in Pesos and using the company's fiscal calendar. Additionally, IRSA owns 29.77% of Banco Hipotecario (OTC:OTC:BHPTY), one of the country's leading mortgage lenders.
IRSA has signaled its commitment to returning value to shareholders through their recently announced buyback program and their historically large dividend payments. Investors should be cautioned that capital controls and currency depreciation could have a major impact. Shares have appreciated rather significantly in recent months and they currently trade for around 14x TTM earnings. Investors who take the risk in IRSA could be positioned to gain from long-term changes in the Argentine economy and strong company growth trends.
Xinyuan Real Estate (NYSE:XIN)
Xinyaun Real Estate, or Xinyuan for short, is a leading property company in the People's Republic of China. The company is based in Beijing, China and is incorporated in the Cayman Islands. Xinyuan focuses on developing properties from its land base in Tier II cities in China.
Many investors are concerned about a slowdown or hard landing for China, particularly in its real estate market, which has boomed in recent years. Additionally, some American investors are concerned about investing in companies based in China given that many Chinese reverse merger companies have suffered significantly on US stock exchanges. Many smaller Chinese companies trading in the US are grouped into this category and it appears that Xinyuan shares have suffered unfairly as a result of this. Xinyuan shares began trading in the US as a result of their 2007 IPO on the New York Stock Exchange. The IPO process is much more stringent than gaining a listing through a reverse merger.
Xinyuan currently sports a dividend yield of around 3.6% and has an active share repurchase program. The company trades for around 3.2x TTM earnings and is trading at less than half of the $11.55 in book value that the ADSs hold. Xinyuan is trading at a very small earnings valuation and while the company's earnings may be hurt by a slow down in the Chinese economy there is significant opportunity for investors to benefit from management's loyalty to shareholders and continued earnings strength.
Conclusion
While there are risks in investing in emerging market equities, IRSA and Xinyuan are uniquely positioned to perform well over the long term as the market places a higher valuation on the company as a result of more efficient pricing.
Disclosure: I have no positions in any stocks mentioned, and no plans to initiate any positions within the next 72 hours. I wrote this article myself, and it expresses my own opinions. I am not receiving compensation for it (other than from Seeking Alpha). I have no business relationship with any company whose stock is mentioned in this article.