Last month, we posted Matt Darrah's investment case for Corporate Executive Board (EXBD). This month, Matt is back with a well-researched and thoughtful piece on farm products company Bunge (NYSE:BG). Matt argues that the risks of owning Bunge outweigh any potential upside and that investors should be cautious about investing in the company.
Please note that The Manual of Ideas does not advocate short selling, as it is a risky strategy that can backfire and cause significant losses for investors, even if their thesis is proven correct in the long term. As such, we present Darrah's research piece in order to show you the investment risks that can sometimes be uncovered as a result of in-depth fundamental research. The Manual of Ideas has not verified the data and quotations presented in the following write-up and can therefore not vouch for their accuracy.
Executive Summary
Low Return on Invested Capital: Total invested capital does not produce meaningful amounts of cash flow. BG operates in a highly competitive industry, where it cannot materially differentiate itself.

Unattractive Valuation: Recent stock price implies less than 4% normalized free cash flow yield. The market seems to be ignoring Bunge's lack of historical free cash flow generation.

Numerous Potential Catalysts Could Drive Stock Price Lower: Multiple sources confirm Bunge has large and speculative derivative (future and options) holdings that could result in material losses. Accounting results do not reflect the economic realities of the business, and Wall Street will eventually figure this out. BG recently sold a key division to avoid a liquidity crisis.
Bunge Company Overview
Bunge Limited ("Bunge" or "BG") engages in the agribusiness, fertilizer, and food business.
Bunge Business Segments (% of 2009 revenue)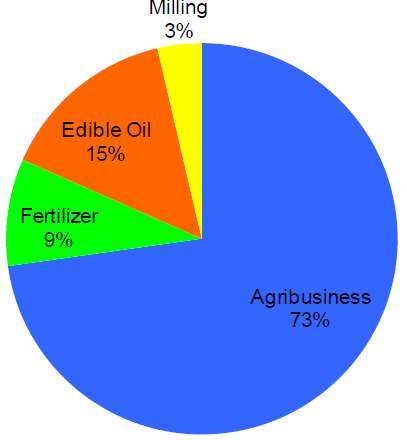 Source: Matt Darrah's investment newsletter, January 2010.
Bunge's Agribusiness segment (73% of 2009 revenue) purchases, stores, transports, processes, and sells agricultural commodities and commodity products. Bunge principally handles and/or processes oilseeds and grains. It primarily deals in soybeans, rapeseed (canola), sunflower seed, wheat, and corn. The division processes those oilseeds and grains into vegetable oils and protein meals, principally for the food and animal feed industries. This segment also processes sugar and corn into bio-fuels. The Agribusiness division's main competitors are Archer Daniels Midland Co. (NYSE:ADM), Cargill Incorporated, and Louis Dreyfus Group.
Bunge's Edible Oil segment (15% of 2009 revenue) uses the soybean, sunflower, and rapeseed (canola) oil produced in its Agribusiness segment for packaged and bulk oils, shortenings, margarines, mayonnaise, and other products derived from the vegetable oil refining process. Bunge owns and/or operates edible oil refining and packaging facilities in North America, South America, Europe, and Asia. It sells retail edible oil products in Brazil under a number of brands, including Soya, which is the leading packaged vegetable oil brand. Bunge possesses the highest market share in the Brazilian margarine market with its brands Delicia and Primor. One brand, Bunge Pro, has become the top food service shortening brand in Brazil.
In Europe, Bunge leads the market in consumer packaged vegetable oils, which are sold in various geographies under brand names including Venusz, Floriol, Kujawski, Olek, Unisol, Ideal, and Oleina.
In Asia, Bunge's primary edible oil product brands include Dalda and Chambal in India, and the Douweijia brand soybean oil in China. In several regions, Bunge also sells packaged edible oil products to grocery store chains for sale under those stores' private labels. The Edible Oil Segment's customers include baked goods companies, snack food producers, restaurant chains, foodservice distributors, and other food manufacturers who use vegetable oils and shortenings as inputs in their operations, as well as retail consumers. This division primarily competes with ADM, Cargill, Associated British Foods plc, Stratas Foods (a joint venture between ADM and Associated British Foods plc), Unilever, and Ventura Foods, LLC.
Bunge recently announced that it is selling the bulk of its fertilizer business for $3.5Bn of net proceeds, so I won't be discussing this division in detail although I will discuss the implications of selling this division later in this report.
Also, given that the milling division only constitutes 3% of Bunge's sales, I will not be discussing that division in detail.
Low Return on Invested Capital Business
While Bunge has consistently reported net income based on GAAP accounting principles, it has consistently burned cash. Bunge has reported combined net income for the past 3, 5, and 10 years of $2.1Bn, $3.1Bn, and $4.4Bn, respectively. However, free cash flow over those same time periods equaled negative $(708)MM, negative $(1.6)Bn, and negative $(2.5)Bn respectively. Note FCF has only been positive in two of the past ten years. Typically, over long periods of time, GAAP reported earnings should approximate free cash flow. Temporary differences can arise during periods when a company is growing rapidly and spending money on new property, plant, and equipment, or investing in working capital.
These temporary variances should tend to reverse over five and ten year periods. Prolonged differences between free cash flow and net income typically indicate that free cash flow is a more accurate indication of the true earnings power of the firm, which would indicate that Bunge earns less than a 3% return on invested capital. Even assuming that 70% of capital expenditures are growth related (based on management's guidance), Bunge still generates below a 8% ROIC (see adj. FCF column below).
Bunge's Historical Return on Invested Capital

Source: Matt Darrah's investment newsletter, January 2010.
Further, Bunge operates primarily in businesses with very small to no moats protecting its returns, as the processing of agricultural products does not require any proprietary knowledge, equipment, or processes, nor are any of its brands likely meaningful to consumers, as evidenced by their historically EBIT margins around 5%.
Unattractive Valuation
Based on GAAP earnings, Bunge doesn't appear to be overvalued. As discussed above, given the large disparities between free cash flow and net income, its valuation should be based on historical free cash flow. Given the past three years of adjusted free cash flow (adjusted for estimated growth CapEx per the methodology described above), Bunge trades at 23x free cash flow. Basing valuation on unadjusted free cash flow (basically assuming management's guidance on growth CapEx is unreliable), the last three years' cumulative cash flow is negative.
It is important to note that the valuations metrics do not take into account the sale of the Fertilizer business, as the cash flow generated by the sale of those assets is still undisclosed. However, as I will discuss below, I believe that the sale of the fertilizer business will only serve to reduce Bunge's free cash flow generating ability.
Valuation Based on Adjusted Net Income and Free Cash Flow

Source: Matt Darrah's investment newsletter, January 2010.

Catalysts:

Derivatives
Bunge has indicated that it only uses derivatives to hedge exposure to commodities cost, implying that they will not be impacted by fluctuations in the underlying cost of the commodity. For instance, Bunge may loan a farmer fertilizer and then receive payment of a fixed amount of soybeans once the farmer has harvested his crop. In order to protect itself from price declines prior to the harvest, Bunge would sell short the volume management expects to receive from the farmer. By doing so, if the price of soybeans declines while Bunge waits for the harvest, the value Bunge receives from the farmer is less. However, the Company has gained enough money to offset that loss with its short position.
Of note: Based on interviews with traders familiar with Bunge's trading operation, a former executive-level Bunge employee, and a knowledgeable former CFO of a competitor, Bunge operates a speculative trading operation. As the (not-disgruntled, in fact very supportive) former employee stated,
there is no way Bunge could make the margins it makes without some speculation.
I also spoke with traders (again supportive) who are knowledgeable about Bunge's trading operations. They stated that Bunge is actively trading in futures contracts that do not necessarily conform to a hedging strategy (the traders could tell because the trades didn't coincide with harvest seasons). Further, the former CFO of a competitor discussed the difficulties of managing such a hedging operation from an internal controls standpoint. Based on his knowledge of Bunge's CFO's background, he did not feel Bunge's CFO adequately understood the potential loss exposure that could be incurred as a result of its derivative operations.
Unrepresentative Accounting
As previously stated, Bunge's free cash doesn't approximate their net income over long periods of time.
These types of discrepancies normally indicate that GAAP accounting does not accurately reflect the economics of the underlying business, and it may suggest fraudulent accounting. A former CFO of a competitor said that after poring through Bunge's financial statements, he could only come to the conclusion that "the books were cooked."
Additionally, Bunge's financial disclosures reveal that management consistently does not reserve enough allowance for doubtful accounts on loans that Bunge makes to farmers. Loan contracts are difficult to enforce on farmers in Brazil, and according to interviews I conducted, most CFOs would reserve at least the full amount of any contract in litigation, as the likelihood of recovery is negligible. Further, a typical CFO would reserve above that amount to anticipate future defaults. However, while Bunge as of September 30th, 2009 is litigating ~$235MM of loans, it had only reserved $196MM at that time. Bear in mind that litigation usually is pursued as a last resort in most defaults, so defaults are likely much higher than $235MM.
Further, Bunge experienced two material breaches of internal controls that were disclosed in 2007. One resulted in a $7Bn revenue restatement, while the other resulted in a theft by several employees from its Peruvian division that resulted in a $34MM loss.
Sale of Fertilizer Business
Bunge recently sold its Brazilian fertilizer operations to Vale (NYSE:VALE) for $3.5Bn of net proceeds. While management and sell-side analysts have espoused numerous strategic rationales for why this division was sold, I believe the sale occurred because Bunge needed the cash, and this division was the most readily saleable asset. As shown below, Bunge needed to finance its money losing operations and redeem its preferred stock, which matures during 2010, and therefore had to sell assets. Interestingly, many analysts have noted that the division was sold below the replacement value of the assets, which implies Bunge was in a weak negotiating position, possibly the result of the cash need illustrated below.
Liquidity Bridge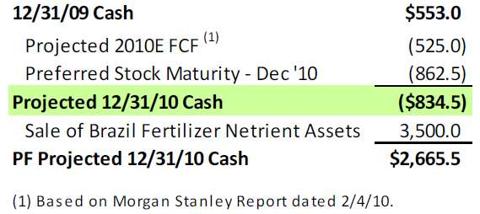 Source: Matt Darrah's investment newsletter, January 2010.
Interestingly, Bunge had historically thought the fertilizer division was a growth business and spent large amounts of growth CapEx to improve it. The sale "really surprised" a former executive, as "that business generated a lot of cash…and was a nice grower." Note that the business was likely bleeding cash this year given lower fertilizer prices, but Bunge's largest free cash flow generating year (2008) coincided with a large increase in fertilizer profits.
The author of this article is Matt Darrah, Chief Investment Officer of MD Capital Management and contributor to The Manual of Ideas. Matt describes his background as follows: "I have been investing since 1998 (age 16) when I saved nearly all my money from working on my winter break from high school, and invested it according to the value investing principles I had read about in Warren Buffett's shareholder letters and books about value investing. After high school, I attended Southern Methodist University (SMU) in Dallas, Texas, where I graduated summa cum laude with a degree in finance. Post graduation, I worked in investment banking for two years (helping companies raise financing, buy other businesses or sell their businesses) before joining a private equity and debt investment firm, where I have worked for three years. My investing philosophy has been developed through my (i) insatiable reading of books written by and about prominent value investors and their investment philosophy, (ii) 11 years of public market investment experience and (iii) three years of private equity experience, where I have invested and/or manage over $625MM of investments in 6 companies."
Neither the author of this article nor any affiliates of The Manual of Ideas have a position in Bunge. This article is not a solicitation to buy or sell securities. This article may have been lightly edited for publication on The Ideas Report For Serious Investors. For full terms of use of this website, visit http://manualofideas.com/terms.html

Disclosure: No positions