Pacasmayo (NYSE:CPAC), the 2nd largest cement producer in Peru, has approached 52 week lows in recent weeks, down nearly 50% from highs set earlier in the year. The sell off seems a bit puzzling to say the least, as the only major setback for the company has been a slight downtick in the macro economy in Peru which has put a small damper on near term revenue and earnings growth. However Peru is still growing at more than 6% per annum, and construction growth as a percentage of GDP should average closer to 8% in the coming decade as the emerging market continues to show overall healthy numbers.
In addition to this the cement producer has a near monopoly position in the regions where it operates, and has developed this stronghold in over 50 years of operation. With the stock depressed on short term worries, now is an excellent time to pick up some shares as new cement production capacity coming online in less than 2 years time will significantly increase revenue and profits in the years ahead. This should make today's price seem like a true bargain, as the market fully realizes the potential.
Business Overview
Pacasmayo is the 2nd largest cement producer in Peru. The company is 51% owned by The Hochschild Group, a family owned conglomerate that has been a big player in the mining and cement markets of Peru for over 100 years. The other 49% is split between the publically traded ADR in the US (19% of total), Peruvian pension funds, and a few other minority holders which total the remaining 30%. The company's main business is the manufacturing of cement and concrete related products, which fall under the "Cement Division". Pacasmayo also has a phosphate and brine project, both of which have some potential as additional sources of long term revenue. The overall structure is summarized in the picture below from the Q3 earnings presentation:
First looking at the projects side, Pacasmayo sold 30% of its phosphate initiative to Mitsubishi (OTCPK:MSBHY) in order to help with the engineering and development to get the project up and running quickly. Management expects production to begin fully in 2016. All permits are already in place, and the company just needs to continue through the preparatory phases in the coming 2 years, which includes financing and an environmental impact study. The CEO Humberto Nadal stated in the latest conference call that management is confident of the project's positive IRR. The 30% stake in the project was sold for $46m more than 2 years ago, indicating that the project's potential was valued at over $150m at the time (about 10% of the current Pacasmayo market cap).
The brine project is currently much smaller, with capex spending of only a 1 million so far in 2013 vs. 12 million for phosphate, and this seemingly has less overall potential in terms of future revenue streams.
The company's current revenue composition is overwhelming dominated by cement and concrete blocks, as can be seen in the below graph:
What's most interesting though in my opinion about Pacasmayo from a business perspective, is the clear monopoly position and competitive moat that it enjoys in the northern region of Peru for cement production and distribution. Upon first glance when you see that the company has a total market share in Peru of 21.5%, the market seems to be fairly balanced with 4 or 5 major players:
However when you look slightly deeper, you see that Pacasmayo is the only major player in the entire northern third of Peru. The company owns both the C.Pacasmayo and C.Selva plants shown in the top of the above diagram. The company reports a jaw dropping market share of about 95% in this region. The stranglehold on the north will only get stronger in the coming years as well, since the company is currently in the middle of constructing a 3rd production facility, Piura, which will be fully operational in the beginning of 2015. This is significant as it will increase total cement and clinker production capacity by about 50% from current levels. Furthermore the plant will be more efficient than existing ones, as it will be using the latest environmental friendly technologies and have lower fixed and variable costs due to its proximity to a major port on the coast and the abundance of local raw materials. This should serve as a means to increase gross margins overtime.
Company Moat is Very Strong
Despite the fact that cement production might logically seem like a commodity product, barriers to entry are often high in this market, due to:
Significant transportation costs for raw materials

The need for extensive distribution networks, and

High continuous CapEx requirements of existing plants
All three of these points take time for any company to build up effectively to ensure significant enough profit margins in order to make entering the market worthwhile.
Looking specifically at Pacasmayo, the company should have no trouble retaining its monopoly like position for years to come. One of the biggest expenses in cement production is securing the correct raw materials and having an efficient transportation network to source them. I contacted the company to gain further insight on this point, and I think they make a compelling case. The competitive advantages in Peru are actually not having access to raw materials themselves, as their is an abundance of them in the mineral rich Peru. However as management explained to me, the company covers an area of 1000 km north to south (620 miles), and roughly 500 km east to west (310 miles). This is an area with very bad geography and rough connectivity through very mountainous terrain - the company's plants and sales network run directly through the Andes Mountains. None of the approximately 10 cities served represent more than 5% of total Peru market demand for cement, and the company's distribution network has over 330 points of sale across this geography. A true competitor would need to build a similar structure and network, something that has been 56 years in the making for Pacasmayo. It is highly unlikely that anyone could replicate this anytime soon. It is also not cost effective for a larger foreign competitor to import cement into the region either, so it would be hard for anyone else to compete on price alone.
The much more likely scenario is that either Pacasmayo continues operating in its dominant position, or it is bought out for a premium by a larger competitor looking to enter the northern Peru market. Either of these will be a positive for shareholders.
Emerging Market in Peru Favors Long Term Growth
The macro economy of Peru has been relatively strong in recent years, with emerging market like growth rates north of 5% per annum. However earlier in 2013 there was talk that growth could be as high as 8% this year, but this has not happened and the second half of 2013 has been a bit slower than originally thought with current year end forecasts as being closer to 6%. The main culprit has been slower global growth, and in particular in China as the mineral rich nation of Peru relies a lot on mining exports which are used heavily in the worldwide manufacturing sector. China in particular is a major consumer of this demand but has been showing major signs of cooling off, as the Chinese government tries to shift its local economy to focus more strongly on domestic consumption.
This short term macroeconomic slowdown has likely been the main cause for the stock price sell off of 33% in the last 6 months, as Pacasmayo is now trading very close to 52 week lows. However looking out a year or two and the market is very likely to look past the short term worries. The overall construction market in Peru should continue to grow at healthy rates in the next decade. In the last 6 years, YOY growth for construction spending as a percentage of GDP has far outpaced overall growth with an average rate of 11%:
Moreover as can be seen this growth is clearly cyclical, likely as large government funded infrastructure projects are lumpy in nature and the rates of spending fluctuate based on political priorities. As 2013 has clearly been a down year compared to 2012, we can logically expect that in 2014-2015 growth could pick up again.
Going forward in general market research indicates a CAGR of 8% can be expected in the coming 5 years, indicating that the long term healthy trend appears to be intact.
Valuation - Growth at a Reasonable Price
With an EV/EBITDA valuation of only 8.6, Pacasmayo is trading at it's cheapest point since going public in early 2012.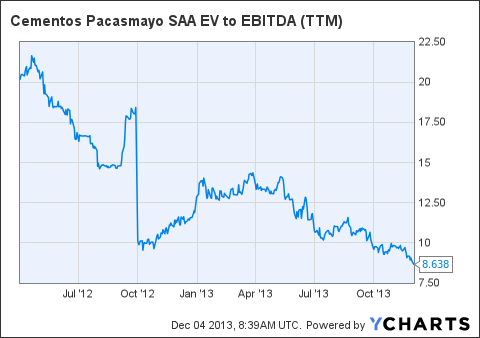 TTM) Chart" _fcksavedurl=" >TTM) Chart">
CPAC EV to EBITDA (TTM) data by YCharts
In my discussion with the company, there is a general feeling that there is no fundamental basis behind the short term macroeconomic concerns in relation to the company's longer term future. In other words, the recent dip in stock price really appears to be overdone. I've been told that the best comparable publicly traded companies are the largest cement producer in Peru, UNACEM, as well as several other big Latin American companies Cemex and Argos. Below we can see a relative comparison of the 4 companies:
| | | | | | |
| --- | --- | --- | --- | --- | --- |
| Company | Market Cap | EBITDA valuation | Gross Margin | Operating Margin | Debt/Equity |
| Pacasmayo | 1.1B | 8.6x | 41.5% | 22.4% | 0.43 |
| UNACEM (OTCPK:CEMTY) | 1.58B | 8.2x | 42.7% | 28.4% | 0.88 |
| Cemex (NYSE:CX) | 13B | 11.6x | 30.3% | 5.8% | 0 |
| Argos (OTCPK:CMTOY) | 5.3B | 14x | 22.6% | 12.5% | 0.20 |
Cemex and Argos are both much larger multinational cement companies which have operations in several countries. But what's worth noting is that their margins are clearly lower yet they have considerably higher EV/EBITDA valuations currently. While it is true that their debt is lower, Pacasmayo has a very high current ratio and has no issues servicing its debt. Although it seems to have very similar operating metrics and valuation as its primary competitor in Peru, UNACEM, it has considerably lower debt levels and as a result net profit is consistently higher. With its stranglehold on the northern Peru market, it seems that a higher valuation is easily justifiable. Trailing 12 month EBITDA/share was $1.02 - in the coming 2 years this could easily rise to $1.50 as the new plant comes online combined with improvements in the Peru macroeconomic picture. At a 10-12x EBITDA multiple the company is looking at 50-80% upside in stock price. Even in 2010 while operating at the current capacity, EBITDA per share was $1.46 for the full year, so this figure is clearly achievable in a short time frame, especially with additional capacity coming online in 2015.
Key Catalysts
New Piura Plant - As discussed, the company is currently moving full steam ahead to complete its Piura plant by the end of 2014. All necessary permits are in place, equipment has been delivered from key suppliers in Europe, and construction is proceeding on schedule. The company did a $300m bond placement earlier this year in order to raise the capital for construction. Even with this debt/equity levels remain below 0.50, showing the strength of the company's capital position. Once the plant comes online in 2015, this should help to significantly begin to increase revenues and bottom line profits overtime. The plant will increase production by up to 50% and will operate at higher margins. As construction nears completion in the coming year and this information becomes more widely known and accepted by the investment community, the stock should rise.
Increasing coverage by Wall Street - The stock has only gone public in US markets in 2012, and as it continues to produce solid margins and gets a bigger following on Wall Street this will help to increase valuation multiples. It is followed by only 5 analysts currently.
Positive Progress in the Phosphate Plant - Currently the market is waiting for the release of the engineering study conducted together with Mitsubishi. Management stated a few weeks ago that this was due out "in a matter of weeks", and was just being internally reviewed by the Mitsubishi team. The general consensus is that there isn't any need to worry about poor results, and this is just an administrative hiccup that has caused a small delay in releasing the details. As the project continues to progress positively over the coming months, it can also have a positive impact on the stock price, perhaps as much as 10% judging by the perceived value of the project.
Positive Technical Indicators - Personally I do not put a lot of weight into technicals, however recently this week indicators have shown the stock to be oversold as of late, which could signal a short term reversal is imminent.
The Bottom Line
Pacasmayo is an excellent and safe way to get good exposure to South American emerging markets. The company has a long standing cement production operation for over 50 years in Peru and has a dominant market share position of nearly 100% in the northern part of the country. This is the kind of position that most companies would dream of, and it should ensure stable and healthy margins for years to come. This also allows the company to generate enough cash for continued growth, exemplified by its recent construction of a 3rd plant and its work on new mining projects as additional sources of revenue. The stock is currently near 52-week lows due to short term macroeconomic concerns in Peru, but the sell off seems overdone and the stock is trading at attractive multiples in comparison with larger Latin American peers. Once the market sees more clearly that significant future revenue and earnings growth is just around the corner as the Piura plant and Phosphate project progress further into 2014, the stock is more than likely set to appreciate by 50% or more.
Pacasmayo is seemingly a very attractively priced small cap growth play, that would be a fine diversifier for most portfolios.
Disclosure: I have no positions in any stocks mentioned, and no plans to initiate any positions within the next 72 hours. I wrote this article myself, and it expresses my own opinions. I am not receiving compensation for it (other than from Seeking Alpha). I have no business relationship with any company whose stock is mentioned in this article.