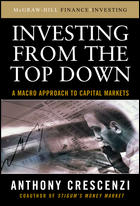 When I first became aware of this book, I got pretty excited. If an investor is seeking to expand his or her knowledge of investing, there's no shortage of literature available. If, for example, one wishes to learn about technical analysis, then there are a number of books on chart reading, chart compilation, pattern interpretation, and various other themes on the subject. The selection is so vast that your head will start spinning. The same is true when an investor wishes to explore fundamental analysis.
However, perhaps, because macro-based investing is a relatively new style, the universe of books is MUCH smaller. But because of the incredible expansion in products available to the retail investor, it's now relatively easy for an investor to use this approach either as a "standalone" investing discipline or by incorporating it into another investing discipline.
Author Anthony Crescenzi is the chief bond strategist at Miller Tabak & Company, as well as the coauthor of 'Stigum's Money Market, 4th Edition'. He wastes no time in denigrating conventional "bottom up" analysis as being too "time consuming" for most investors, as well as being ill-suited for an increasingly globalized economy.
He feels that bottom-up analysis is eminently suitable for investors, "especially those with very little understanding of balance sheets or the world of finance in general". To give him credit, midway through the book, he discusses how a macro approach can be integrated to a value-driven, bottom up analysis investment philosophy.
He points out that macro investing is primarily thematic investing, whereby an investor identifies very broad, generalized themes and then proceeds to construct a portfolio comprised of ETFs that are exposed to those themes. He does a credible job of covering topics such as the importance of central banks and how they affect investments (including the Federal Reserve), various data sets, such the various ISM surveys, and where to access them directly, in a manner that's pretty much devoid of "economist speak". Typically, at the end of most chapters, he includes a couple of summations, which he calls "Musts for the Macro Maven", and "The Golden Compasses" that outline which indicators were covered in the chapter.
Unfortunately, I feel the book is of limited usefulness to any reader who has anything beyond the most rudimentary exposure to macro thinking. Those whose portfolios are comprised entirely of US stocks that have little to no exposure to foreign markets (i.e. domestic small caps) may have their eyes opened, somewhat, but it strikes me thatthe title somewhat oversells the contents.
Investing From the Top Down: A Macro Approach to Capital Markets is published by McGraw-Hill.

Disclosure: No positions