Gold and silver have just touched close to lows of the year this morning before finally reversing course to rally 2% and 3% respectively. In this article I want to discuss a the reasons I pulled the trigger today and why it may be time to consider doing the same. While my portfolio is wide and diverse even with in the metals sector, two companies are standing out in my opinion as buys which I will discuss in a moment. The last two years have given long-term silver investors in particular an excellent chance to buy on the way down as we've pulled back steadily since April 2011. On the way down I have been recommending to dollar cost average and/or pyramid down into silver and silver equities. Despite the pressure on the metals in 2012-2013, in many recent articles I have suggested that gold and silver prices have long-term tailwinds in the form of extensive inflationary pressures. At the moment these pressures are at bay. I cannot say with certainty that we will not possibly see some deflation first. However, I think that once inflation picks up, it could be severe. Time will tell this story.
Most of us know that gold is a straightforward way to benefit from such inflation and is a safe haven in times of panic. However, I believe that silver is poised to outperform gold in the next decade or so because it has unique supply and demand issues that gold does not benefit from. I truly believe it is becoming more important than gold and will continue to do so over the next century. What makes it so unique is that it is both a precious and industrial metal. More so than all other metals, demand is at unprecedented levels, particularly in technology, but also by those who can't afford to purchase investment gold. While demand is ever increasing, there has been reducing supply since the 1950s, despite all of the miners producing silver. Given that silver has now bounced off of the $18 dollar range twice, I think we are establishing a floor in its price. That said, I believe now is the time to start buying silver equities once more. I purchased shares of two silver companies this morning, Silver Wheaton (SLW) and Hecla mining (NYSE:HL).
Why Silver Wheaton?
For those unfamiliar with the company, SLW operates as a worldwide silver streaming company. Silver streaming is basically a process by which the company purchases a mining firm's silver production in order to distribute that silver in the market. SLW has contracts to purchase silver in bulk at prices well below market value and then proceeds to sell the silver at a higher price. By 2017, annual attributable production is anticipated to increase significantly to approximately 49 million silver equivalent ounces, including 180 thousand ounces of gold. Other than its initial upfront payment, Silver Wheaton typically has no ongoing capital or exploration costs, and the company does not hedge its silver or gold production. The company has projects/agreements and is developing projects globally (figure 1).
Figure 1. Global Interests Of Silver Wheaton As Of June 30, 2013
Given its business model, SLW is best positioned to take advantage of the eventual rise in silver prices. And when it does, dividend growth is likely to follow. Compared with other silver companies, SLW also has the most reserves of any silver company (figure 2). This means that once prices rebound, margins, revenues and earnings are likely to grow faster than its peers and can likely be sustained for a longer period given its number of deals.
Figure 2. Global Reserves Of Silver, Comparing Silver Wheaton To Largest Peers
With SLW having a large reserve base, it is well positioned given its business structure. Essentially, the higher silver goes, the more it feeds the bottom line, because SLW has provided upfront financing for most projects in exchange for buying silver at fixed prices. Thus, with silver just a few dollars above its recent lows, it may be a good time to establish and build a long-term position.
SLW currently trades at $19.76 and has a 52-week trading range of $17.75-$38.42. On average, about 5.6 million shares exchange hands daily. The company trades at a 15.5 multiple but only a 0.68 five-year PEG ratio and currently yields 1.7%.
Why Hecla?
You may not be aware but HL is one of the oldest and lowest cost silver miners in the United States. HL operates out of Coeur d'Alene, Idaho in the Midwest United States. The company is involved in discovering, acquiring, developing and producing not just silver, but also gold, zinc and lead mines across the United States. HL currently has two mines operating in Alaska, and Idaho, and is the largest silver producer in the U.S. In 2011, HL produced over 9.5 million ounces of silver at a cash cost of a paltry $1.15 per ounce. Those costs have since risen, though HL has worked diligently to remain profitable. HL pays a unique dividend that has suffered lately. Its policy is to pay a minimum of $0.01 per common share annually. It also attempts to pay dividends that are tied to the payments it receives for the silver it produces. As this is highly correlated to the price of silver, it fluctuates throughout the year, but has ranged from $0.003 cents per share to $0.022 cents per share in 2012, resulting in an estimated 1.2% dividend yield last year. This year, it has returned to paying the one penny annually ($0.0025 per share quarterly).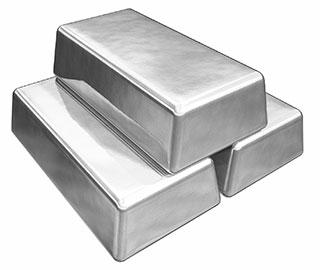 While HL is primarily a silver producer it has leveraged depressed asset prices to diversify. And much like SLW above, I value diversification. With the price of gold so low, HL to diversified into gold production. How did they do this? HL financed the purchase of Aurizon Mines with a hefty offering of $500 million 6.875% senior notes that will come due in 2021. As we know has gold prices have fallen less than silver prices this year on a percentage basis. They also have recently increased their production of gold at their Lucky Friday site. Lucky Friday saw a 121% quarter over quarter increase in production. I think HL can exceed the Q3 production of 480,000 silver ounces in the current quarter. Further this purchase of Aurizon and production increase with gold at Lucky Friday made Hecla a truly diversified company, as silver brought 38% of total revenue in the third quarter, gold brought 35%, and the remainder was supplied by lead and zinc. Financially, I am excited because HL has an EBITDA growth estimate of 75.6%, which is the highest in the industry, along with a price to book of only 0.76. Very strong indeed.
What further convinced me was a recent interview with the CEO of HL, Phillips Baker. When asked about HL's assets, he stated this:
"I think there are a number of things that give us competitive advantage. First is the assets that we have; they're high-quality assets, long-lived assets, very low-cost assets. They are located in Idaho, Alaska, Quebec, all great jurisdictions to operate in. And then the people that we have with these operations, we have excellent workforces at our mines. At Lucky Friday in particular, we've got second- and third-generation employees and miners. Same thing is happening to a degree at Greens Creek and Casa Berardi, the mine in Quebec, which has employees that were there when it first began operating over 20 years ago. So there is a commitment of people to the assets, and that makes a huge difference in the ups and downs that you have in the precious metals business."
Why is this key? Because they have loyal employees who likely value their jobs, but more importantly, note they do not operate in Mexico. In Mexico, political factions are calling for a hike in taxes on mining operations there. This does not impact HL, as it operates in North America. One exception to this is one of their pre development projects which is located in Mexico.
Exciting Projects In Development
HL has four advanced stage pre-development projects. These are the Bulldog and the Equity-North Amethyst projects in Colorado's Creede Mining District, the Hugh Zone/Andrea Vein at San Sebastian in Durango, Mexico, the Star Complex in North Idaho's Silver Valley, and the Heva and Hosco West Extension area in Quebec, Canada. The U.S. projects are at or near historic mining properties with well-developed infrastructures containing reserves and/or resources and are expected to contribute to Hecla's planned silver production growth within the next few years. Activities are under way that will provide access for underground drilling at the Bulldog mine and eventual mine planning and production. The 2013 into 2014 pre-development programs at San Sebastian consists of further scoping studies that are in progress to determine the production viability, rate and sequencing of mining the three areas. Much of this work is completed already. A ramp was engineered for construction that is allowing access to both the Hugh Zone and the Middle Vein. In Mexico at San Juan Silver, completion of the 2,800 foot decline to access the underground workings at the Bulldog project is near final. Finally at Heva and Hosco West Extension the company has conducted drilling, metallurgical work, and a 10,000 meter surface drill program for the Heva deposit to fill the gap inside the resource outline on sections that are supported by historic holes. All of this activity is leading to future exciting growth for this historic company.
HL currently trades at $2.75 a share and has a 52-week trading range of $2.65-$6.15. On average, about 4.5 million shares exchange hands daily.
Gold/Silver Price Decline Is A Risk
Should this market continue to power higher and inflation remains muted for some time, the price of gold and silver can suffer further. If demand slows in tech or in industry as a whole for silver, the price could suffer. While margins are already tight, real problems will begin with gold under $1200 and silver under $20. If this occurs, production could be cut in the future at HL and SLW will lose money on their contracts with funded partners. The EPA in the US is a political risk that HL has to contend with and SLW has agreements with partners across the globe. Most are in stable areas, but some of their partners could include but are not limited to, high rates of inflation; military repression; war or civil war; social and labor unrest; and organized crime and hostage taking, which cannot be timely predicted and could have a material adverse effect on the company's operations and profitability. The governments in those countries are currently generally supportive of the mining industry, but changes in government laws and regulations including taxation, royalties, the repatriation of profits, restrictions on production, export controls, changes in taxation policies, environmental and ecological compliance, expropriation of property, and shifts in the political stability of the country could adversely affect the company's exploration, development, and production initiatives in these countries.
Disclosure: I am long HL, SLW. I wrote this article myself, and it expresses my own opinions. I am not receiving compensation for it (other than from Seeking Alpha). I have no business relationship with any company whose stock is mentioned in this article.