By David Berman
Despite the rise in stock prices over the past year, dividend-yielding stocks still look attractive when compared with bond-term yields. Leigh Pullen, president and chief investment officer at QV Investors in Calgary, noted that the average yield on stocks in the S&P/TSX composite index is 71.4% of the yield on the long bond.
While that's a lot lower than the 120% comparison at the depths of the stock market rout last March, it is still historically high. Indeed, the average over the past 20 years is less than 40%, making dividend stocks look very attractive next to bond yields.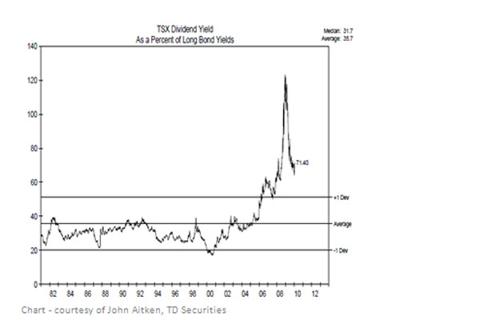 Here's another way to look at the numbers, also courtesy of Mr. Pullen. Government of Canada five-year and 10-year bonds yield about 2.5% and 3.7%, respectively. However, about three-quarters of the S&P/TSX composite index (by market capitalization) will get you a yield that beats the yield on the five-year bond. And about 21% of the index (also by market cap) will beat the yield on the 10-year bond.
"This is a temptation, and means we must discriminate in the selection of our companies," Mr. Pullen said in a note. To that end, he likes companies that have been able to increase their dividends by a rate of 15 to 16% over the past five years.
He highlighted seven stocks that fit the bill in his Canadian equity portfolios: Husky Energy Inc. (OTCPK:HUSKF), which has grown its dividend by 107% over the past five years; EnCana Corp. (NYSE:ECA), whose dividend has risen 82%; Canadian National Railway Co. (NYSE:CNI), up 23%; Toromont Industries Ltd. (OTCPK:TMTNF), up 20%; Saputo Inc. (OTCPK:SAPIF), up 17%; National Bank of Canada, up 24%; and Telus Corp. (NYSE:TU), up 29%.