Telefonica (NYSE:TEF) is actually one of the stocks I don't mind when the shares are trending down. The cheaper the stock, the higher the yield. In fact, Telefonica's forward dividend yield is now approaching 7% and makes for a serious alternative to REITs or MLPs. Telefonica also exhibits the lowest earnings valuation of the large-cap telco sector providing investors with limited downside risk. I believe Telefonica offers outstanding long-term dividend value and outstanding capital appreciation potential driven by its Latin American operations. Telefonica is great value for investors who are looking to diversify into telco holdings and have a long-time horizon.
Another aspect I really like about Telefonica is its lagging share performance compared to other companies in the sector. Lagging share performance means more rebound potential and room for valuation growth while other companies already had their run. As such, I am always on the lookout for companies that an attractive earnings outlook and possibly one overriding flaw that clouds investor's judgment. In the case of Telefonica both criteria can be affirmed: Telefonica is based in Spain but has huge operations in Brazil, Argentine and other Latin American countries. Telefonica basically combines a more or less stable home business under normalized economic conditions with the benefits coming from high-growth emerging markets and top-performing mobile phone and broadband segments. The flaw, if you will, came from its suspended dividend payment in 2012. The company has resumed its payments to shareholders but the market still discounts both its income stream and growth prospects.
Share performance
Over the last 52 weeks Telefonica has returned 20.09%. Shares of the Spanish telco giant started to surge in September and eventually reached $18. Telefonica stock has corrected about 13% since the end of October which I do not even view as a negative sign. On August 30, 2013 shares were trading at $13.56 and shot up almost 33% over the next eight weeks as investors started to adjust their earnings expectations. The current consolidation is healthy and offers investors the chance to pick up a high-quality business at a low valuation.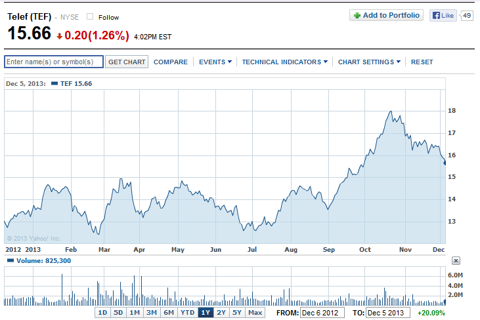 The decision of investors to purchase or sell stocks is often driven by regret aversion. Regret aversion is an emotional bias that comes into play when investors exhibit a desire to be a 'part of the crowd'; most often subconsciously. Herding or 'a desire of conformity' are other attributes to describe such flawed behavior. As such, it naturally is difficult to convince investors that a lagging share performance can be a good thing (that is, lagging performance is often driven by extreme levels of negativity thereby increasing the discount to intrinsic value). Lagging performers are often interesting to contrarian investors as the underperformers of yesterday can often become the outperformers of tomorrow. Telefonica's performance is clearly lagging its peers: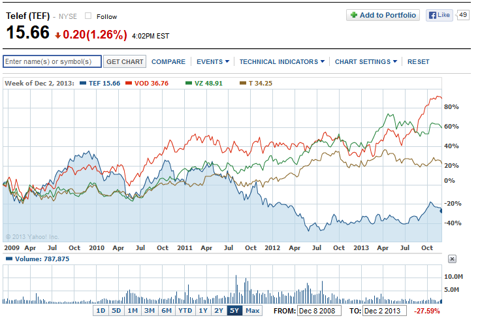 The share performance comparison table below shows that Telefonica substantially underperformed its peers and the average return over the most recent two- and five-year measurement periods.

Market valuation
The relative underperformance of Telefonica has driven shares to unreasonable levels. Even though Telefonica has recovered quite a bit during the second half of 2013, valuations are still extremely attractive. Telefonica's most recent correction has driven its forward P/E ratio to 9.84. Vodafone (NASDAQ:VOD) fetches a forward earnings valuation of 15x. US-based companies Verizon (NYSE:VZ) and AT&T (NYSE:T) command multiples of 13.97x and 12.81. The peer group average stands at 12.92.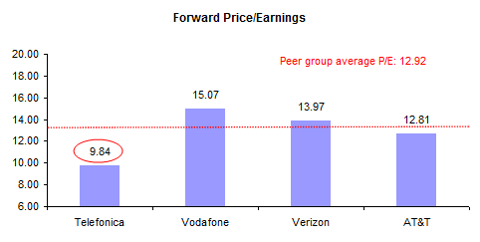 Telefonica pays a dividend of EURO 0.75 which is paid semiannually (in November 2013 and Q2 2014). The annualized yield now stands at approximately 6.52% which is way above the average peer group yield of 4.70%.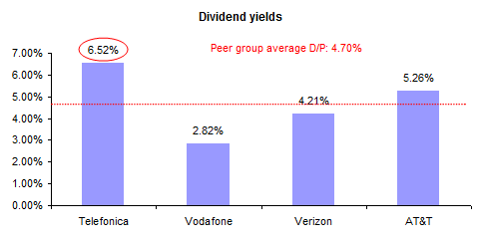 Telefonica's updated valuation- and dividend metrics are summarized in the table below and are compared to other large-cap telco companies in the sector.

Conclusion
The recent correction in Telefonica's share price offers investors the chance of picking up a great telco play at a higher yield. I believe Telefonica's long-term earnings prospects are one of the most attractive in the sector as the company has access to top growth markets in Latin America. Telefonica's growth is materially being driven by its Latin American operations: Organic y-o-y revenue growth for TEF's Latin American business stood at 10.9% in Q3 2013 and organic y-o-y OIBDA growth at 4.8% while European results were a drag on performance.
Telefonica seems to be a great deal for long-term investors: The company is a high-yielding REIT alternative with a yield approaching 7%, strong cash flow- and earnings generation in Latin America, a low relative valuation providing investors with a high margin of safety and significant room for valuation growth. Telefonica is the best value in the large-cap telco space and I rate the Spanish company a Strong BUY for investors with a long-time horizon.
Disclosure: I am long TEF. I wrote this article myself, and it expresses my own opinions. I am not receiving compensation for it (other than from Seeking Alpha). I have no business relationship with any company whose stock is mentioned in this article.