I've been a full-fledged J.C. Penney (NYSE:JCP) bear since the beginning of 2013, but remain with a close eye on the company - in order to keep up with the story and look at potential trading opportunities.
J.C. Penney has been all over the map the last few days, and while I advocate continuing to stay out of the stock, there is potentially money to be made in staking a couple of different positions that I want to review. First, let's take a quick gander as to what's new in the world of J.C. Penney.
After posting comparable store sales rising at a clip of 10% in November, J.C. Penney was off to the races this week, with the stock pushing upwards of $10 for the first time in a while.
However, Wells Fargo came out of the woodwork Wednesday, stating they weren't as amused by the double digit growth as the market was. That news stirred up a quick pullback in JCP's share price.
Wells Fargo's comments, as reported by StreetInsider.com (link above):
Wells Fargo maintained an Underperform rating on J. C. Penney with a price target of $4-$5. Analyst Paul Lejuez was unimpressed by improved November comps, describing simple stack analysis as "misleading."

"JCP indicated November comps were +10.1% (and mgmt indicated Black Friday weekend was consistent with the month). This compares to Aug -9.8%, Sept -4.0%, Oct +0.9%. November results were consistent with our ests (and we maintain our FQ4 comp est of +7-9%). While FQ4 2012 comps declined 32%, Nov was the worst month of the qtr last year (we estimate -34%). Therefore, we believe the Nov comp may be as good as it gets in Q4 2013. Importantly, we believe many are likely to misread the magnitude of the acceleration in trend in Nov. Using "simple" stack analysis, it appears Nov accelerated by 700bps vs. FQ3. The "real" math shows it was only 230bps," said Lejuez.

"If we assume Nov last year declined 34%, many will add the 10% comp just reported and assume a 24% two-year stack for the month, an improvement over the simple FQ3 stack of down 31%. Some may point to a 700bps acceleration. When you multiply (the right way to do it) rather than add, the Nov two-year stack is down 27.3% compared to the real FQ3 stack of down 29.6%, only 230bps acceleration. Still an acceleration to be fair, but much less impressive in our view," he added
Just as the chaos started to clear from those statements, it was announced Thursday, December 5th, that Kyle Bass, who heads up Hayman Capital, has dumped his stake in the company - this induced even more whiplash for those following the progression of JCP's stock:
Hayman announced its stake back in August, when investors like Bill Ackman were still in the stock as well. Since then Ackman has exited, and fellow hedge fund manager Richard Perry of Perry Capital has cut his stake in half.

JC Penney's sales surged in November, as the retailer is trying to pivot back to older brands and sales strategies that were disrupted when Bill Ackman tried to change the company after he bought a significant stake in JCP in 2010.
And, after the bell on December 5th, it was announced that the SEC would be launching an inquiry into JCP's September fundraising efforts. That means volatility now, and volatility once the SEC makes up its mind to pursue or ignore whatever it is they may be looking at.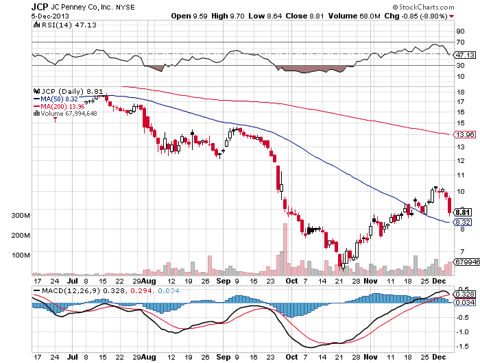 As I stated in my last article about JCP taking on some dilutive financing, the stock remains a sell or short from a fundamental level. However, there's something to address in the volatility behind the stock over the past couple of days. This stock can still be a vehicle for profitability, even if the company continues to flounder and you're not necessarily sold on a short position.
What does this mean for the potential J.C. Penney trade? It means literally, "know your options."
It means, if you're going to position short, why not do so through options, as well as through shorting the equity? One of my favorite types of investing in companies like JCP, that are extremely volatile, is through option spreads. A reason that I'm advocating a spread here is to offer both insurance to the investor, as well as a chance to profit off of volatility before what I believe will be an inevitable walk downward.
For this situation into Friday, I'll be looking at and considering a $9 January 2014 straddle - buying both long puts and long calls. The calls are going to cost you $.82, and the puts will cost $.79. Without commission, that's going to put your cost basis at $1.61 a share and your breakeven points at $10.61 (where we were just days ago) and $7.39.

While it's likely that JCP will reach one of these two points in the almost 6 weeks of trading that will occur until expiration, this position also offers you a unique opportunity to take advantage of any potential swings in the stock price. Aside from running under or above your breakeven price, this offers investors a good way to close a long position in either calls or puts when the stock swings to one direction - and then potentially nab the other on an opposite swing to make a profit. In other words, they both may never have to even reach "breakeven" points, with enough volatility.
Additionally, this type of position works as a hedge to complement either a long or short position. It's a neutral position that benefits with volatility - which we know of, from this week, will be no stranger to JCP in the coming weeks.
Best of luck to all investors.
Disclosure: I have no positions in any stocks mentioned, and no plans to initiate any positions within the next 72 hours. I wrote this article myself, and it expresses my own opinions. I am not receiving compensation for it (other than from Seeking Alpha). I have no business relationship with any company whose stock is mentioned in this article.