"FirstEnergy is buying Allegheny Energy for $4.7 billion in stock. That will create one of the largest electricity providers in the land. AYE is being paid $27.65 a share." — Fox Business Network 2/11/2010
A long awaited wave of consolidations for regional utilities may be underway, as FirstEnergy (NYSE:FE) and Allegheny Energy (AYE) have agreed to merge. The combined entity would be one of the nation's largest electric utility providers and would service 6 million customers from Ohio to the eastern seaboard, 7 states in all. Furthermore, at current estimates the company would bring in annual revenue of around $16 billion and profits of $1.4 billion. FirstEnergy's Chief Executive, Anthony Alexander, who would remain CEO of the combined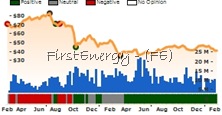 company, called the deal "a natural fit." He said they expect the deal to be accretive to earnings in its very first year and synergies could save the company about $180 million in costs annually.
Shareholders of Pennsylvania's Allegheny would receive the equivalent of two-thirds share of FirstEnergy for each share of AYE, which is roughly a 31.6% premium over yesterday's close. Yet, as of Thursday afternoon shares are only 12.5% higher, and the lack of exuberance from the market speaks volumes of concerns that the deal may have a tough time receiving approval. Not only would the deal have to pass the muster of the Federal Energy Regulatory Commission, but also a handful of states would have to sign off on the deal. As part of that process there is a good chance that regulators would require new, lower rates which would eat away at the new company's profits. It was in that process that Excelon's (NYSE:EXC) $17 billion bid for Public Services Enterprise Group (NYSE:PEG) was derailed a few years ago, and ended up with no deal because EXC could not agree to rate concessions.
Assuming the deal does go through, we think it is a very wise acquisition for FE as even at the offered price AYE is still Undervalued according to our methodology. Utilities, as a whole, have greatly underperformed the broad market indexes during equities' rebound over the last year, which is not all that surprising as they are generally defensive in nature.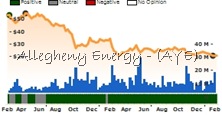 The Utilities industry iShare (NYSEARCA:IDU) is up about 2% from a year ago, while Allegheny's stock has lost a whopping 36% coming into the day. Sales and earnings did not fall off drastically in the last year, so we think that this is a case of a stock that has fallen out of favor with the market.
If the deal goes through for a price equivalent to $27.65, the stock would still be valued well below where the market has historically valued AYE. For example, over the past ten years (with recent years weighted more heavily) AYE has traded for between 14.2x-26.4x cash earnings levels, and the price-to-cash earnings would be about 7.5x at the deal's price. Price-to-sales is not as extreme, with the current level of about 1.4x which is within the historically normal range of 1.1x to 2.2x. Either way, these two stocks will probably be tied to the regulatory process more than fundamental factors over the next few months, if not years.