Following the Bank of Montreal (NYSE:BMO)'s Q4 results on Tuesday, Royal Bank of Canada (NYSE:RY) or commonly known as RBC, reported Q4 and fiscal 2013 results today. Although RBC did not raise its dividend like BMO, its solid performance in fiscal 2013 is a harbinger for future dividend increases. Similar to other big 5 Canadian banks, RBC has been paying and growing its dividend for over 100 years and investors should expect further dividend increases down the road.
This article presents a comprehensive analysis of RBC after its Q4 results and presents my investment thesis for RBC. Please note that all financial data are in Canadian Dollars except for the price target which is presented in US dollars and represents the price target for RBC's NYSE listed shares. The company's reporting and functional currency is the Canadian Dollar so comparing the financial results in Canadian dollars provide a better picture of the underlying fundamentals. However, my price target is presented in US dollars for the reader's convenience.
Q4 and Fiscal 2013 Results Summary:
RBC reported adjusted EPS of $1.42, which is higher than analyst's estimate of $1.38. The result represents a 11.8% year-over-year (Y/Y) increase, but is slightly down 2.7% quarter-over-quarter (Q/Q). For fiscal 2013, RBC reported EPS of $5.54, up from $4.93 reported in fiscal 2012 and represents a 12.7% Y/Y increase. RBC's Q4 result was impacted by a few extraordinary items including a $160 million ($118 million after-tax) charge in its insurance division and a $124 million favorable tax benefit.
Positive catalysts that helped the bank to earn record profits in 2013 include solid volume growth in its Canadian P&C business, strong investment banking related revenues in its capital markets segment and higher fee based income in its wealth management business. RBC exceeded its financial objectives for the year and will continue to perform well in fiscal 2014. RBC continues to earn double digit ROE as shown in graphs 1 and 2. It has a diversified business model as shown in graph 3 with good growth opportunities in its Capital Markets, Wealth Management and Investor & Treasury Services segments.
Table 1: Adjusted or Cash EPS Trends
| | | | | |
| --- | --- | --- | --- | --- |
| Q4/13 | Q3/13 | Q4/12 | Y/Y | Q/Q |
| $1.42 | $1.46 | $1.27 | 11.8% | -2.7% |
Source: Q4 press release
Graph 1: Quarterly EPS vs. ROE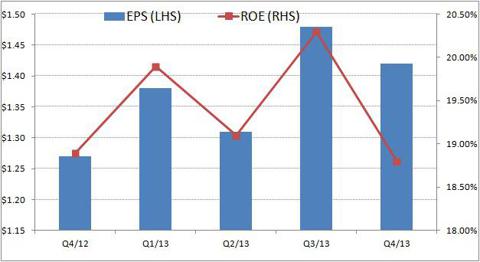 Source: Q4 Financial Supplement
Graph 2: Annual EPS vs. ROE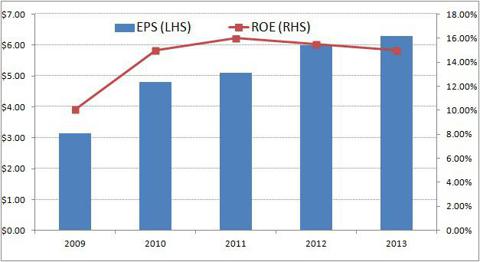 Source: Q4 Financial Supplement
Graph 3: RBC's Earnings By Division (Fiscal 2013)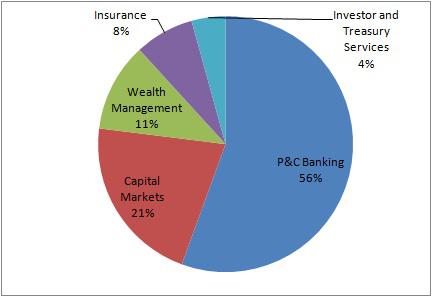 Source: Q4 Financial Supplement
Commenting on the record profit for fiscal 2013, Gord Nixon, RBC's CEO, said the following in the Q4 press release:
With solid fourth quarter earnings of more than $2 billion , RBC delivered record earnings of $8.4 billion in 2013. These results build on our financial strength, diversified business mix and ability to serve clients across many products, markets and geographies. We believe our domestic leadership and focus on global growth position us well to deliver sustainable earnings growth and build long-term value.
Canadian P&C Banking:
Canadian P&C banking is the crown jewel of RBC since it generates a high return on capital and solid cash flows to fund RBC's dividend. This division achieved a record profit of $4.4 billion in fiscal 2013 and has earned over $1 billion for the sixth quarter in a row. It has the highest market share in a number areas such as consumer lending (23.7% market share) and business lending (25% market share). RBC's unparalleled distribution network and economies of scale in this business is likely to continue to benefit shareholders in the years ahead.
Looking at the financial performance, the Canadian P&C division earned $1.1 billion in Q4/13, an increase of 7.3% Y/Y. The performance was enhanced by solid loan growth of 7.2%. However, one negative catalyst that impacted RBC's result was the low interest rate environment, which has put pressure on RBC's Net Interest Margin or NIM. As shown in table 2, NIM decreased 4 bps Y/Y and 7 bps Q/Q, although the Q/Q comparison was impacted by a positive one-time item in Q3/13. Unlike other Canadian banks, RBC's NIM has stabilized somewhat near the 2.70% level and did not fall in a straight line from Q4/12 to Q4/13. RBC's efficiency ratio, which is calculated by dividing non-interest expense by total revenue, is the lowest among the big 5 Canadian banks. The ability to control cost leads to positive operating leverage and translates to higher profits. However, management did caution investors on the Q4 conference call that growth in the Canadian P&C business is likely to slow next year due to the low interest rate environment and heightened competition in the marketplace. The cash generation ability of its Canadian P&C business provides a solid coverage for RBC's dividend.
Table 2: Canadian P&C Banking Data

Source: Q4 Financial Supplement
Graph 4: Canadian P&C Loan Book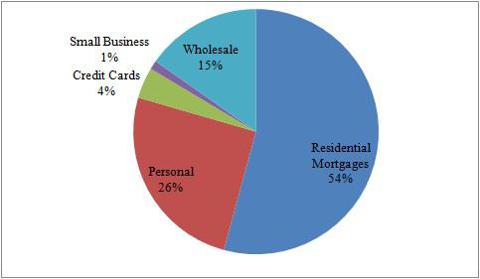 Source: Q4 Financial Supplement
Wealth Management:
The Wealth Management division is a key growth driver for RBC. Having spent billions acquiring asset managers in Europe (i.e. $1.54 billion acquisition for Bluebay Asset Management in 2010) and Asia, the results of those transactions are finally showing up on the bottom line. For fiscal 2013, the wealth management division delivered record earnings of $899 million or 17.8% higher than fiscal 2012. George Lewis, head of wealth management, plans to grow earnings of this division to $2 billion by the end of 2015. Although the target is very ambitious, it is not impossible given solid double digit percentage growth in Asset under Management (AUM) and Assets under Administration (AUA) as shown in table 3. Higher AUA and AUM results in higher fee based income, which provides a relative stable income stream to the company. The growth in this division will drive RBC's future dividend increases.
In Q4/13, the wealth management division earned $205 million which represents a 1% Y/Y decrease. The result was heavily impacted by a one-time provision for credit losses (PCL) of $42 million relating to a few specific accounts. PCL in the wealth division is usually very minor and management stated on the conference call that this large PCL charge should be considered as an one-time item. Therefore, adjusting for this abnormal PCL charge, normalized earnings in Q4/13 is similar to Q3/13's $236 million.
Table 3: Wealth Management Related Data

Source: Q4 Financial Supplement
Insurance:
RBC's insurance division is a high quality business with strong ROE as shown in table 4. As noted in the earnings summary section above, Q4/13 included a one-time charge of $160 million pre-tax ($118 million after-tax) relating to the new proposed insurance legislation in Canada. This quarter also included the annual actuarial assumption adjustments, which increased non-interest expense and the efficiency ratio. Ignoring these non-operating items, I expect RBC's insurance division to achieve a run-rate of $150 million in the next few quarters and should contribute to RBC's profitability given ROE has historically been higher than 40% in this segment.
Table 4: Insurance Related Data

Source: Q4 Financial Supplement
Investor & Treasury Services:
Investor & Treasury Services is RBC's custodian bank, which was formed after RBC took over control of RBC Dexia in 2012. This division benefited from the improved market sentiment, which increased AUA by 11.2% Y/Y. RBC has increased ROE in this division from the low teens to the high teens and may continue to increase it further due to better economic conditions. The positive operating leverage in this division is another positive that will boost future earnings.
In Q4/13, this division earned $92 million, which represents an increase of 27.8% Y/Y but a decrease of 11.5% Q/Q. For fiscal 2013, the division earned $343 million or 303% higher than it earned in fiscal 2012.
Table 5: Investor and Treasury Services Related Data

Source: Q4 Financial Supplement
Capital Markets:
RBC Capital Markets, RBC's wholesale banking division, is another key area of growth for RBC. Unlike other US banks, RBC took advantage of the 2008 crisis and expanded its capital markets capability globally. Other global peers were forced to scale back their wholesale banking divisions in order to repair their balance sheets, giving RBC the opportunity to expand. Management has been shifting the division's focus to advisory, origination and loan syndication in order to reduce volatility in its quarterly earnings. This strategy has paid off handsomely in the past few quarters by de-emphasizing trading. Unlike BMO or TD (NYSE:TD), RBC's wholesale banking unit actually experienced a Y/Y increase in earnings due to strong activities in M&A and loan syndication. Furthermore, another common misunderstanding is that RBC has a big investment bank. This is absolutely false because the earnings contribution from RBC Capital Markets is only 21%. Also, the strategic shift in its business towards advisory and origination will reduce earnings volatility and generate profitable growth in the years ahead. As the global economy improves, M&A activities and equity and debt issuances will increase.
In Q4/13, RBC Capital Markets reported net income of $472 million which represents an increase of 27.2% Y/Y and 105.0% Q/Q. RBC was involved in a number of high profile deals including the $25 billion privatization of Dell (DELL) and the $49 billion note issue by Verizon (NYSE:VZ).
Table 6: Capital Markets Data

Source: Q4 Financial Supplement. CIB represents RBC's corporate and investment banking sub-division within RBC Capital Markets
Credit:
RBC did experience better credit conditions in Q4/13 compared to Q4/12 with PCL declining 7.5% Y/Y. However the $335 million PCL recorded in Q4/13 is $68 million higher than Q3/13 partly due to the abnormal $43 million PCL charge in its wealth management division as discussed above. Overall, credit quality remains strong with PCL to average loans at 0.32%, in-line with results in the last 8 quarters. Gross impaired loans decreased 2.2% Y/Y and is stable at 0.52% of total loans. Net impaired loan formation increased significantly by 22.4% Y/Y, but that is partly attributable to the bad credit experience in its wealth management division.
Table 7: RBC's Credit Related Data

Source: Q4 Financial Supplement
Dividend:
RBC has a solid history of paying and growing its dividend in the past 100 years. Similar to other big 5 Canadian banks, it did not cut its dividend in the Great Depression or the Great Recession. Unlike BMO or CIBC, RBC's payout ratio did not increase above 60% even in the 2008 crisis, which is positive for income investors looking for a sustainable and competitive dividend. RBC's dividend yield is currently 4.1%, which is slightly lower than the 4.4% offered by both BMO and CIBC (NYSE:CM). However, RBC grew its dividend by 11.4% compounded annually (CAGR rate) since 2003, which is higher than the average dividend growth rate of 9.5% among the big 5 Canadian banks. In addition, its dividend yield of 4.1% is much higher than fixed income alternatives such as the 10-year treasury, which is yielding about 2.8% right now. Its earnings from its Canadian P&C division ($4.4 billion) is more than enough to cover its entire dividend payment ($3.7 billion). Earnings growth in its Capital Markets, Wealth Management and Treasury & Investor Services divisions will drive future dividend growth.
RBC's current quarterly dividend of $0.67 per share is paid in Canadian Dollars so US investors may face some FX risk. If the Canadian Dollar appreciates vs. the USD, US investors will receive more than $0.67 per share. On the other hand, if the Canadian Dollar depreciates vs. the USD, US investors will receive less than the $0.67 per share. Nonetheless, even if the Canadian Dollar depreciates 25%, RBC's US investors will still receive a dividend yield greater than 2%, which is higher the dividend yield offered by most US banks.
Graph 5: RBC's Adjusted EPS, Dividend Per Share and Payout Ratio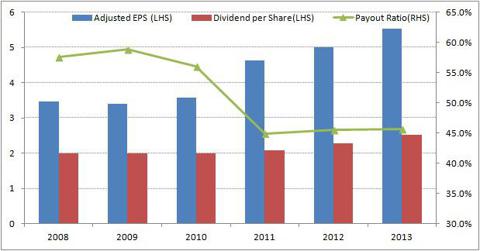 Source: Q4 Financial Supplement
Investment Thesis:
RBC is an excellent name to own for investors who seek a sustainable and competitive dividend while still wanting a modest growth exposure. RBC's high quality Canadian P&C franchise provides the cash flow to maintain RBC's dividend while its other divisions provide the earnings growth to allow for future dividend increases. The majority of RBC's businesses are leaders in their respective markets so investors are buying a well diversified and leading financial institution.
RBC is currently trading at 2.3X book and 3.0X tangible book. Although RBC may appear overvalued, its earnings power and high profitability justify the high premium it trades vs. other banks. As shown in graph 6 below, RBC's price-to-book (PB) multiple traded above the peer average due to its leading market position and above average profitability
My 12-month price target for RBC is C$74 or US$69.50 using Thursday's USDCAD exchange rate of 1.066. The US$69.50 price target is 2.2 times my estimated 2014 year-end book value of US$31.57 (C$33.65). My price target represents a 12.7% total return from Thursday's price of US$64.00. The 2.2 PB multiple is a 10% premium (the 10-year average as shown in graph 6) to the peer average PB of 2. My price target assumes a small PB multiple contraction of 0.1X to account for the slower growth environment, but readers should look at table 8 for all the possible cases. On an earnings basis, RBC's shares look cheap because it is trading at 11.5X its estimated 2014 earnings compared to the 10-year average of 12.0X.
Table 8: Sensitivity Analysis of Price Target (in USD)

Source: Author's Calculations
Graph 6: RBC's Price-to-Book Multiples Compared to Peers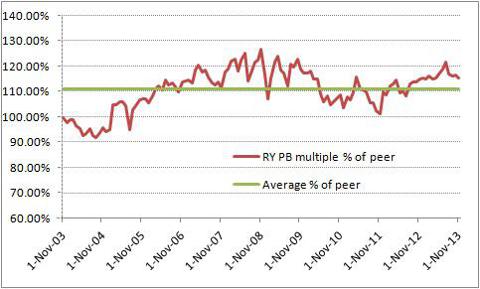 Source: Bloomberg Data and Q4 Financial Supplement. Peers include BMO, CIBC, TD and Scotiabank (NYSE:BNS)
Graph 7: RBC's Historical Price-to-Book Multiples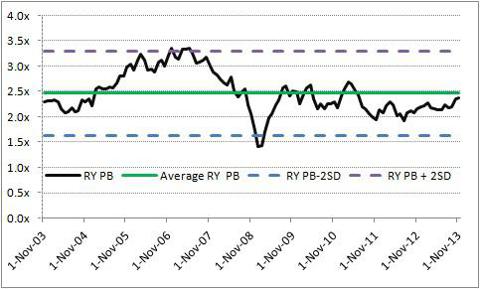 Source: Bloomberg Data and Q4 Financial Supplement
Conclusion:
RBC is a high quality income name to own in a portfolio. After selling its poor performing US P&C operations to PNC Financial (NYSE:PNC) for $3.62 billion in 2011, it has reinvested the proceeds from the sale into its high growth divisions such as Wealth Management, Capital Markets and Treasury & Investor Services. The growth in these three divisions will drive future dividend growth. Given its shares have fallen 7% from its 52-week high reached two week ago, income investors with a long-term investment horizon should consider adding RBC to their portfolio.
Disclosure: I have no positions in any stocks mentioned, and no plans to initiate any positions within the next 72 hours. I wrote this article myself, and it expresses my own opinions. I am not receiving compensation for it (other than from Seeking Alpha). I have no business relationship with any company whose stock is mentioned in this article.
Additional disclosure: This article is for informational purposes only and does not constitute an offer to buy or sell any securities discussed in the article. The stock mentioned in this article does not represent financial advice. The target price presented in this article is based on current information and are subject to change without further notice. Investors are recommended to conduct further due diligence before committing capital to any investment.