Being a small technology enthusiast, I have had my share of smartphones ranging from the BlackBerry (BBRY) Pearl to the Android Motorola X, to a wide array of Apple (NASDAQ:AAPL) iPhones to the current iPhone 5S - thanks for not using your upgrades Grandma! After taking a look at my friend's Samsung (OTC:SSNLF) Galaxy S4 and another friend's Note 3, I can see the draw. Bringing back a stylus in the Note 3 is interesting, although to me I see it as a case of diminishing productivity. Circling items on your screen is interesting, although I enjoy using my fingerprint to unlock my phone if we are going to compare upgrades.
I am not new to the debate of Samsung tackling Apple in the smartphone arena. I am not backtracking on the fact that Samsung is able to offer better specifications (outside of the A7 chip currently) on its phones with regard to the prices paid for those smartphones. Interestingly, Samsung is able to offer a higher MP rear camera, better screen resolution and a larger screen, better resolution, higher MP front camera, 4G LTE-Advanced capability (with the snapdragon 800 chip), an extra gig of ram and expandable memory of the iPhone 5S for the same price.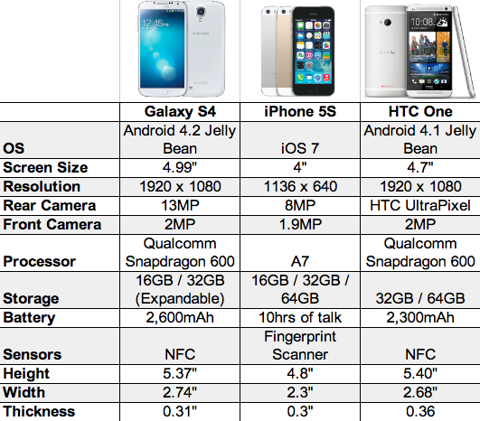 In my personal opinion, comparing the specifications does not translate into killer success automatically. I have been blown away by the A7 chip in the iPhone 5S, and I have not noticed the need for an extra gig of memory.
(Click to enlarge)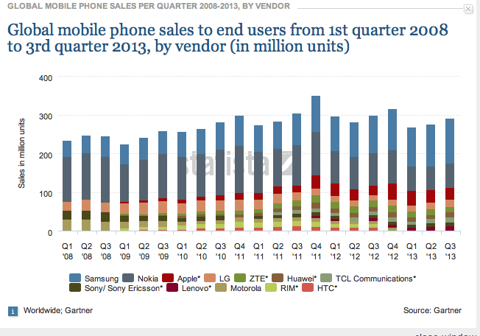 Samsung has undoubtedly taken the lead from Apple in smartphone sales and market share.
(Click to enlarge)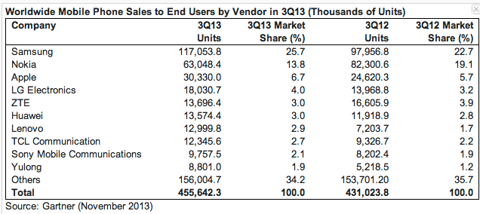 Although I have a question: If Samsung is outselling and surpassing Apple, then why isn't Apple dead and buried? Let's take a look at some key points that in my opinion have a bearing on this debate.
Innovation > Saturation: We can all avoid a large number of links and references to just conclude that Apple has been credited with revolutionary and disruptive technology that Samsung has been noted as keeping up with. Apple has been credited with fingerprint scanning technology and the A7 chip in its latest iPhone 5S. Other than having a larger screen and user interface differences, having a larger screen is not revolutionary, it's an adjustment. In my personal opinion, Apple will continue to holds its portion of the premium smartphone market due to the company's drive for innovation over keeping up and providing oversaturation. This innovation has led Apple's brand-power to continue to hold its ground. Oversaturating the market is not a path to holding an innovative title and Apple has maintained its brand-power that drives sales by offering only the most innovative products.
Apple Offers An Ecosystem: Apple offers an ecosystem that offers product differentiation at its finest. The offerings including iMessage, FaceTime and iCloud create a powerful ecosystem that Apple users continue to use and love. Apple users enjoy the ease of use that comes along with the compatibility of its ecosystem within the company's products.
Future Products: As can be seen with the release of Samsung's smart-watch, Apple has been absent in this area. The answer is quite simple, Apple wants to offer the best, most innovative version of its product to the market that will more than satisfy its customer base. This demonstrates Apple's drive to avoid keeping up with its competitors in a path to offer its products on the most advanced setting. Moreover, comparisons between Apple's smart-watch and Samsung's current watch will likely demonstrate the differences between rushing to be the first main supplier, and waiting to develop the most advanced version.
Simplicity: Apple's products are simple and easy to use. Moreover, their design is exceptional.
Closing Remarks:
The Apple vs. Samsung debate is intense and to be honest, I believe that both companies will do just fine. Apple will maintain its premium market-share through the crazy innovations the company offers and Samsung will outsell the company with its wider array of products. The coexistence of the two companies should be discussed as it's not one or the other in the future - both companies will be around for a long time to come.
(Click to enlarge)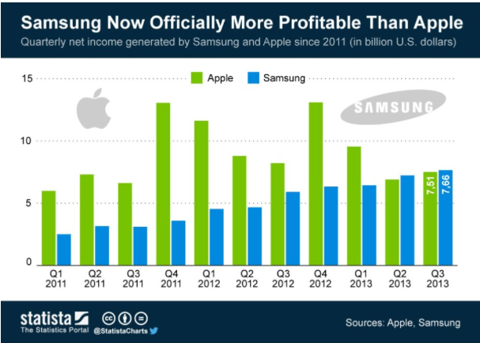 Co-existing is fine to most investors, although the debate is usually brought out to an unnecessarily specific scale. In my opinion, Apple is not a current short candidate for several compelling reasons.
China Mobile deal can add $2-$4 to Apple's EPS and opens the company up to the largest smartphone market in the world.
The iPad Air and iPad Mini Retina are going to be a massive hit this Christmas.
There is no doubt that Samsung can supply its own materials to produce its smartphones at a lower cost than Apple, although the two companies will co-exist for the very long foreseeable future.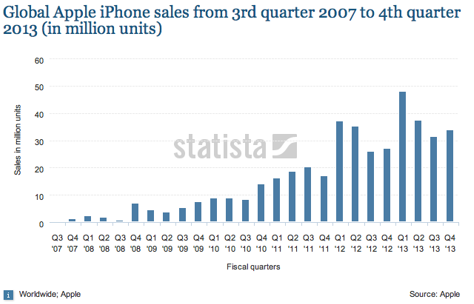 A key point is that coupled with Apple's China Mobile deal, new iPad offerings and mobile phones for Christmas - the company usually has its strongest quarter in the first quarter of the year. As such, I would avoid shorting Apple going into the next quarter, and the following one being the usual second strongest quarter for the company. For the bears, I would look to short Apple in the 2H of 2014 following the second quarter earnings announcement. These quarters are usually weaker, although this is subject to new product offerings such as Apple TV or a smart-watch that could change the game. All in all, I would just stay away from shorting Apple over the next two quarters.
On a longer-term basis, the picture is different. I am a sole believer that Apple will maintain its premium portion of the market-share, although Samsung is growing rapidly - with a lot of income to follow. The company will be able to expand its operations with the use of this income and use these funds to innovate in other smartphone areas of its own. Samsung has eclipsed Apple's earnings recently, Although this Christmas quarter will be interesting as Apple will likely take in an above average amount of income for the quarter. Samsung is high growth right now and Apple is a more mature company, so comparisons will obviously be different.
On an ending note, Samsung will continue to earn more than Apple on a long-term basis if Apple does not change the tune of the game - such as using its $150 billion cash hoard in a productive manner. Moreover, in the future, I see Apple as continuing to be the most innovative and premium supplier of smartphones - a title that will power its brand-power on a global scale.
Disclosure: I have no positions in any stocks mentioned, and no plans to initiate any positions within the next 72 hours. I wrote this article myself, and it expresses my own opinions. I am not receiving compensation for it (other than from Seeking Alpha). I have no business relationship with any company whose stock is mentioned in this article.
Additional disclosure: Always contact a financial professional before executing any trades. This article is informational and in my own personal opinion.