Introduction
In this article, I'll have a closer look at Krispy Kreme Doughnuts (KKD) which collapsed after it reported its Q3 results last week. I will provide my look at the company's financial results and the balance sheet, where after I will briefly discuss its outlook. This will result in my investment thesis at the end of this article.
My view on the financial results
In the third quarter of Fiscal Year 2014 (hereafter 'FY 2014') which ended on November 3rd, Krispy Kreme announced its revenues increased by 6.7% to $114.2M compared to the same period last year. Same store sales at its company stores rose by 3.7%, which marked the twentieth consecutive quarterly increase (which is five years - quite an impressive track record). This revenue increase was mainly caused by retail price increases.
Krispy Kreme Doughnuts reported an income before taxes (EBT) of $11.9M which resulted in a net income of $6.8M or $0.10/share and an adjusted net income of $0.16/share.
All this sounds ok and the company was able to beat the analyst estimates by $0.01, but instead of just looking at the bottom line, I also like to have a look at the cash flow statements of a company because these cash flow statements usually give a better indication about the quality of the underlying business model.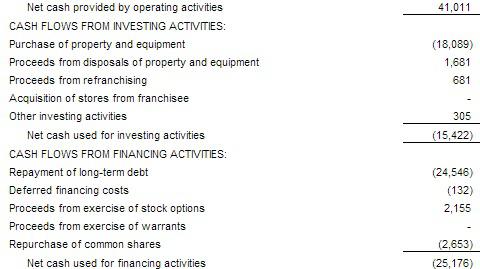 In the first nine months of this year, Krispy Kreme generated in excess of $41M in operating cash flow, and as it spent only $15.4M in capital expenditures, KKD generated almost $26M in free cash flow. The management decided to use the entire free cash flow to reduce its debt profile, and repaid $25.4M in debt. I think this is a good move in the longer term, as repaying this debt will reduce the company's interest expenses in the longer run, and helps to keep its balance sheet clean.
My view on the balance sheet
Let's now move over to the company's balance sheet. At the end of the third quarter of this year, Krispy Kreme had a working capital position of $95.2M, which is much higher than the $88M at the end of last year.
The company's current ratio is also quite impressive, as it stood at a very nice 3.13. Keep in mind a current ratio higher than one means the company has sufficient current assets to cover its current liabilities, which is definitely the case at Krispy Kreme.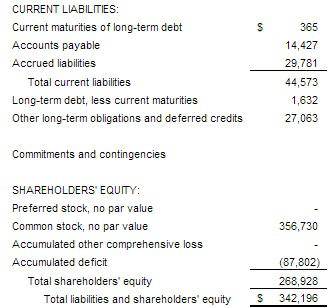 I'd like to emphasize Krispy's balance sheet looks extremely robust, and the total liabilities of the company (short term and long term) are lower than just the current assets, as total liabilities came in at just $73.3M versus almost $140M in current assets. This means the company should have no problem at all in paying down all debt and liabilities.
At the end of the quarter, Krispy's book value per share was just shy of $4/share as it came in at $3.98/share. This means that Krispy Kreme Doughnuts is trading at just over 5 times its book value, which is quite expensive, even though it's a growth company.
Outlook
The management increased the FY 2014 guidance and now expects a net profit of $0.60-0.63 compared to a previous guidance of $0.59-0.63. Looking further ahead, the FY 2015 net profit is estimated to come in at $0.71-0.76/share, which means that Krispy Kreme is currently trading at a forward price/earnings ratio of 27, which is quite high, but acceptable for a growth stock.
The big question mark is how the management will deploy its free cash flow, as there's almost no debt left to be paid back. My biggest fear would be to see a share buyback plan being initiated, as I don't think it'd be a smart move to buy back shares at a PE ratio of 27 and at 5 times the book value. I would prefer to see a small dividend being initiated ( by paying a 1.1% dividend, only 1/3rd of the free cash flow would be used towards dividend payments). I also wouldn't object to a plan to announce a share buyback if it would only be executed on dips in the share price (and only then).
Investment Thesis
Even after the recent crash, Krispy Kreme Doughnuts isn't trading very cheap. But investors seem to forget that this is a growth story with an extremely robust balance sheet. I'm expecting the company to generate $34M in free cash flow this year, and approximately $45M next year, which would result in a free cash flow per share of $0.67. This means that KKD is currently trading at almost 30 times its free cash flow (for a FCF yield of 3.3%). This is quite low, but I hope the company finds a way to put its excess working capital to work and is able to buy back some shares on dips.
As I don't want to pay 30 times FCF for a company, I'm particularly looking at writing a P15 May 2014 for an option premium of $0.50. If I get the shares assigned, I'm buying them at an effective price/FCF ratio of 22 (or a free cash flow yield of 4.5%) which is already more acceptable to me. And if I don't get the shares assigned before expiration day, I just keep the option premium in my pockets, which results in an annualized yield of 7.3%.
Disclosure: I have no positions in any stocks mentioned, and no plans to initiate any positions within the next 72 hours. I wrote this article myself, and it expresses my own opinions. I am not receiving compensation for it (other than from Seeking Alpha). I have no business relationship with any company whose stock is mentioned in this article. I have no position in KKD, but might write a P15 May or P13 January 2015 as I explained in the article.