I spent quite some time reading through the debate on Tesla (NASDAQ:TSLA), and Quoth the Raven aptly summed up the views for and against investing in Tesla in his article here.
There are numerous articles weighing in on whether or not Tesla is a good investment at current prices and in light of recent incidences of fire in its Model S car. I would like to add a side note that while the National Highway Traffic Safety Administration (NHTSA) is investigating these incidences, Germany's transport authority has found no manufacturer-related defects in an independent inquiry of the Seattle, Tennessee and Mexico incidents.
Insider Activity
Tesla's share price has had an impressive run in 2013, up over 300%. Worth noting was what the company's insiders are doing.
Firstly, CEO Elon Musk bought shares at in May at $92.24, increasing his interest in Tesla by 4%.
Source: NASDAQ Insider Trades

Secondly, recent selling activity seems to have taken place at price levels of around $140 and up. Two insiders have divested substantial portions of their interest in Tesla at around $160.

Source: NASDAQ Insider Trades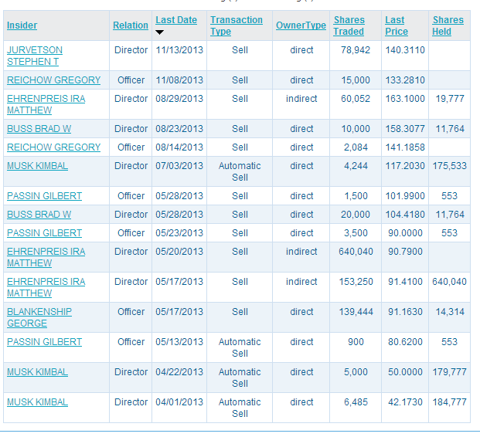 Source: NASDAQ Insider Trades
Before readers jump into conclusions about selling Tesla at current prices, I would like to say that insider trades are not the only factor in deciding on whether to invest or not. There are many reasons especially for executives in young and fast growing companies like Tesla and Facebook to be selling shares or exercising their options.
I like the fact that the CEO is committed and buying shares. This gives me confidence in the commitment level that top management has in the company.
I also like Tesla's business model especially in its openness to work with competing automobile manufacturers like Toyota, as a battery supplier. I believe the growth the electronic vehicles market as a whole should grow over time and Tesla's distinctive competitive advantage would be in its superior battery technology along with the intellectual property and experience it has in pioneering this frontier market segment. This model does come with risks and investing in becoming the world's largest lithium-ion producer is a bold move. I would like to see this pay off.
However, the insider selling activity has made me look at the current share price and think carefully about investing now into Tesla. I would wait till the end of the full year, and see if management provides clearer guidance on the demand of their cars, and the competitive landscape in terms of what other car manufacturers in this segment are doing.
Valuation
Tesla has a market capitalization of about $17 billion and is currently unprofitable. Revenue doubled year-on-year from $117 million in 2010 to $204 million in 2011 and $413 million in 2012. In the first nine months ending 30 September 2013, revenue of $1.4 billion has already been booked. The company turned in a small $16 million net profit for its efforts but more importantly, $26 million of positive free cash flow was generated. Tesla also has enough cash flow from operations to fund its full year 2013 capital expenditure of $250 million and this is very important in proving that its business is sustainable.
Tesla expects deliveries of its Model S cars to China in the first quarter of 2014. I believe the China market would be another growth driver for the company.
In terms of potential sales in terms of volume, I would like to compare Tesla to Porsche's (OTCPK:POAHF) 2012 sales which was a total of over 140,000 units sold in that year.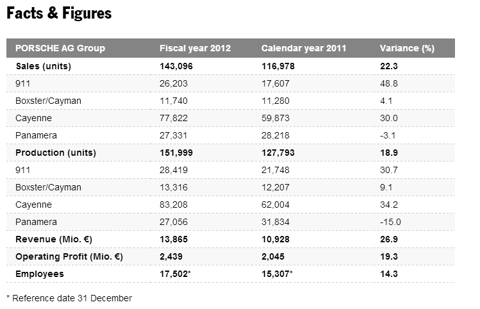 Source: Porsche
Tesla has a capacity of producing 550 cars per week, and the company delivered 5,500 cars in the third quarter. This means that if sales remain flat, deliveries would be about 22,000 cars a year out of a total production capacity of about 28,000 cars in a year. This really shows how much further Tesla can go in terms of growing its annual sales volume.
I estimate the average selling price per vehicle sold in the third quarter was $77,000. If I assume that in 2014, the company would be able to sell 28,000 cars, Tesla would generate about $2.2 billion in revenue, and using the 25% gross margin that management forecasted for the fourth quarter, I would get a gross profit of $550 million.
Third quarter R&D was $56 million and management expects this to increase by 25% which would be about $70 million. Selling, general and administration expenses would be about $92 million. On an annualized basis, I estimate that Tesla would earn slightly under $390 million in profits before tax. At a market capitalization of $17 billion, the valuation based on P/E multiple is a staggering 44x.
It is difficult to take a view on whether Tesla as a company is worth investing into at its current price level. Therefore, I'd like to assume that the Tesla insiders know better, and some of them have been selling shares at around the current price range.
While looking at Tesla, I am beginning to look further upstream into Tesla's suppliers like Panasonic Corp (OTCPK:PCRFF) which is looking to benefit from growth in electric vehicles production.
Source: Panasonic Corporation Presentation
Source: Panasonic Corporation Presentation
The company has an exclusive supplier agreement with Tesla and its corporate transformation is translating into positive financial performance. Panasonic Corp produced two strong profitable quarters after two financial years of losses.
Disclosure: I have no positions in any stocks mentioned, and no plans to initiate any positions within the next 72 hours. I wrote this article myself, and it expresses my own opinions. I am not receiving compensation for it (other than from Seeking Alpha). I have no business relationship with any company whose stock is mentioned in this article.