It's that time of the year again … a time when most people indulge in expressions of love and affection for others. While some are in, or looking to be in, long-term relationships, others are looking for short-term romance. Similarly, some investors look for long-term investment opportunities, while others look for short-term gains. This piece will look at the medical device industry to find companies that have exposure to heart-related products and are making good strategic decisions.
We wrote previously about how important it is to understand Management Quality with two important variables: Economic Management and Asset Growth. The Management Quality Chart below looks at a few companies that market their medical devices to treat irregular heartbeats, repair heart valves, and otherwise help patients with serious heart conditions.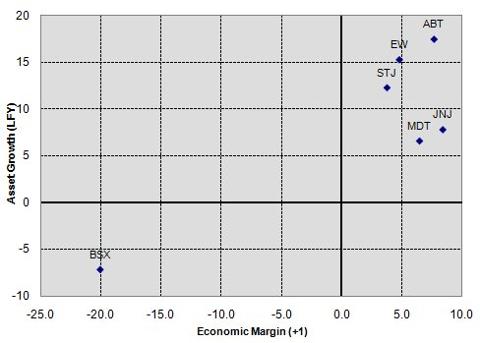 Note: Medtronic (NYSE:MDT) has not reported its full-year earnings, because its fiscal year ends in April. So the point that MDT earned on the chart above is looking at the expected EM it will achieve for the year ending April 2010 and asset growth for fiscal year end April 2009. All other companies in the Management Quality Chart show their relative placement in terms of expected EM for full-year 2010 and asset growth in 2009 that end in December, based on preliminary data since the 10-K reports are not yet available.
As you can see from the chart, all of the companies (except for BSX) in the upper-right quadrant have earned their right to grow. Essentially their management strategies produce positive EM and they are effectively utilizing their investors' capital wisely. Boston Scientific (NYSE:BSX) has destroyed value from overpaying for Guidant in 2006, because its EM is negative. However, we applaud BSX for divesting its "non-strategic" businesses that were acquired through the years. Although not as good as the remaining companies, BSX is on the right track to eventually migrate into the upper-right quadrant from where it resides in the lower-left quadrant. However, it may take a lot of work.
The 6 companies in the Management Quality Chart are shown below to allow investors to overlay valuation attractiveness.

If any of these heart device companies flutters your heart rate, there is no need to go out and get a pacemaker. But a word of caution … some medical device companies (not just these that sell heart-related devices) have dealt with FDA-driven product recalls. More work may be needed to determine whether one or more of these require long-term or short-term holdings.
Disclosure: None