(Editors' Note: This article covers a micro-cap stock. Please be aware of the risks associated with these stocks.)
A transaction was announced today that was likely little noticed by American oil and gas investors, but has interesting parallels to two notable, high valuation US oil and gas companies, Magnum Hunter (MHR) and Halcon Resources (NYSE:HK).
The transaction involves the management that most recently grew Spartan Oil and sold it for a huge return to investors. And it targets Alexander Energy (OTCPK:PTORF), which had experienced good well results recently but had not yet regained traction with investors.
The stock traded up 180% on the day the transaction was announced, December 6th. Investors are betting that management will be able to repeat their success with Spartan and previous oil companies, and are factoring in that success to buy Alexander Energy stock at or above its current NAV.
There are two similar situations in the US, which have progressed over the past few years, and may give some insight into Alexander Energy's prospects and the recent stock price move. The two companies are Magnum Hunter and Halcon Resources. Both companies, similar to Alexander Energy, brought in new management, which had grown and then sold their previous companies for huge returns for their investors. And both companies had new management make significant direct investments in their stocks, similar to what Alexander Energy is doing.
However, looking at the stock price performance since recapitalization shows that returns for investors in the Halcon recapitalization were very different from the returns for investors in the Magnum Hunter recapitalization.
Here is a chart of Magnum Hunter's stock performance since the recap. MHR is up ~1400%: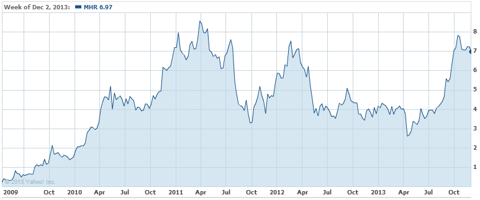 And here is a chart of Halcon's stock performance since the recap. The stock is essentially flat after having spiked to 400% early on: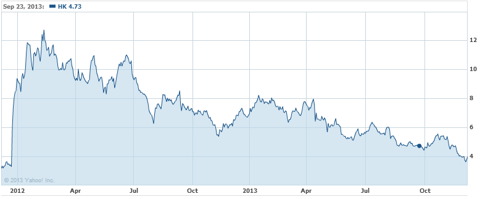 I would argue that the Alexander recap looks more similar to Magnum Hunter than Halcon. The management financing is being done with equity, like Magnum did it, and not with debt like Halcon did. And the strategy is to grow organically into resource plays that are already working, like Magnum Hunter did, and not to acquire large tracts of unproven land like Halcon did. (this is obviously a simplification, as Halcon did buy GeoResources, but they arguably overpaid for that and it certainly contrasts unfavorably with Magnum Hunter's acquisitions like Triad).
Given the similarity to MHR, perhaps the move up 180% after the announcement is only the start. And even if Alexander turns out to be more similar to Halcon or if management deviates from their stated strategy, HK did rise over 400% at one point, so there could be a double left for ALX.V stock even after the recent 180% move up, if it follows HK's pattern.
Obviously, Alexander is a small company and there are numerous risks particular to small companies. But Magnum Hunter and Halcon recapped as small companies too, and in both cases they provided attractive short-term returns to investors. And in Mangum Hunter's case, which seems to be quite similar to Alexander, returns for shareholders who held their stock have been extremely attractive.
Disclosure: I am long OTCPK:PTORF. I wrote this article myself, and it expresses my own opinions. I am not receiving compensation for it (other than from Seeking Alpha). I have no business relationship with any company whose stock is mentioned in this article.