Chipotle and Competitors
Chipotle (NYSE:CMG) is riding a wave of spicy grilled optimism. CMG is now trading near its record high closing price of $546.97. This comes on the heels of the strong third quarter results CMG posted. The company reported $2.66 EPS, which was lower than analysts' consensus estimate of $2.78, but 17% higher than results for the same quarter a year ago. Same store sales increased 6.2%.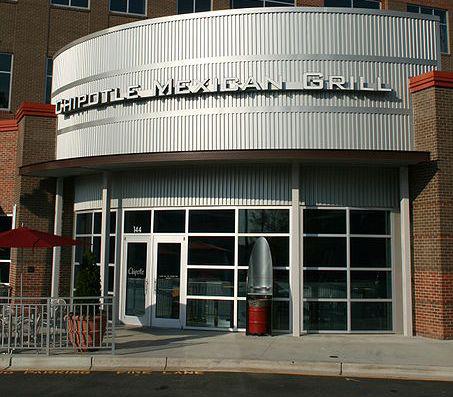 Image: Durham, NC Chipotle Source: Wikipedia
With brisk traffic at its locations fueling sales and Wall Street propelling its stock to record highs, it appears Chipotle can do no wrong. As for other casual Mexican outfits, it has been a mixed bag. Taco Bell (NYSE:YUM) has experienced a resurgence of sorts thanks in part to its Doritos-flavored taco shells. Qdoba (NASDAQ:JACK), on the other hand, has faltered. In a June 2013 letter to investors, Qdoba's parent company Jack in the Box stated its intent to close 67 Qdoba stores (10%) by the end of November. It said the locations were underperforming.
During its third quarter conference call, Chipotle stated that menu price increases may be on the way. The company cites food inflation as its reason for considering the price changes. Chipotle has done an excellent job managing these costs while remaining committed to delivering naturally raised meats and organic produce where possible. Menu prices have not changed since 2011. Ingredient costs were to blame then as well.
The $10 Burrito and Crew
Chipotle is well-positioned to succeed going forward. Still though, the company cannot afford to rest on its laurels. Instead, it should take advantage by raising the top price of is prized assortment of burritos, burrito bowls, and tacos to $10 and then applying proportionate price increases to the rest of its menu.
To see just how this price change could benefit Chipotle, let's take a look at how Chipotle currently prices its products. The food portion of Chipotle's menu consists of four meal options, a kid's selection, and side items like guacamole, chips, and salsas. The four meal options include burrito, burrito bowl, tacos (3), and salad. After choosing a meal customers can choose from six fillings. Fillings include steak, barbacoa, carnitas, chicken, tofu, and veggie. Let's begin by separating the fillings into two groups- $6.70 fillings and $6.25 fillings. This way steak, barbacoa, and carnitas fall in the more expensive $6.70 group while chicken, tofu, and veggie are in the cheaper $6.25 group. Now, let's apply the price adjustment to a single menu item. For simplicity, let's have the meal be the burrito and let's go with steak for the filling ($6.70 menu price). Raising its price from $6.70 to $10 would mean a price increase of 49.25%. $10 would also become the new price of meals having barbacoa or carnitas fillings. Applying this price system to meals with chicken, tofu, and veggie fillings would result in a new price of $9.33. These increases may seem steep, but three key factors support the move:
Reason #1- Rising food costs,
Reason #2- Chipotle has separated itself from its competitors substantially, and
Reason #3- Earnings will surge.
Rising Food Costs
Food-related costs are Chipotle's biggest operating expense. As these costs rise they eat into Chipotle's operating margins. When asked whether a price increase was overdue during a recent interview, Chipotle CFO John Hartung responded, "We've always been slow to raise prices. Most of our focus has been on going out and finding the best food we can." Chipotle held to this strategy even as a severe drought wreaked havoc across parts of the US in 2012. The drought sent the price of corn to all-time highs. Corn is a key ingredient in the feed that's used for poultry and livestock. Changes in the price of corn are used as a proxy for chicken, dairy products, beef, and pork prices (each of which appears on Chipotle's menu). Avocado is another item featured on the restaurant's menu. For many markets across the US avocado prices have nearly doubled compared to last year.
Chipotle's quarterly earnings reports offer more insight into how these rising food prices impact its bottom line. Table 1 shows CMG's food costs as a percent of sales for the 9-mos. period ended September 30, 2010 (Period 1) through the 9-mos period ended September 30, 2013 (Period 4). Food costs as a percent of sales have increased 2.8% from Period 1 to Period 4. If management is correct that this trend will continue in the future then food costs as a percent of sales are likely to rise going forward.
Table 1
'000s

Period 1

Period 2

Period 3

Period4

9-mos ended Sept. 30, 2010

9-mos ended Sept. 30, 2011

9-mos ended Sept. 30, 2012

9-mos ended Sept. 30, 2013

Sales

$1,353,401

$1,672,799

$2,032,063

$2,370,444

Food Costs

$411,518

$546,822

$656,673

$787,602

Food as % of Sales

30.4%

32.7%

32.3%

33.2%
Chipotle has separated itself from its competitors substantially
Chipotle hangs its hat on its ability to deliver high quality ingredients to its customers. This is where the company separates itself from the pack. Chipotle's Food with Integrity campaign has helped raise awareness of how food makes it from the source to the plate (or burrito bowl). Customers that are more informed about what they consume and concerned about the impact it may have on the environment are voting with their wallets and choosing Chipotle. Unlike its competitors' menus, Chipotle's menu does not feature a value section. Instead, Chipotle customers have displayed a willingness to pay for the higher quality ingredients the company uses and the satisfaction of knowing that Chipotle's suppliers are held to higher standards.
Meanwhile, Taco Bell seeks to gain appeal among diners by being the low-price alternative for Mexican casual dining. Its menu is larger than Chipotle's. Taco solidifies its position as the low-price leader with its 'Why Pay More?' $1 value menu. The company recently doubled down on its this position by introducing the new '$1 Cravings' menu in many markets. The intent is clear - lure cost-conscience diners with rock bottom prices. Food quality is an afterthought. Taco Bell's menu features options that are slightly above the $1 mark and tops out around the $5 price point.
Qdoba is the smallest of the three restaurant chains. Its menu is somewhat larger than Chipotle's. Qdoba's prices items are slightly higher than Chipotle's. For example, Qdoba's grilled steak burrito costs $6.99 and its grilled chicken burrito costs $6.29 (compared to $6.70 and $6.25 for Chipotle's steak and chicken burritos respectively).
Qdoba makes general nutritional information (e.g., calories, grams of fat, gluten free) available so its diners can tailor orders to their needs. Chipotle matches this with a user-friendly nutrition calculator of its own. The sticking point between Qdoba and Chipotle is that Qdoba has left the meticulous task of sourcing locally grown, organic, naturally-raised, and non-GMO ingredients to Chipotle.
Earnings will surge
When it comes to earnings, Wall Street has high expectations for CMG. Its price-to-earnings (P/E) ratio of 52.7 is among the highest of any stock in the restaurant industry. P/E ratio compares a company's share price to its per-share earnings and is an indicator of a company's valuation. Both Yum Brands' and Jack in the Box's P/E ratios are much lower than CMG's. Given CMG's current price of $521.01, Chipotle would need to generate EPS of $16.69 for its P/E ratio to fall in line with YUM Brands' P/E ratio. Chipotle would need to generate EPS of $20.19 for its P/E ratio to hit Jack in the Box's P/E ratio. As it stands, both earnings projections are higher than CMG's trailing twelve month EPS of $9.88.
Table 2
| | | | |
| --- | --- | --- | --- |
| | CMG | YUM | JACK |
| Price | $521.01 | $74.39 | $47.42 |
| TTM EPS | 9.88 | 2.38 | 1.85 |
| P/E | 52.7 | 31.2 | 25.8 |
In case you're wondering how Chipotle's earnings have fared, during the last 10 quarters CMG has met expectations two times, exceeded expectations four times, and missed expectations four times.
Wall Street has rewarded CMG investors despite its spotted track record and it is just waiting for stronger earnings to take CMG higher. Adopting a $10 price point for its meals and raising the prices of its other menu items would allow CMG to deliver stronger-than-expected earnings more consistently. When markets are reminded that Chipotle is able to pass down price increases onto its customers and continue to grow earnings CMG's price will see new highs.
Conclusion
Whether Chipotle will in fact increase menu prices and by how much remains to be seen. Now is an opportune time for CMG to flex its muscle by increasing menu prices around the $10 price point.
The timing of any price increase is important. Discussing the possibility of menu price increases during its third quarter conference call and providing a timeframe was nice execution on the part of Chipotle's executives. By shifting customers' expectations towards higher prices early, Chipotle is minimizing any price-related shock its customers might have.
Chipotle's management has also done a remarkable job of keeping food costs in check. The company holds its products to high standards and has assembled a network of suppliers who embrace sustainable and health-conscience processes and techniques for bringing their products to market.
Rising food costs pose a threat to operating margins. Foods costs as a percent of sales have increased steadily since the last time Chipotle raised menu prices.
Chipotle is able to raise the top price of its burritos to $10 and apply a nearly 50% price increase to the rest of its menu because it has carved a unique niche for itself within the casual Mexican dining landscape. Chipotle has succeeded in pulling together an ensemble of suppliers that embraces its mission to serve customers the highest quality ingredients available. Its wildly popular 'Scarecrow' campaign, games, and other promotions have helped the company connect with a legion of diners who appreciates Chipotle's commitment to quality.
The market has high expectations of Chipotle. CMG earnings have sputtered at times. Menu price increases around the $10 price point may be what's needed to propel CMG earnings into uncharted territory.
Note: Menu prices vary slightly by market. Data for the Los Angeles, CA restaurants was used in this article where specific menu prices are mentioned.
Disclosure: I have no positions in any stocks mentioned, and no plans to initiate any positions within the next 72 hours. I wrote this article myself, and it expresses my own opinions. I am not receiving compensation for it (other than from Seeking Alpha). I have no business relationship with any company whose stock is mentioned in this article.