Sears (NASDAQ:SHLD)

There's not much to say about Sears' operational performance during its third quarter, except that it was atrocious. The firm lost more money in the most recently-reported quarter ($534 million) than it did through the first nine months of last fiscal year ($441 million). CEO Eddie Lampert has his hands full with the company's multi-year transformation, but we think investors are hanging on to shares largely on hopes the firm will be able to monetize its real-estate portfolio in the future.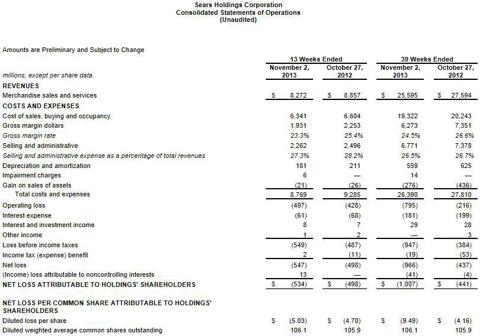 Image Source: Sears
But it seems that (lately) too many investors have been buying into this line of thinking, and the 'real estate' thesis continues to proliferate among investor psyches, particularly with J.C. Penney (NYSE:JCP) and Radio Shack (NYSE:RSH), the latter two struggling immensely on an operating basis.
At the end of their last fiscal years, respectively, Sears Holdings operated a national network of stores with 2,019 full-line and 54 specialty retail stores in the US (through Kmart and Sears) and 475 full-line and specialty retail stores in Canada (through Sears Canada, a 51%-owned subsidiary), J.C. Penney operated 1,104 department stores throughout the continental US, Alaska and Puerto Rico, of which 429 were owned, including 123 stores located on ground leases, and Radio Shack operated 4,395 U.S. company-operated stores throughout the US, as well as in Puerto Rico and the U.S. Virgin Islands.
There are a lot of stores that could eventually be on the auction block!
Needless to say, any entity seeking brick-and-mortar exposure has significant bargaining power over these three implicit "real estate plays." Sears, J.C. Penney and Radio Shack each have their own unique challenges that will only be exacerbated by an increasingly competitive retail environment this holiday season and beyond.
Target (NYSE:TGT)

Looking at Target's third-quarter consolidated net earnings of $341 million ($0.54 per share, as reported), while much less than the measure a year ago (in part because it sold its US credit card operations), one might start to see why the market continues to question the relevancy of Sears in today's retail market environment (given Sears' $5+ per-share quarterly loss). Though Target's adjusted earnings of $0.84 per share in its third quarter weren't terrible, the retailer continues to face bottom-line pressure as it expands into Canada. We expect Canada to continue to be a drag on performance for some time. Still, Target's performance stands head-and-shoulders above that of Sears; the contrast is astounding.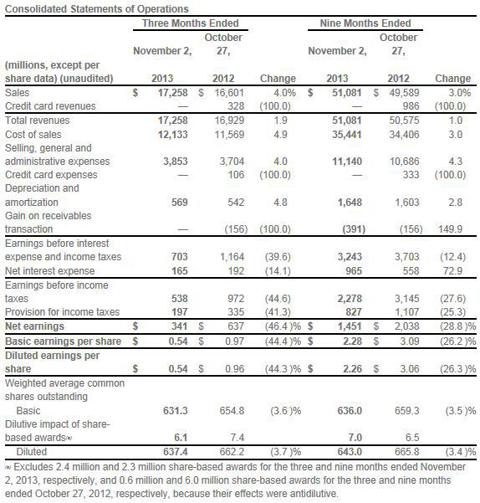 Image Source: Target
Dollar Tree (NASDAQ:DLTR)

Dollar Tree (DLTR) put up a decent third-quarter profit, but its earnings performance (like that of Sears and Target) came in lower than the year-ago period. Excluding a one-time gain from the company's sale of its ownership interest in Ollie's Holdings, however, the firm's earnings per share of $0.58 in the quarter increased 13.7% compared to the adjusted measure in last year's quarter of $0.51 per share. Though we have no qualms with the quarterly performance, the company's outlook came in a bit lower than our expectations. Full-year sales are estimated to be in the range of $7.86-$7.92 billion, while diluted earnings per share are expected to be $2.72 to $2.78. We had been expecting revenue of $7.99 billion and earnings per share of $2.85 for the period.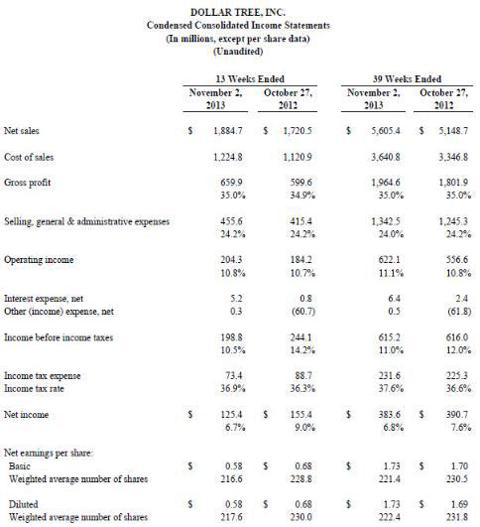 Image Source: Dollar Tree
Valuentum's Take
We're more interested in cash flows generated by the underlying business, as opposed to playing the 'greater fool game' of the boom-and-bust cycles of real estate pricing. Therefore, you won't find us taking interest in Sears, J.C. Penney or Radio Shack. Both Target and Dollar Tree aren't executing as flawlessly as we would like, given Target's Canadian headwinds and Dollar Tree's lower-than-expected outlook for revenue and earnings.
Disclosure: I have no positions in any stocks mentioned, and no plans to initiate any positions within the next 72 hours. I wrote this article myself, and it expresses my own opinions. I am not receiving compensation for it (other than from Seeking Alpha). I have no business relationship with any company whose stock is mentioned in this article.