Kroger (NYSE:KR) released its 2013Q3 earnings report before the opening bell yesterday morning, and held the 2013Q3 earnings conference call a few hours later. On heavy volume (3x average), the stock traded down as low as $39.56 (-4.8%), before closing at $40.06 (-3.5%). I'll review various points about the earnings report, conference call, details about the company, and the reasons I believe the dip in Kroger shares is great for long-term investors.
Company Overview
Kroger is the seventh largest retailer of groceries in the world and, along with Wal-Mart (NYSE:WMT) and Costco (NASDAQ:COST), Kroger is one of the only three U.S. companies in the top ten. Extending well beyond its core business as a retail grocery, Kroger operates under nearly two dozen banners including: City Market, Dillons, Food 4 Less, Fred Meyer, Fry's, JayC, King Soopers, QFC, Ralphs, Smith's, Kroger Real Estate, Little Clinic, I-Wireless, Littman Jewelers, Fred Meyer Jewelers, Kroger Convenience Stores, Kroger Manufacturing, Tom Thumb, Kroger Pharmacies, and the recently-acquired Harris Teeter. Around half of Kroger's supermarkets include gas stations, and the company recently expanded its successful foray into electric car charging stations. For additional information about The Kroger Company, see the corporate website.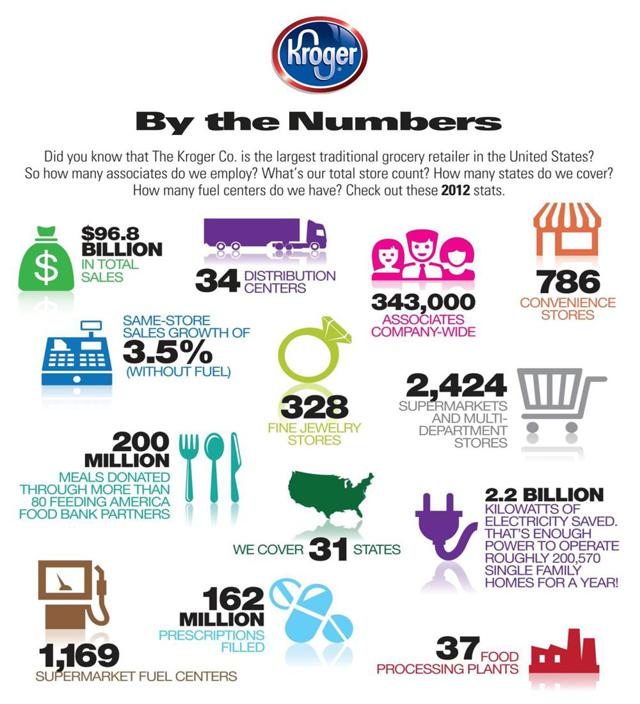 source: Kroger 2012 Fact Book
Earnings Review
KR reported 2013Q3 EPS of $0.53, which was in-line with expectations. There are two important things to note about the EPS performance: [1] although it is indeed in-line with the consensus estimate, the estimate increased from $0.51 over the last few months alone, and [2] the EPS grew 15% from the prior-year period EPS of $0.46, which is particularly impressive for a grocery retailer.
KR reported third-quarter revenues of $22.5B, slightly missing the consensus estimate of $22.7B. There are numerous important things to notice about the revenues performance: [1] while revenues slightly missed what I believe were unreasonable expectations, revenues actually grew 3.2% from the prior-year period, [2] revenues also grew over the last two quarters in a row (by 4% for 2013Q2, and by 3% in 2013Q1), so perhaps expecting perpetual fast growth is indeed unreasonable, [3] revenue growth excluding fuel was 4.7% (well above the 4.2% industry average), despite the fact that the retail price per gallon of fuel was down 8% for the quarter, and [4] same-store revenue grew by 3.5%, representing 40 consecutive quarters of same-store growth. As Chairman and CEO David Dillon explained during the conference call:
I am most proud … of another distinctive achievement, team Kroger's 40th consecutive quarter of positive identical sales. It is not simply the scorecard that makes this meaningful, although 10 full years without skipping a beat is extraordinary. What makes 40 consecutive quarters of positive identical sales so remarkable is the underlying importance of the metric. For retailers, identical sales are the strongest indication of whether or not we are connecting with our customers over time.
Upside Potential, Downside Risk And Time Horizon
For my valuation calculations, the table below provides the current-year EPS estimate of $2.80, which is the mean of 19 estimates. The next-five year EPS growth rate of 9% is based on the company's evergreen 8% to 11% projection that it consistently meets or exceeds. With a conservative 12% discount rate, and 4% terminal growth rate, my calculations show fair value of $44.69, which is the basis of my 9-12 month $45 price target (~17% above my $38-39 buy range recommendation). I see 17% as a worthwhile return, especially from a low-risk safety stock with a ~1.6% dividend yield. While my current $45 price target is slightly below my previous 12-month target of $46, I fully expect to raise it back above $46 within the first 6 months of my shortened 9-12 month time frame. There are numerous reasons for that, and why my $45 final price target is slightly higher than the $44.69 calculated fair value. As one example, Kroger's final guidance for fiscal 2012 EPS was $2.44 to $2.46. The company gave that guidance during its 2012Q3 earnings report (the quarter before the end of the fiscal year, just like now). Fiscal 2012 EPS ended up being $2.77.
Another reason my final price target is $45 is that KR trades at only a 13.8x P/E ratio and 13.3x forward P/E ratio, while comparable competitor Safeway (NYSE:SWY) trades at the much higher multiples of a 21.9x trailing P/E ratio, and 19.8x forward P/E. Granted, SWY has higher multiples because it isn't as far along in realizing its growth expectations as KR, but that does not justify such extreme valuation discrepancies. In fact, KR is not only a much stronger business, but KR is clearly the "best of breed" among grocery retailers. Even so, I'm not suggesting that KR should trade at unreasonable 20x multiples. If KR traded at just 16x, the shares would be $44.80. As an additional reference point, Harris Teeter (NYSE:HTSI) had a P/E of ~20x before it was acquired by Kroger, while as younger businesses, Whole Foods (WFM) and Fresh Market (NASDAQ:TFM) regularly have P/E ratios in the ~30x to ~40x range.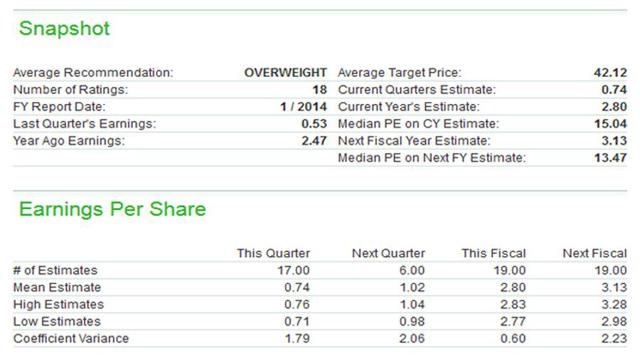 source: MarketWatch
I don't consider there to be much downside risk at all with KR, especially after the post-earnings selloff. Rather than offer a price that only applies for a short time, I hope it will be more helpful to say that I consider the downside risk to be ~5-7% below the 50-day exponential moving average [EMA] at any given time going forward. The "Source" link beneath the Yahoo chart below leads to a current version of that chart, which has the EMA constantly updated.
Why The Opportunity Exists In Kroger Shares
I believe the dip from the earnings report presents a great opportunity to open a new KR position, or add to existing holdings, since the dip only results from various forms of unrealistic expectations. Most of it is from momentum traders who either refuse to accept that trees grow toward the sun, not to the sun, or who heard about the Harris Teeter deal, but didn't bother with the details.
Related to that first point, the following comment from yesterday's conference call is by Michael Schlotman, Kroger's Chief Financial Officer, and is important to understanding why there was so much panic over nothing:
We do realize such a wide range of potential EPS results this late in the year can be somewhat confusing. It could also raise questions about where our trends are going into next year. We remain very confident in our ability to deliver 2014 results in line with our 8% to 11% earnings per share growth targets. This is why Dave discussed 2014 expectations. Normally we would not talk about this until our year end release in March, but felt it was important to be clear about the underlying confidence we have in our team and the future.
Regarding my second point (disregarding details of the Harris Teeter deal), the quote below is from the Harris Teeter acquisition announcement:
Including the effect of allocating some free cash flow to debt reduction, Kroger expects net accretion to earnings per diluted share in the range of $0.06 - $0.09 in the first full year after the merger, excluding transition and transaction expenses. Kroger expects to maintain its current 8-11% long-term net earnings per share growth rate off of this higher earnings base. Kroger expects to achieve annual cost savings of approximately $40-50 million over the next three to four years. Much of the savings is expected to come from the benefits of Kroger's scale. Kroger has a strong history of achieving synergy goals. Being patient in achieving those goals reduces the risk of the transaction and sets the stage for sustainable growth.
Clearly, many only saw the numbers and skipped right over the critical parts.
The reality is that there was not anything at all negative in the earnings report or conference call. In fact, as discussed in the Earnings Review section above, the numbers were actually great. Even so, the incredible performance from KR over the last 18 months led to the unrealistic expectation that the stock would continue gaining at the same breakneck speed into perpetuity. In other words, there were very many short-term momentum chasers in KR, even though that is not normally a concern with "boring" a safety stock like a food retailer, since mo-mo chasers often stick with "sexy" flavor-of-the-month stocks. Well, many who shouldn't have held KR in the first place are now selling like crazy. That's actually great for investors who "know what we own and why we own it," since it can be very unhealthy to own stocks that have too many holders with zero conviction, and who will dump those stocks for any reason, or no reason at all.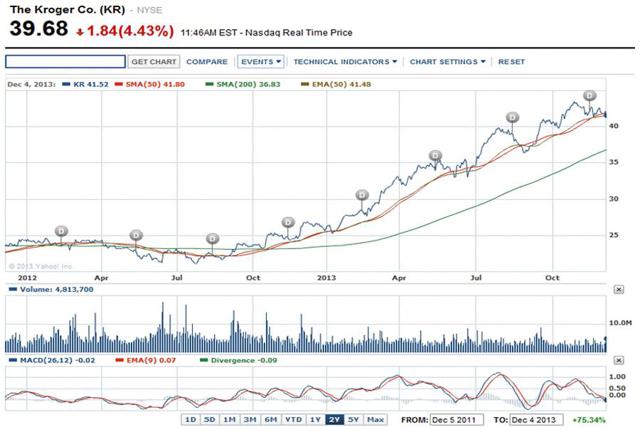 source: Yahoo Finance
What Might Drive Realization Of The Opportunity
I believe KR will maintain the strong growth it has shown due to a combination of [1] revenue, earnings and cost savings from the Harris Teeter deal starting to hit the top and bottom lines in the coming year, [2] strong organic growth from customer loyalty trends, expansion initiatives, and new customers from continued industry consolidation, [3] consistent shareholder-friendly practices that continually attract new investors to replace fleeing momentum chasers.
The press release that announced the Harris Teeter acquisition clearly stated the expectation that the "transaction is accretive to Kroger earnings in year one". It does not say "month one" or "quarter one," for that matter. In fact, the transaction isn't even expected to close until sometime during the current quarter so, technically, that year-one clock hasn't even started counting yet.
As an aside in case anyone is inclined to read too much into rumors, I believe the lawsuits mentioned in this article are frivolous. There are always lawsuits after M&A announcements, and they're always filed by the same law firms that are literally in the business of convincing the acquiree shareholders who don't know any better that the acquirer didn't pay a high enough premium. That is occasionally a valid claim, but in this case (as in most cases), dollar signs in the eyes blinded them to the fact that the only reason HTSI had ever traded beyond its $35-40 range was speculation of a buyout because HTSI had been struggling due to lack of the resources to fend off competition. In other words, the rest of the premium was already baked into HTSI shares in the six months of speculation that preceded the official acquisition announcement. Therefore, at $50, HTSI shareholders are indeed getting all that is due to them, especially considering the $100 million in debt that Kroger assumed with the acquisition.
When I first started buying KR at ~$22 a few years ago, many investors said I was crazy because they thought Whole Foods would "eat Kroger's lunch." Well, Kroger still has its lunch, and I still have my sanity (arguably). One part of my thesis is the idea that few things in life are truly the either/or zero-sum choice that many people want to oversimplify everything into. In other words, I don't see the fact that other companies are doing well as an indicator that KR will be driven into bankruptcy, as many people actually argued only a few years ago. In fact, my thesis was and remains precisely the opposite, as I'll explain next.
Specifically, the fact that traditional grocers are now under attack from every direction actually benefits Kroger as the strongest player. Health foods stores like Whole Foods have taken some high-end shoppers, and discount stores like Dollar General (NYSE:DG) are now selling some basic grocery items, attracting low-end shoppers. Meanwhile, multi-retailers like Wal-Mart are grocery stores now too, delivering decisive blows to the mid-section of the traditional-grocer industry. Despite the outcomes many predicted, the net result has been that the weaker traditional grocers stumble and fall, the industry consolidates, and KR scoops up even more customers from the fallen. Importantly, Kroger also retains its customers incredibly well, as the customer loyalty metrics show.
That is how it has played out for years now and the evidence suggests it will continue. KR has been increasing market share organically, and accelerating the process through acquisitions like the Harris Teeter deal announced in July.
One other example is the recent announcement that KR is investing $150M in Texas to build 5 new stores, and expand 3 existing stores. Since I particularly like investing in job creators, it's an added bonus that this growth initiative will create more than 1,700 jobs that include "competitive pay, health care plans, retirement options, product discounts, and other incentives." In fact, KR has added a total of 33,000 jobs in the United States over just the last 5 years.
KR recently announced its succession plan and the pending retirement of CEO David Dillon who is widely considered one of the best CEOs in retail, if not all of business. Even though Mr. Dillon is one of many reasons I invested in KR in the first place, his retirement isn't concerning, since I'm confident that he built a strong bench. In fact, KR has a long history of strong leadership, so there's no reason that will change. Yesterday's call was Mr. Dillon's last as CEO, since the next call will be led by new CEO, Rodney McMullen. Mr. Dillon closed with a comment that I think speaks volumes, since he could have simply not said it:
I hope you will continue to invest in Kroger in the years to come. I know I will. I could not be more confident in Kroger's future, knowing that our entire leadership team and Rodney McMullen will guide Kroger to even higher levels of performance.
I don't blame Mr. Dillon since KR is also a very shareholder-friendly company, having returned more than $8.3B to shareholders through dividends and share buybacks since reinstating dividends in 2006. In fact, KR raised its dividend at a double-digit compounded growth rate for the last seven consecutive years, including throughout the Great Recession. In the most recent announcement of a dividend increase in September, the company stated that it "continues to expect an increasing dividend over time." While KR has said that it may slow the pace of buybacks to focus on debt reduction, the company already reduced its float by over 108 million shares in the five years from 2008 to 2012. In the third quarter alone, KR repurchased 3.6 million shares and, over the last four quarters, KR returned over $752M to shareholders in buybacks and dividends.
Risks
Having funded the entire $2.5B Harris Teeter acquisition with debt and having assumed $100M of that company's debt, KR currently carries fairly high debt. However, a number of factors make the debt load not particularly concerning.
As reported during yesterday's earnings release, KR current net debt is $8.2B, which is actually a $525M decrease from one year ago, and prior to the HTSI acquisition. On a rolling four quarter 52-week basis, net total debt to adjusted EBITDA is 1.86x, versus 2.08x during the same period last year. KR has a long history of financing debt at attractive rates and successfully servicing debt. In April 2012, the company refinanced $850M in debt via $500M of its ten-year bonds and $350M of 30-year bonds. In July 2012, that debt refinancing was increased to a total of $1B on high demand. It's also worth noting competitors such as Safeway and Supervalu (NYSE:SVU) also carry comparably high levels of debt, which means KR debt doesn't weaken its competitive position.
The FCC is seeking a $4.4M fine that KR may be liable for, but I don't consider it a significant concern for several reasons. First, the final decision has not yet been made, so it's still possible that the issue may go away or that the amount may be reduced. At a risk of sounding crass, even if KR is liable, $4.4M is little more than a drop in a bucket for a $21B company. The main reason it doesn't affect my opinion is that I'm an investor, so relatively minor one-time events don't affect the time periods that interest me. In fact, if I weren't so obsessive about research, we probably would've never even heard about the issue, since the news services don't seem to consider it newsworthy (it's only reported in a local newspaper in Ohio, where KR is based). The bottom line is that it doesn't affect my price target, since one of the reasons I use conservative valuations is to leave wiggle room for unforeseeable events that can affect any company.
The federal assistance program widely known as "food stamps" is now called the Supplemental Nutrition Assistance Program [SNAP]. A recent reduction in SNAP benefits is likely to impact the entire retail industry, since grocery costs take priority over items like clothing. However, some families that are already struggling may not have funds that can be diverted from other needs to buy food, so the cut in SNAP benefits could still affect the grocery industry. That reduction in SNAP benefits took effect very recently, so a potential impact on the grocery industry is unknown. With that said, I don't believe this issue will weaken the competitive position or financial performance of KR. My opinion is that there are two likely ways the issue could play out. First, any impact may distribute evenly throughout the grocery industry, rather than affect any one player and disturb the balance. Perhaps that may further weaken grocers that are already struggling, and accelerate industry consolidation. That would free up more market share for KR. Second, there could be disproportionate impact on discount retailers, which may cause new entrants to grocery item sales to retreat from those lines of business seen as more difficult than anticipated.
Thanks for reading. I researched and wrote this article 12/4-12/6.
Disclosure: The author is long KR.
The author wrote this article themselves, and it expresses their own opinions. The author is not receiving compensation for it (other than from Seeking Alpha). The author has no business relationship with any company whose stock is mentioned in this article.
Additional disclosure: I am long KR and may buy additional shares at any time.