Masonite (NYSE:DOOR) is a $1.5bn global building products company that specializes in doors. They have an established leadership position in all targeted segments in the United States, establishing net sales of 1.7bn with over 60 manufacturing facilities across 11 countries. Masonite serves over 6,000 customers in 70 countries, but North America is 75% of their business. What makes Masonite truly unique is that it is one of only two vertically integrated residential door manufacturers and the only vertically integrated commercial door manufacturer in North America. They own the process from die fabrication, facings production, slab assembly, to pre-hanging and pre-finishing work.
13F Holders
To be absolutely transparent, I stumbled upon this stock using the tools on my website (www.Hedgemony.us), which allows you to track hedge fund ownerships on a more dynamic basis of interest. I looked at the top 5 owners of this stock and was surprised by the high quality / diverse owners. Oaktree, Mount Kellett, Centerbridge, Gilder, and 12 West (Tiger Management spinoff) are top investors in the distressed / value space. Further down the list, you can find Goldman Sachs, Carlyle Group, KKR, Silver Point, Ares, Goldentree, and Jet Capital. This is a rockstar roster of top hedge fund players. It was at this point that I decided to conduct research on this name to learn more, and what I found was absolutely compelling.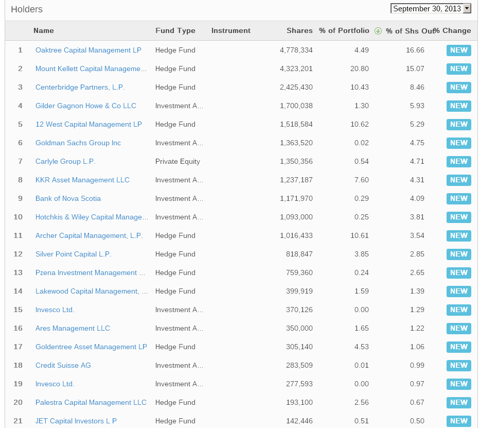 Recent News
For those unaware, this is a legacy company which was an LBO target in 2005 by KKR. Bankruptcy eventually followed and after emergence, 3 creditors owned the majority of their stocks - Centerbridge, KKR, and Oaktree. They re-IPOed the stock from pink sheet to Nasdaq in September 2013, and the company is now ready for wider coverage and institutional ownership. This is why I am covering the stock today, after their IR presentation at the Bank of America / Merrill Lynch conference in November 2013.
Value stock with 50% growth
Masonite, at $1.5bn, is an incredibly cheap stock at 1x net sales. In addition, we estimate that $1.2bn is the liquidation value including inventory, capital investments, real estate, and insurance at conservative metrics. Masonite's replacement insurance value on the facing product facilities alone is in excess of $1bn. The problem with this company has been that it has been in 60% utilization with about $1bn fixed cost. When volume comes back, not only will utilization skyrocket, but pricing will increase too. This is the double whammy of a great value stock for long-term IRR play. Growth is mainly to come from two dynamic strategies: 1) they are pursuing an e-commerce strategy with a proprietary tool called Max Configurator which has been positively received by the market. More importantly, pricing has the potential to significantly expand margins. A hypothetical increase in adjusted EBITDA per $1/door increase is a flow-through of $30mm. At current pricing of $55, the potential for a price increase of 10% increases EBITDA from $100m to $250mm assuming a conservative same volume assumption from 2012. Already pricing has shown sustainable increase as March 2013 and September 2013 wholesale price increase were well-received by the market. As housing continues to recover, Masonite is expected to outperform, whose results normally lag 6 months to housing upside as time is required for consumers to appropriately adjust their behaviors.
Q3 3013 Results and Outlook
Their door volume year to year has unfortunately stayed the same, mainly due to a loss of contract with Lowe's offsetting a large increase in wholesale market. However, net sales have increased due to favorable pricing trends expected to continue. Adjusted EBITDA for 3Q 2013 excluding the one-time registration & listing cost is roughly ~30mm. At the same time, SG&A has been decreasing with the adoption of the lean sigma approach, and Adj EBITDA % has been rising.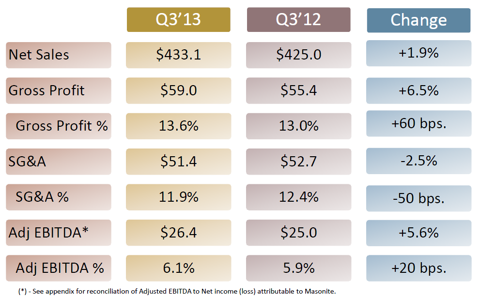 They have also exited unprofitable regions like Romania and Hungary to concentrate on their most profitable markets. Tuck-in acquisitions have created leadership positions in almost all segments of the doors market. They dominate the interior and exterior residential doors market, as well as commercial doors made of interior wood, and door components in both door core and veneers / facings. They have also aggressively hired a new management member who is expected to be a top performer, continuing to build human capital for further expansionary opportunities.
Debt Maturity
While the company once had a $125mm maturity coming in 2015, this was extended to 2021. The company's liquidity profile is in outstanding shale as leverage is expected to decrease from 3.5x to 3 within the year, and interest coverage increase from 3.5 to 4x in the same timeframe. Net debt stands at only $265mm as of September 2013 and while the interest expense is a large component of today's detraction to bottom line, keep in mind that this is a static number that does not affect the flow-through as revenue increases significantly.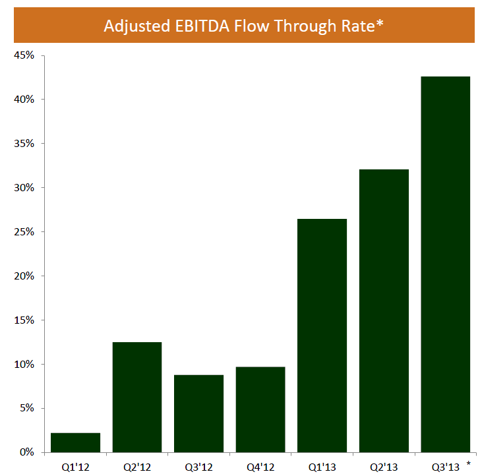 Conclusion
The major downside of this stock is that it is extremely illiquid. I suspect this is why the stock is not widely covered by the sell-side and why it is difficult to get involved. Of the 28mm shares outstanding, only 24mm are floating, and of that, the trading volume is less than 70k shares on average. Regardless, for retail investors, this is a great value small-mid cap company that is a smarter play on the housing recovery with incredible upside without any fussy financial engineering growth that most companies in this capitalization pursue.
Disclosure: I have no positions in any stocks mentioned, and no plans to initiate any positions within the next 72 hours. I wrote this article myself, and it expresses my own opinions. I am not receiving compensation for it (other than from Seeking Alpha). I have no business relationship with any company whose stock is mentioned in this article.