We estimate that the Sansa MP3 player business of SanDisk (SNDK), where the company competes with Apple (NASDAQ:AAPL) and Microsoft (NASDAQ:MSFT), contributes only about 2% to the value of SanDisk's stock. Below we highlight where SanDisk's value comes from and why Sansa MP3 players are a tiny contributor to SanDisk's value.
50% of Value Is in Mobile Phone and Digital Camera Flash
SanDisk is known for flash memory cards used to store photos, videos and other data in devices like mobile phones, digital cameras and video game consoles. We estimate that nearly 50% of SanDisk's value comes from its Mobile Phone Flash Cards and Digital Camera Flash Cards business.
Three Reasons Why Sansa Is Only 2% of Value
We estimate that SanDisk's Sansa revenue will decline from $356 million in 2009 to about $316 million by the end of the Trefis forecast period. This decline limits Sansa's contribution to SanDisk's stock.
We considered three primary factors in estimating the revenue decline for Sansa:
1. Portable Media Player (PMP) Market Is Declining
We estimate that the global PMP market peaked in 2008 and will continue to decline over our forecast period. The Apple iPod has historically driven growth in the PMP market but we expect the iPod and other PMP devices to increasingly lose out to competition from media-capable smartphones.
We believe that smartphones provide the dual functionality of a music player and a mobile phone in single portable device, and hence are being increasingly preferred by consumers over a standalone devices like the iPod, Sansa and Zune.
We estimate that the global PMP market will decline from 196 million units sold in 2009 to 170 million units by the end of the Trefis forecast period.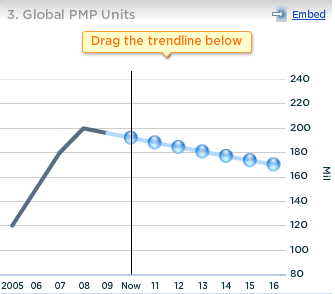 2. Declining Sansa Pricing
We expect that Sansa's average selling price per unit will continue to decline for three reasons:
(i) Price Competition from Apple and Microsoft. As Apple and Zune introduce newer features in high-end players, they lower the selling prices of older models which compete in the sub $150 segment where Sansa is focused
(ii) Competition from smartphones which will continue to put pressure on standalone PMP prices
(iii) Declines in price of flash memory (a key component in most PMP players) which we believe will get passed along to consumers by lower prices in an effort to boost PMP sales.
We estimate that Sansa Selling Price per Unit on average will decline from $36 in 2009 to about $22 by the end of the Trefis forecast period.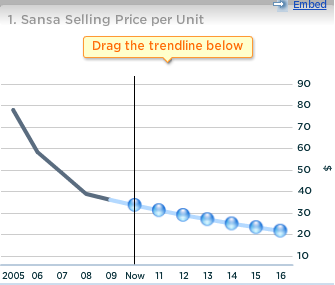 3. Growing Sansa Market Share
We expect Sansa to post market share gains mainly due to its focus on the low cost (sub $150) segment which is the most promising segment among PMPs. We expect share to increase from 5.5% in 2010 to 8.5% by the end of the Trefis forecast period.
The increase in Sansa's market share, however, does not offset the effects of a shrinking market and declining selling prices. You can modify our market share forecast to see how much SanDisk's stock would be impacted if Sansa share were to remain flat due to higher competition in the low cost PMP segment from Apple and Microsoft.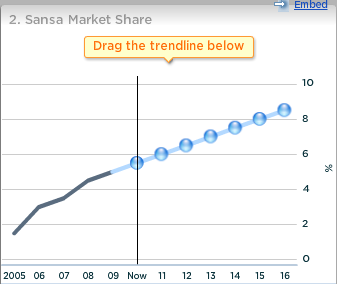 Disclosure: No positions