On Friday, Ukrainian President Viktor Yanukovych stopped in Sochi, a resort town on Russian side of the Black Sea and site of the 2014 Winter Olympic Games, for a six hour meeting with Russian President Vladimir Putin.
Massive demonstrations protesting the Yanukovych administration's dumping of European Union trade talks in favor of returning into the arms of the Russians are currently ongoing in the Ukraine capital of Kiev.
Why is the Ukrainian crisis important to western world fertilizer stock investors?
Ukraine is an important producer and exporter of nitrogen fertilizers, and reports are Putin is offering Yanukovych a cut in the price of Russian natural gas, which the Ukrainian industry largely depends upon. The cut is rumored to be 50% to $200/mt ($5.67/mcf).
However, investigation shows that in practice, some Ukrainian nitrogen producers get a discount from the "list" price for natural gas, and costs could be more in line with $8/mcf.
Nevertheless, $5.67 would be almost 30% less and material, as natural gas is the single largest cost of making nitrogen fertilizers such as urea.
This is important because major western world nitrogen producers such as Yara International (OTCPK:YARIY), Agrium Inc. (NYSE:AGU) and CF Industries Holdings (NYSE:CF) regularly trot out high natural gas prices and hence nitrogen costs as a reason why their own production is relatively protected from Ukrainian import competition. They argue Chinese, Ukrainian and Eastern European urea costs put a floor under global prices, guaranteeing themselves a fat margin on U.S. gas costs.
In fact, their fall presentations regularly highlighted that Ukrainian urea production was curtailed this summer when urea prices dropped below $300/mt. International urea has since bounced back to over $300/mt, because of curtailments by unprofitable export-oriented plants, say these producers.
Agrium's November market report shows historical Ukrainian natural gas prices versus Western Europe and the U.S. on the last slide #14.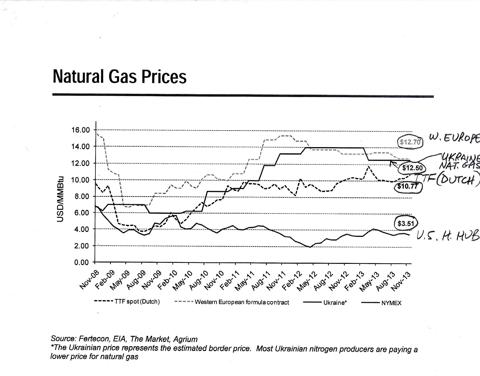 Although Agrium shows the Ukrainian natural gas at the Russian border price at $12.50/mmBTU, it notes at the bottom of the slide that "most Ukrainian nitrogen producers are paying a lower price for natural gas."
At $12.50, the cost of natural gas for ammonia would be about $437.50 and with conversion costs I would estimate the cost of urea to be $300/ton or so, or double U.S. producers. CF said recently its cost of urea production is $100 and it would earn $200/mt margins at $300 urea.
Agrium estimates the Ukrainian cost per tonne of urea at $350/mt and says "140,000 tons per month were shut in," ostensibly proving that urea cannot go below $350/mt for long without this production being shut in.
At the possible Russian $200/mt natural gas cost, I estimate the cost of much Ukrainian urea production will fall to the $200-$250/mt range.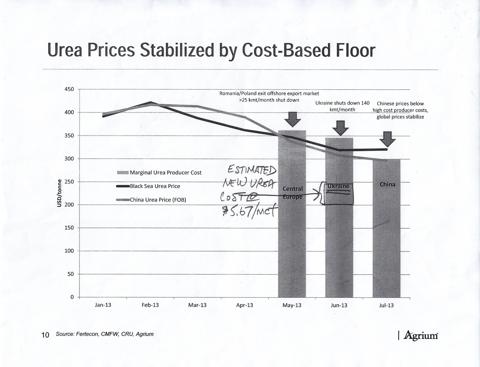 At their November 26 Capital Market Day, Yara modeled only a 15% Chinese "high season" (e.g. November 1 to June 30) nitrogen fertilizer export tax for 2014 versus 77% last year. A reduction of this magnitude would unleash even more urea on world markets than this year, estimated at 7 to 8 million tons.
In spite of the possible Chinese export tax reduction, Yara expects the average Chinese urea cost post-tax FOB port to be $310-360 (slides shows 358) per mt, versus their $301/mt estimated current cost for Ukrainian urea FOB port. Yara expected Black Sea producers to match Chinese exports to India, and this is even without the natural gas deal with Russia which I have highlighted in this article.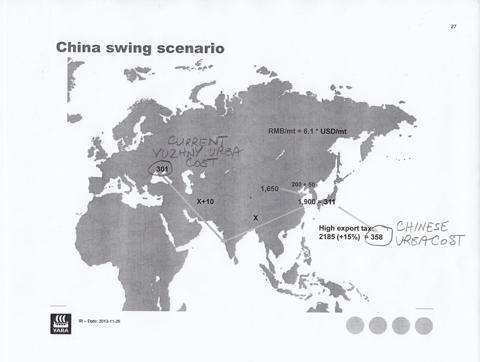 At their September 17 Credit Suisse Chemical & Ag Science conference presentation, CF Industries was modeling Ukrainian natural gas at $8/mmBTU, and estimates raw material and transportation to the GOM costs of $220/mt versus $85 for CF. These estimates do not include conversion costs and plant overheads and are not comparable with the Agrium and Yara estimates which are for total cost of urea.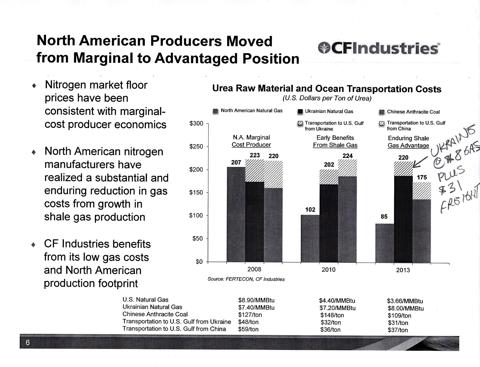 All three of these presentations ignore the likelihood of a Russian gas deal in the offing for the Ukraine and the reasons for the reduction in natural gas supplies to the Ukraine - political brinkmanship between the two countries.
The Ukrainian national energy company Naftogaz has been trying to find alternate sources of natural gas other than from Gazprom OAO, the Russian giant (OTCPK:OGZPY), even to the point of importing re-exported Russian gas via Slovakia, but it would have been a drop in the bucket relative to the country's needs.
As well as the fact it was a fatal accident at the largest Ukrainian nitrogen plant which forced its shutdown, not low urea prices.
Six people died and 26 people were injured at JSC Concern Stirol when an ammonia pipe failed, on August 6, forcing a regulatory shutdown of the plant during September and October. Stirol has a capacity of 4,500 mt of ammonia and 3,000 mt urea per day - over 1 million tons/year.
Russian and Ukrainian government officials are of course denying the secret deal has been discussed let alone signed between the two leaders, as protestors and opposition members demand to see any document that was signed. Mykola Temenko served as Deputy Prime Minister in the Yulia Tymoshenko opposition government which swept to power in the 2004 Orange Revolution. Here is what he had to say.
Tymoshenko still leads the opposition in a Nelson-Mandela inspired way, although she remains in jail after a kangaroo court threw her there ostensibly because she signed an unfavorable natural gas deal with the Russians, following the 2009 Russian Ukrainian gas dispute.
The Ukrainian nitrogen business is important to western producers and farmers because the Black Sea ports of Yuzhny and Odessa are key export sources for the major seaborne dry fertilizers urea, ammonium nitrate and ammonium sulfate, and it influences global trading prices.
Odessa is also a key export terminal for Russian ammonia.
Although little Ukrainian urea has ever reached the United States (some ammonia does), there could be a ripple effect from its cheaper exports.

If Ukrainian product takes more of an Indian urea tender, more Chinese urea would have to go somewhere else, possibly the Gulf of Mexico.
The U.S. imported 6.91 million metric tons of urea worth $3.21 billion in 2012, led by Canada, Oman and Egypt, although imports from China have taken the third spot YTD October in 2013.
The rumored Russian natural gas offer of $5.67/mcf would still be well above current U.S. benchmark prices. The current US Henry Hub Louisiana January 2014 futures closed at $4.129/mmBTU (about $4.22/mcf).
But this ignores the low wages and environmental compliance costs in the Ukraine. The plants are old and fully depreciated, but have been slowly renovated due to new ownership since 2010-11 (see below).
The Ukrainian nitrogen fertilizer industry is completely natural gas derived and is dominated by the Ostchem division of privately-owned Group DF, named after industry leader Dmitry Firtash, hence the name.
Firtash, only 38 years old at the time and son of a driving school instructor father and economist and accountant mother, bought control of Rivneazot in 2003 and between 2010 and 2011, added three other nitrogen complexes, including Stirol.
On December 2, units of the GDF Cherkassy Azot nitrogen plant went back on-line, and GDF continues to make rail infrastructure investment at its Severdonetsk Azot plant, so this group is not standing still waiting for cheaper natural gas, and export capability could expand more than expected by the trade, with cheaper natural gas flowing from Russia.
In 2004, Firtash set up the joint venture company RosUkrEnergo with Gazprom to be the sole importer of Russian natural gas to Naftogaz.
Group DF also owns the fertilizer distribution and seaport company, Nika Tera, which is increasing its capability to 5.7 million tons of urea trans-shipment per year at this third Black Sea port.
The Ukrainian nitrogen business also includes the 100% state-owned Odessa Portside plant or OPZ, which was supposed to be privatized in 2007, and again in 2013, but both these efforts failed.
The OPZ has export loading capacity of 5 million tons of ammonia and 4.3 million tons of urea per year. Some of the ammonia comes via a pipeline linking it with major Russian ammonia producer and exporter JSC ToglattiAzot.
I estimate the Ukrainian nitrogen industry has a capacity of 3.6 million tons of urea per year. Most of the product has traditionally been sold in Turkey, Mexico, Brazil, and India, not the United States.
Admittedly, even at maximum, realistic operating rates, Ukrainian urea would represent only 2% of global urea consumption estimated by the IFA to be circa 165 million tons last year. However, much of this urea is consumed domestically in China and India. Yara estimates non-China urea supply in 2012 was up 3.4% to 106.5 million tons versus a 10-year consumption growth rate of 3.0%.
However, excluding domestically consumed urea, seaborne urea trade is in the order of 40-50 million tons per year, therefore Ukrainian exports of 2 million tons per year are significant to the market.
Potash Corp estimated world urea trade in 2012 was 43.8 million tonnes.
World Urea Supply/Demand Balance
(million metric tonnes urea)
2012 2013 2014 2015 2016
Supply162.3 165.9 170.0 173.8 176.1
Capacity 192.4 202.8 207.4 224.3 226.1
Total Supply* 165.9 173.7 180.3 189.7 195.0
Demand
Fertilizer Demand 143.3 146.2 149.4 152.7 154.4
Non-fertilizer Demand 19.0 19.7 20.7 21.1 21.7
Total Demand
Potential Balance 3.5 7.9 10.3 15.9 19.0
% of Supply 2% 5% 6% 8% 10%
There is a distinct possibility the Ukrainian economy could become paralyzed and the currency could decline precipitously due to the tug of war between Russia, the EU, the protestors and the status quo such as private industry players such as Group DF, which would prefer the Russian cheap gas.
According to Timothy Ash, chief economist of emerging markets at Standard Bank, the Ukraine could fall into an economic and monetary collapse if one side does not win decisively and quickly.
There is over $17 billion of Ukrainian external debt, trading at close to 20% yield, which must be refinanced over the next two years, and Ukrainian foreign currency reserves are down to only two months of imports. Do I hear a Greek-style bailout being required, and soon?
If the Ukrainian currency (hryvnia) which has been holding steady around 8.2 per USD due to currency controls, collapses, there could be a destabilizing effect on the entire economy and balance of trade.
Protests in Kiev have intensified after two weeks and City Hall is occupied by demonstrators with a deadline to vacate by Monday.
If the protestors and opposition force military crackdown by the government, the tense situation could be the beginning of a "Ukrainian Spring" similar to the Arab Spring and civil wars of three years ago in Tunisia, Libya, Egypt, or more ominously, in Syria currently. The Russians may take this scenario as an excuse to invade the country, as they did Georgia in 2008.
In an economic and political collapse scenario, the Ukrainian nitrogen industry might be disrupted by labor unrest. However, it could also be placed in the enviable position of earning USD on fertilizer exports, while paying for domestic costs in a depreciating currency, and overnight could become much more competitive in global markets.
This is why fertilizer stock investors should keep an eye on the latest developments in Kiev.
Disclosure: I have no positions in any stocks mentioned, and no plans to initiate any positions within the next 72 hours. I wrote this article myself, and it expresses my own opinions. I am not receiving compensation for it (other than from Seeking Alpha). I have no business relationship with any company whose stock is mentioned in this article.