I am one of the unfortunate souls who sold his shares in Apple (NASDAQ:AAPL) back in the summer of 2011 for $383 and change. I kicked myself as I watched in blow through $400, then take out $500. Surely I thought that was the top. Nope, quickly we reached $600 and finally topped $700. I figured, well I had a nice gain, but I missed another 50% to 75%. When the major selloff from its highs of over $700 began I started to get intrigued about the possibility of getting back in. I chose to get back in at $600 on the button, with the idea that I would pyramid down into the shares if it further declined, and if not I would be happy with capital gains as well as a cushy little dividend. To my surprise it didn't take long to breach $550 when I added again, and once more at $475. I thought there was no way it could go lower, and I wasn't prepared to add another layer to my pyramid buys. After all, shares are pretty expensive on an absolute dollar basis. Shocked I watched it fall to the $400 level. I decided I would add one more layer if it breached $390. And it did. How ironic is it that I completed a new position at levels that were just a few bucks, or 2% above where I first bailed out.
Why do I share this story? Because I still believe that AAPL is one of the great growth stocks of our time and I do not think the run is over. As my cost basis is now $444, I have missed out on about $60 in capital gains overall, as well as a few dividends (not considering if I held shares and rode them to $600-$700 range). But I didn't miss out, because the gains I had from my original AAPL sale were put to good use, allowing me to diversify my portfolio and scoop up some winners.
This is important, because so many I speak to feel like "I missed the move." I am writing this article because I firmly believe the stock is breaking out. Technically, the chart looks great (figure 1), but fundamentally, we are entering another huge product cycle and the holiday season stands to bring in massive Q4 revenues that could trump estimates. Further, the expansion into China is a major catalyst.
Figure 1. Apple Share Price In the Last 30 Days.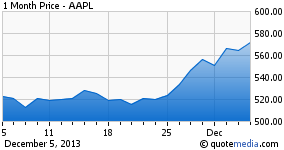 What's So Great About This China Mobile Deal?
For those who may not be aware China is among the most populace of nations on the globe. In fact, there are about 1 billion more people in China than in the United States. With about 750 million customers, China Mobile (NYSE:CHL) does business with well over half of China on its 3G network. However, as Seeking Alpha Contributor Alex Cho documents, China Mobile will be able to rollout 4G LTE technologies over the next five years and Apple conservatively stands to generate $10 billion in revenue from this China Mobile deal. As such, he sees the estimates for Apple's revenues to grow to around $190.75 billion for fiscal year 2014. I believe this estimate is fair but may be too conservative as he calls for 1/5 of the population to purchase a smart phone of which 40% will be an iPhone. Just tinkering with the calculation, you can see the impact of say 22% of the population purchase a smart phone or if 45% buy an iPhone AAPL has over a 40% market share in the U.S and I think the real value of this China Mobile deal is long term. If AAPL can grow their presence and share in China, expect to be rewarded as shareholders.
Don't Forget About Japan!
When you have a deal like the one with China Mobile it is easy to breeze over other key deals that AAPL is making. Much like the China Mobile deal, another key long-term story is the deal with Japan's NTT DoCoMo (NYSE:DCM). While it pales in comparison to the 750 million China Mobile subscribers, 62 million subscribers on the NTT DoCoMo is huge as AAPL expands into Japan. Japan has been a growing positive for AAPL where iPhone sales increased nearly 30% year over year to over $13 billion. iPhones are very popular in Japan and sales are expected to double year over year. In his article detailing the NTT DoCoMo deal, Bret Jensen cites that a few analysts, when considering the new NTT DoCoMo deal and the launch of the new versions of the iPhone, could see sales of iPhones around 20 million next year.
Carl Icahn
Ever since Ichan has stepped in as an activist with AAPL, it's been a game changer. Just this week, he was at it again. He took to Twitter to say, "Gave notice we'll be making a precatory proposal to call for vote to increase buyback program, although not at $150 billion level." With the cash reserves the company has, an expanded buyback could be a strong boost to shareholder equity. As an investor, I would have liked to have seen this push a month ago when shares were trading far below where they currently trade at $561 a share. However, by just coming out and arguing for it, it is hard to tell whether the moves this week are due to his activity, the realization that the China Mobile and NTT DoCoMo deal are great for the company, or if it is simply trading on technicals as it is breaking out. I can say that the shares did not move immediately on news, unlike they have in the past when Icahn has stepped in. Perhaps there was a delayed effect. It could be that the market didn't know how to react immediately when Icahn said he would "test the waters" regarding a proxy fight if the company ignored his calls. What we do know is that Tim Cook has is on record that AAPL won't announce any changes to its buyback or dividends before the year is out.
Holiday Sales to Bolster Shares
I don't know about you, but anecdotally, I know of several colleagues who are purchasing a significant number of AAPL products this holiday season. One colleague has purchases a Mac, and iPad Air and two iPhones (thank you!). Another colleague just purchased a suite of Macbook pro's for his trading firm (thank you!). I myself will be purchasing a new iPod and stuffing stockings with iTunes gift cards. Now I am a sample size of one, with a few known colleagues making significant purchases. What about the bigger picture? We just had the biggest Cyber Monday in History. In fact it was the biggest online shopping day ever with an 18.2% increase in online sales compared to Cyber Monday 2012. This is according to Custora Pulse, the continuously updated dashboard of U.S. e-commerce. One in three purchases on Cyber Monday was done on mobile devices (phones and tablets), with AAPL dominating 80% of mobile sales. One advantage Apple has this holiday is that the new products are not terribly expensive. The least expensive iPhone 5s retails for $199. The least expensive iPhone 5c sells for as little as $99. The least expensive iPad Air retails for $499. But there is fierce competition from Samsung, Nokia and other similar tech companies. I think the only thing I really worry about is the lack of innovation in the newest generation models. The new iPhone 5s and iPad Air are not incredibly different from their earlier versions to truly motivate many consumers to upgrade (note I am not buying an iPhone or an iPad, but again, sample size of one). Apple has a pretty decent history of substantially changing product features from one generation to the next, but lately it has fallen off that path. It is surprising given the billions of dollars being invested into research and development.
Unique Products Right Around The Corner
You know the iPhone 5s isn't really spectacularly different from the predecessors. That said, 2014 is likely to deliver a revolutionary iPhone. What will it be a game changer? This is because there has been consumer demand for bigger screens on the iPhone 6 to compete with many of the Android devices that offer larger screens; so called 'phablets'. Also look to a more powerful and faster phone. This generally lies in the processors but let's face it the latest chip used in the newest phones is as close to the best it gets. Look for more development of finger print technology, extended battery life (a huge problem with my 5s), changes to the camera system to compete with expensive stand alone cameras, including eye and facial pattern recognition. I would also be looking for deeper integration with social media apps to improve speeds and ease of use with instant sharing. Expect a revamp of the iPad in late Q1 or early Q2 of 2014, which will likely incorporate many of the advancements made in the newest iPhones, most notably improved processing chips
Apple iOS Has Something That Android Will Not
There is no doubt that having iOS in your vehicle and being able to communicate via a much more user-friendly Siri will have a huge impact on the company. Look for the integrated system to come pre-installed on many vehicles to be released next year (the 2015 models). Major auto manufacturers are clamoring for the potential iOS in the car can bring. AAPL can earn revenue from licensing in this regard, as well as fees for having the technology and software be installed in the autos (costs which will be passed on to the consumer for those holding auto stocks). This will be a revolutionary change. Utilizing iOS and voice command with Siri to play music from iTunes, get directions from the navigation system, place voice calls, integrate voice to text messaging, etc. For auto manufacturers, this will create a unique demand. Thus far, Android OS has not made strong headways in the auto world as AAPL and its iOS is doing. I suspect that revenues will be light in this venture to start, but the share price of the company could rocket higher in the anticipation of what is to come for future revenues. After all, isn't that how a stock works, buying shares to capture future earnings? 2014 will indeed be exciting in this regard.
Share Valuation
I don't know why few analysts really make call into the share valuation. Sure you see authors state "the stock should be higher" or "shares are undervalued." But rarely does anyone come out with a number of where the stock should be fairly priced. I am going to go on record with what I believe is a fair number. My analysis is simple, but informative. Clearly, AAPL has lagged the broader market this year. That has been a shame, but it actually bodes well for its near-term future. AAPL really was on the sidelines during the massive rally in stocks and now I see it as incredibly undervalued compared to all of the major averages. Overall, AAPL is selling for a little less than half price compared to the rest of the market if we factor in cash and deals with China Mobile and NTT DoCoMo. A good comparison value wise is with Google. If Apple traded at Google's valuation it would be selling for about $1500. As AAPL shares gain popularity again and the investment community takes into account the depressed valuation in tandem with the exciting products of 2014, I expect share prices to approach $600 near term.
Conclusion
I think right now, the big drivers are technical and fundamental for the share price. Long-term AAPL is setting up as a winner once again. The deals with China Mobile and NTT DoCoMo are under appreciated and deserve further attention, especially the latter. Carl Ichan (iCan??) has been a huge catalyst to get AAPL management thinking in new directions and considering all options for capital allocation. I don't know if we will be successful in getting an expanded buyback, but I support the initiative. I would welcome a dividend increase, but let's face it, AAPL is already paying out over $40 billion on an annualized basis between buying back stock and dividends to shareholders, and that is quite generous. Holiday sales will be the next catalyst. 2014 will also see some new and exciting products that could bring AAPL back to fame as the most innovative tech company in the world. While we won't know exactly figures until earnings, numerous consumer surveys will be released over the next few weeks which will help us gain insight into which companies are performing best. I have high hopes and expectations for AAPL this year, and with Cyber Monday results, sales could be huge. At the very least, the stock appears to be powering ahead, and I anticipate it will eclipse $600 by year end. The reason is because of valuation, momentum and fundamental news on its side. If a few more analysts come out and sing its praises, expect $600 to be in the rear view mirror.
Disclosure: I am long AAPL. I wrote this article myself, and it expresses my own opinions. I am not receiving compensation for it (other than from Seeking Alpha). I have no business relationship with any company whose stock is mentioned in this article.