Bank of America (NYSE:BAC) has taken a number of steps to position itself for future growth, but it remains vulnerable in a number of areas, and when an inevitable slowdown in the economy is taken into consideration, along with existing headwinds, it appears it would be best to hold onto shares of the giant bank, but not to add to a position at this time.
The obvious caveat to that would be if the share price takes a big hit, which would of course be a buying opportunity. But over the near term, there is a lot to be concerned about, as there is a lack of visibility in a number of areas which make it difficult to know the direction the firm will take.
source: Yahoo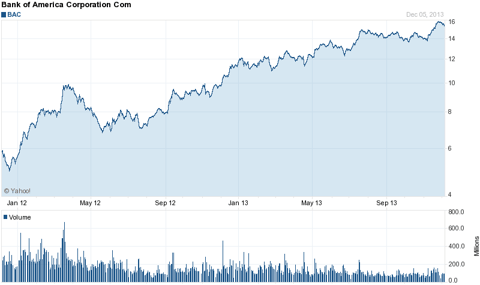 Positive Catalysts
One of the positive catalysts for Bank of America is it does have some momentum going for it since it fell to a little over $5 per share in the latter part of 2011. In early 2009 it plummeted to almost $3 per share before rebounding.
Another positive for the stock is the company's continual focus on strengthening its balance sheet. So far it has brought about better capital ratios, and that should continue into the future.
On the revenue side, Bank of America is competing strongly with a variety of new products, which bodes well for the long term once it shrinks the negative catalysts that continue to weigh on the performance of the company.
At this time, most of its performance is associated with improved efficiencies and lowering costs, rather than improving revenue. Once it is able to transfer from a defensive to an offensive strategy, the company should be able to generate solid returns. I don't believe BofA is there yet, and it could take a couple of more years to reach that level.
Negative Catalysts
The trajectory of the share price and ongoing headwinds suggests it may be time to take a break with Bank of America and wait for more clarity in the near term. It looks like it could be ready to correct in the not too distant future based upon headwinds and the pace of upward movement in the share price of the company over the last year.
As with most of the banking and/or financial industry, regulatory issues remain a concern; one that makes it impossible to fairly accurately project the performance of Bank of America and other financial institutions.
Along with that is the ongoing litigation, which for the same reason as additional regulations, clouds the short-term future of Bank of America. This regulatory and litigation environment will continue for some time. Only when that settles down and becomes more visible will we get a clearer picture of the company.
Continuing to weigh on Bank of America is the low interest rate environment, which it appears the Federal Reserve will continue to maintain for a long time. Until that changes, it must always be included in an assessment of the firm.
Other catalysts weighing on BofA are derivative positions, a decrease in loans, and deposits pricing pressure, which combined continue to pressure the top line.
Conclusion
Bank of America has done better with shrinking operating expenses via cost-cutting measures, but other areas of the company are sure to increase costs.
For example, the company will continue to invest in itself, and while that is probably good for the long term outlook of the company, over the next year or so it will result in downward pressure.
The weakness of the company as it works to adapt itself to the changes in regulations will be exposed when the next recession hits. If it doesn't happen for a couple of years, Bank of America may not be impacted in a big way. If it happens sooner than later, it will definitely take a big hit because of the lack of growth catalysts to overcome a recession. The depth of the recession will also determine the amount of the effect.
Taken together, it looks like headwinds will overcome tailwinds, and the stock will likely take a dip for a period of time. At that point in time it would be time to add to a position. For now I would hold off until the share price corrects.
Disclosure: I have no positions in any stocks mentioned, and no plans to initiate any positions within the next 72 hours. I wrote this article myself, and it expresses my own opinions. I am not receiving compensation for it (other than from Seeking Alpha). I have no business relationship with any company whose stock is mentioned in this article.