I recently read an article on Seeking Alpha titled "Deltic: Lean, Vertically Integrated, and More Than Just a Timber Company, 35% Upside", by Alpha Bet. The article is quite complimentary of Deltic and seems like a definite buy recommendation.
I have written several articles on most of the other timber companies, Weyerhaeuser (NYSE:WY). Plum Creek (NYSE:PCL), Potlatch (NASDAQ:PCH), Rayonier, (NYSE:RYN), Pope Resources (NASDAQ:POPE), and Acadian Timber (OTCPK:ACAZF). I had always intended to get around to Deltic but just could not muster up much interest in the company on my part. I am somewhat familiar with Deltic from my days as a timber consultant in Alabama back in the 1990s, and also from my days with Pope Resources because one of Pope's board of directors is also on Deltic's board.
Deltic (NYSE:DEL) is small, with a market cap of $760 million. Deltic was once owned by the Murphy Oil family. Deltic owns 453,000 acres of timberland, primarily in southern Arkansas and Northern Louisiana. It also owns two sawmills and an MDF mill. In addition, it has about 6,500 acres of real estate with developments near Little Rock and Pine Bluff Arkansas.
Deltic's timberlands are average to above average for the South. They are located near the end of the northern and western ranges for Southern Pine. Timber markets in Arkansas are not the best in the South. A year or so ago, Georgia Pacific shut down a large sawmill and pulpmill operation in southeast Arkansas leaving a large void in demand for timber. Deltic, however, is vertically integrated and uses much of its own timber in its own sawmills and MDF facilities.
I am somewhat conflicted with Deltic. Deltic owns quality timberlands and does a relatively good job managing them. One criticism I have of Deltic's management is that it still has about 33% of its lands under uneven age management. Uneven age management was once popular, particularly in the western Gulf region of the South. It does result in growing large trees but usually fails in regeneration and rarely could pass an economic returns analysis. Most industrial timber managers have switched to plantation management. Deltic does have 48% of its land under plantations management so it is evidently moving in that direction. Deltic also runs two sawmills and one MDF mill efficiently. Its real estate operations are also run well. With all of this, however, I don't see much return directed at the stock holders. Let's look at some comparisons with other timber companies.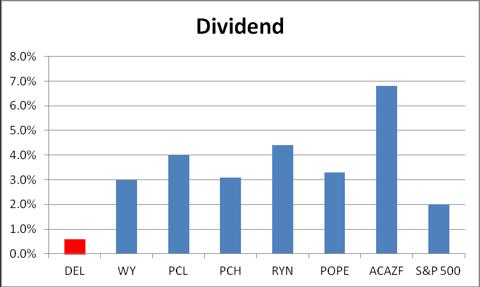 When it comes to dividends, Deltic is at the bottom of the barrel with a 0.6% yield.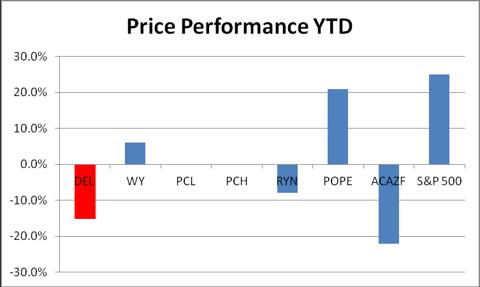 In stock price appreciation YTD, Deltic is second from the bottom.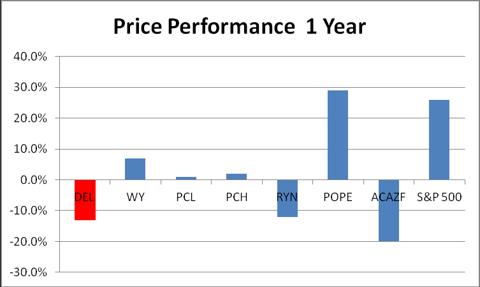 In one year price performance, Deltic is also second from the bottom.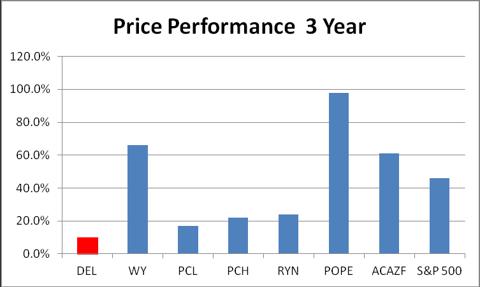 In three-year price performance, Deltic is also bottom of the barrel.
Deltic trades at a PE of about 30. This is normal for a timber company. I've always said that earnings are meaningless to a timber company. There are just too many non-cash expenses, particularly depletion, to make earnings a useful measure. So, with a PE of 30 Deltic is in line with other timber companies but still, how are the investors being rewarded.
Let's look at a some of the parts valuation for Deltic.
$ per

Million

Acres

453,000

$ 1,800

$ 815

Real Estate

6,500

$ 5,000

$ 33

Mills

3

$ 50

$ 150

Total Asset Value

$ 998

LT Debt

$ 93

Liquidation Value

$ 905

Shares

12.67

$/Share Liquidation Value

$ 71.41

$/Share 12/5/2013

$ 60.13

Liq. Upside

19%
I'm being generous valuing Deltic's timberlands at $1,800 per acre. I'm estimating its real estate at $5,000 per acre, and its mills at $50 million each. This gives Deltic a total asset value of almost $1 billion. Take away long-term debt of $93 million and you get a value of $905 million or $71.41 per share. Share are selling today at $60.13, so an upside of 19% exists if Deltic were sold or merged with another entity.
So, this brings me to my dilemma with Deltic. The article mentioned at the beginning of this one sees a 35% upside for Deltic based on the recovery in housing. This same argument also applies to the other timber companies, so why go with Deltic? Until Deltic become more shareholder friendly with either better dividends or better price appreciation, I see no reason to invest in DEL.
Disclosure: I am long WY, PCL, PCH, RYN, POPE, OTCPK:ACAZF. I wrote this article myself, and it expresses my own opinions. I am not receiving compensation for it (other than from Seeking Alpha). I have no business relationship with any company whose stock is mentioned in this article.