Introduction:
The Walt Disney Company (NYSE:DIS) has seen its shares rise by over 43% year to date. In this article, I will be looking at its revenue, earnings, dividends and valuation to determine whether or not I should buy it at these levels.
Revenue:
| | | | |
| --- | --- | --- | --- |
| Revenue (in $millions) | 2012 | 2013 | Change |
| Q1 | 10779 | 11341 | +5.2% |
| Q2 | 9629 | 10554 | +9.6% |
| Q3 | 11088 | 11578 | +4.4% |
| Q4 | 10782 | 11568 | +7.3% |
| Full Year | 42278 | 45041 | +6.5% |
Disney's revenue for 2013 was 6.5% higher than in 2012, reaching $45.04 billion. For the current fiscal year, analysts expect Disney's revenue to be $47.81 billion, which is 6.1% higher than last year. A further increase to $50.96 billion is expected for fiscal year 2015.
Earnings per share and dividends: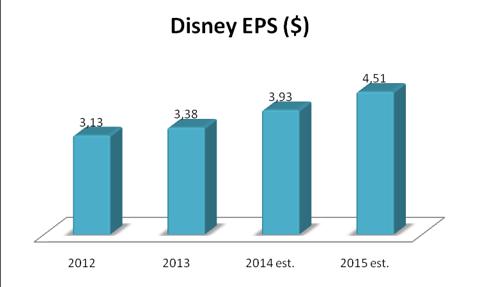 Analysts expect a huge amount of growth in Disney's earnings per share, with average expectations reaching $4.51 as soon as fiscal year 2015. For the current fiscal year (2014), analysts expect earnings per share of $3.93, which is an increase of 16.3%.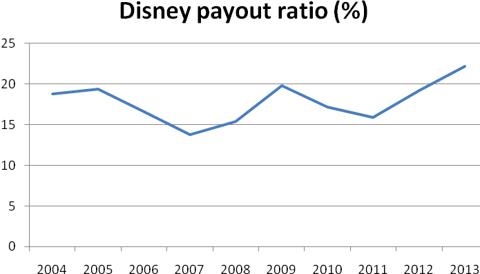 Disney has never had an extremely high dividend yield, mostly due to the fact its payout ratio is always very low. In fact, 2013 was the first year the company paid out more than 20% of its earnings. A large part of Disney's income is used to repurchase its own stock. In 2006, there were 2.076 billion shares, compared to only 1.760 billion today. This has done wonders for the earnings per share, which have grown at double digit rates for the last 5 years.
Valuation and conclusion:
DIS is currently trading very close to its 52-week high, at $71.46, after rising 43.5% year to date. This means investors getting in now will be paying 21.1 times last year's earnings. However, EPS is expected to increase to $3.93 in 2014 and $4.51 in 2015. Still, at a forward p/e of 18.2, I believe DIS is somewhat expensive. The graph below shows Disney's historical p/e ratios: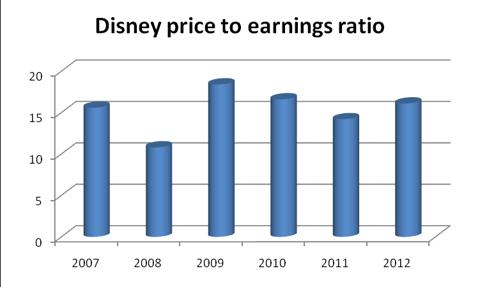 I would also like to look at Disney's price-to-sales ratio. At a market cap of $125.58 billion, Disney is valued at 2.8 times last year's sales and 2.6 times expected revenue for the current fiscal year. For comparison, Time Warner Inc. (NYSE:TWX) is trading at a much more reasonable 2.0 times this year's expected earnings. Between 2007 and 2012, you could get DIS at a p/s ratio of less than 2.0.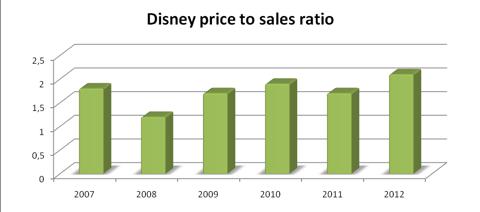 Disney's forecasted growth in earnings and revenue is amazing, but its price per share has gone up from around $50 per share in January to over $70 today. I believe the stock has risen faster than its growth can justify, which is why I will not be adding it to my portfolio at these levels.
What's your view on DIS? Please comment below!
Disclosure: I have no positions in any stocks mentioned, and no plans to initiate any positions within the next 72 hours. I wrote this article myself, and it expresses my own opinions. I am not receiving compensation for it (other than from Seeking Alpha). I have no business relationship with any company whose stock is mentioned in this article.