For over four decades, iron ore miners and steel companies have sat down together to negotiate the annual price of ore. Last year was an anomaly. In the midst of the worst financial crisis in recent memory, the Chinese negotiator (CISA - China Iron and Steel Association) demanded a 40% reduction in prices. The "Big Three" global iron ore miners (BHP, Rio Tinto (RTP) and Vale (NYSE:VALE)) balked. The miners countered that a 40% reduction was too steep; especially given the fact that in the absence of a contract price, Chinese steel companies were buying massive amounts of iron ore in the spot market causing spot prices to surge – this thanks to China's infrastructure-heavy stimulus package. In short, tempers flared, iron ore prices went through the roof, and relations soured.
In March we again approach the annual pricing negotiations. Already, BHP Billiton, the world's largest mining company has made the first move. According to Bloomberg, BHP bypassed the Chinese negotiating body (CISA) and agreed to a provisional 40% increase in contract iron-ore prices with some Chinese steelmakers.

A 40% gain in contract prices would see Australian ore prices rising from US$60/ton to US$84/ton. According to the Steel Index, the landed price of (62% Fe content) iron ore in the port of Tianjin, China (including freight, insurance, etc) is US$128.2.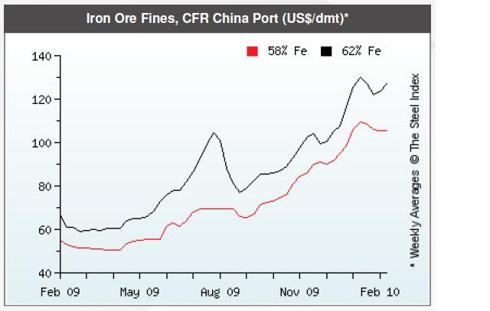 Meanwhile, spot prices in China might even get a boost over the next few months, as Brazil's government may begin levying a tax on its iron ore exports. Why would Brazil tax its exports? As silly as it might seem, the government is trying to keep as much value creation (i.e. steel making) in Brazil as possible.
Wei Zengmin, an analyst from Mysteel Information, told Interfax this past week:
The news may push up spot prices of imported iron ore in China in a short period of time, which will influence China's bargaining power during the ongoing long-term price talks with iron ore suppliers.
In 2009 China imported 23% (or 142.14 million tons) of its iron ore from Brazil.
Disclosure: No positions