By Mike Yamamoto
ProFunds Group, the largest manager of leveraged and inverse funds, is launching eight new exchange-traded funds. Three of the pairs were listed last last week on NYSE Arca and one on the Nasdaq exchange.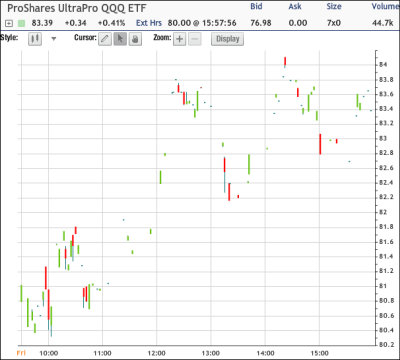 A pair of ETFs, one with a daily objective of triple the returns and one with a daily triple-short goal, is opening on each of the following indexes: the Nasdaq 100, Dow Jones Industrial Average, S&P Mid-Cap 400, and Russell 2000.
Here are the 3x long ETFs:
Here are the 3x short ETFs:
We're all familiar with the very successful and actively traded offereings from ProShares, such as the SKF, DXD, QID-OLD, and TBT, and these new triple-leveraged ETFs should see some interest almost immediately. You should be aware that leveraged or inverse ETFs seek a return that is a multiple or inverse multiple of the return of an index or other benchmark for a single day and that leveraged ETFs may not track 3x long or short over weeks or months.
A version of this post appeared on InsideOptions last week. Chart courtesy of tradeMONSTER.