Simon Wong is the Principal of Pantheon Partners, L.P., a technology hedge fund based in New York City that focuses on longer-term product/industry cycles and turn-around situations where Pantheon fund managers believe their investments can outperform the market.

Prior to joining Pantheon in 2004, Simon was a partner at Sycamore Ventures, and previously worked in engineering and market capacities at Intel Corporation, and in venture capital and investment banking positions at various affiliates of James D. Wolfensohn, Inc.
We had the opportunity to ask Simon what his single highest conviction holding is in his hedge fund.

• • •
Seeking Alpha (SA): What is the highest conviction stock position in your fund right now?
Simon Wong (SW): Our highest conviction stock position is Digital River (NASDAQ:DRIV-OLD). It is an enabler of e-Commerce solutions to companies in software, consumer electronics, computer/video games, and other markets. Its software e-Commerce solutions customers include Symantec (NASDAQ:SYMC), Microsoft (NASDAQ:MSFT), Adobe (NASDAQ:ADBE), Computer Associates (NASDAQ:CA), Nuance (NASDAQ:NUAN), and many other well-known companies in that market. Its services include the design and hosting of online stores, marketing services (such as search engine optimization and affiliate marketing), digital product delivery and product fulfillment, order/payment processing and fraud control, as well as tax collection/export control compliance services. DRIV provides electronic downloading services for digital delivery of software and payment services. In addition, it provides customer services in multiple languages to deal with any order related issues.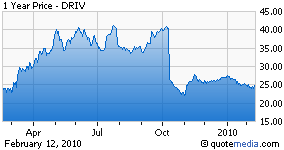 During the fourth quarter of 2009, DRIV announced that its largest customer, Symantec Corporation, has decided not to renew its contract, which will expire on June 30, 2010. Instead, Symantec will build its own in-house e-Commerce platform. This development caused the stock price of DRIV to decline significantly. We believe this presented a buying opportunity.
DRIV has also diversified its offering to include customers in consumer electronics, computer/video gaming and other industries. For example, DRIV's online store and fulfillment solution is being used by companies like Electronic Arts and Ubisoft in gaming software, and Research in Motion, Samsung, Seagate, Pentax, and others in consumer products. For goods that require physical delivery, DRIV transmits instructions to third parties for physical fulfillment.
DRIV believes that its experience in providing a global platform for end-to-end outsourced e-Commerce is a significant differentiator. Many of its customers do not consider global payment processing, tax collection, product fulfillment and order-related customer services as their core expertise. Delivering e-Commerce solutions has been a very high growth and profitable business for DRIV. Between 2000 and 2006, the Company had annual growth rates ranging from around 30% to over 80% per year. After 2006, as Symantec's contribution stagnated, DRIV's growth slowed. However, its non-Symantec revenue continued to grow at over 20% per year until the recession of 2009. At the same time, DRIV has been able to achieve EBITDA margins in excess (sometimes well in excess) of 20% since 2000.
Symantec has been a large customer of DRIV for many years. In fact, Symantec accounted for over 45% of DRIV's revenues back in 2006. However, since 2006, Symantec's contribution as a percentage of DRIV's total revenue has gradually declined. By September 2009, Symantec accounted for less than 30% of DRIV's revenues. The loss of Symantec will cause a drop in DRIV's revenue in its FY 2010. More significantly, because of the fixed costs inherent in this type of business, EBITDA margins will be negatively impacted even more severely. However, now that the loss of Symantec is reflected in the stock price, the key becomes how quickly and profitably will DRIV be able to grow its non-Symantec business.
SA: Can you talk a bit about the industry/sector? How much is this an "industry pick" as opposed to a pure bottom-up pick?
SW: DRIV is both an industry sector and a bottom-up pick. The growth of e-Commerce is clearly a positive for DRIV. E-Commerce has continued to grow faster than the general economy. In the software arena, online electronic delivery of product has become an important means of product fulfillment. For example, Symantec mentioned in a recent conference call that 80% of its consumer revenues are fulfilled electronically. E-Commerce is also expected to grow rapidly in international markets, online gaming and new services such as software subscription. DRIV is also moving from its traditional business-to-consumer solutions to business-to-business solutions, especially for software companies that sell to small-medium sized businesses. This will open up new customer opportunities for the company.
In addition, many companies who sell consumer products are recognizing that the internet allows them a direct connection to their end-use customers without going through retail intermediaries. This allows them to market directly to their customers and perhaps as importantly, to offer support/maintenance services and to gain intelligence on customer preferences. While this has created "channel conflicts" with retailers, manufacturers also recognize that some retailers have been offering "store-brands" to compete with them. They recognize that a direct connection with consumers is necessary and this has helped DRIV grow its consumer business.
SA: How would you describe DRIV's competitive environment?
SW: DRIV operates in a very competitive field. It competes with in-house e-Commerce solutions and other third party solution providers. In the first category, IT consulting firms like Accenture (NYSE:ACN) and IBM Global Services (NYSE:IBM) create customized solutions for their clients, using proprietary software or tools from companies like Art Technology Group (ARTG). Numerous consultants offer search engine optimization to help channel traffic to clients' website. In the outsourced arena, companies like GSI Commerce (NASDAQ:GSIC) provide similar services to those of DRIV, albeit with differences in industry sector focus. In specific areas such as payment services, companies like CyberSource (CYBS) and PayPal (NASDAQ:EBAY) offer out-sourced payment transaction services but not a complete end-to-end solution.
A number of other companies, such as Amazon.com (NASDAQ:AMZN) and United Parcel Services (NYSE:UPS) also offer e-Commerce and fulfillment services. While they are not directly competitive at this time, it is possible that these companies may develop software or services which compete directly with DRIV.
DRIV has a long history of providing reliable e-Commerce solutions. It has significant scale and operates in worldwide markets. In particular, DRIV has a very large presence in the electronic product distribution market for software vendors and video gaming companies. If it executes well, DRIV should be able to maintain a strong position in its markets.
SA: Can you talk about valuation? How does valuation compare to the competitors?
SW: DRIV's stock has significantly declined over the last six months as a result of the loss of Symantec. At the time of this writing, the equity value is about $950 million but after subtracting net cash of about $440 million, enterprise value is slightly above $500 million. At 2009 consensus revenue of close to $400M, the stock is trading at about 1.3x estimated 2009 revenues and less than 5x 2009 estimated EBITDA. While revenues will decline in 2010 as Symantec is expected to contribute no revenues after June 2010 and EBITDA will decline disproportionately more as fixed costs are under-absorbed, the stock still trades at only slightly above 1.5x consensus 2010 revenues. As recent as October 2009, just prior to the Symantec announcement, DRIV traded at over 3x revenue and over 11x EBITDA on a run rate basis.
DRIV's competitors are valued higher. GSI Commerce is valued at over 1.3x 2009 estimated revenue and over 13x 2009 estimated EBITDA as GSI's EBITDA margins are much lower at just slightly over 10%. Art Technology Group, a software vendor, sells for approximately 2.8x 2009 consensus revenues and over 18x 2009 consensus pro-forma EBIT before amortization of intangibles.
SA: What is the current sentiment on the stock? How does your view differ from the consensus?
SW: Investors have taken a wait-and-see attitude towards DRIV stock in recent months. There remains considerable uncertainty as to how rapidly Symantec will migrate away from DRIV before the June 30, 2010 contract expiration deadline. Moreover, the ability of DRIV to reduce cost and at the same time grow non-Symantec revenue at higher rates remains uncertain in this difficult economic climate.
It is difficult to forecast DRIV's revenue and profit levels during the Symantec transition period. However, for the medium term, I believe that both industry drivers and the management's proven ability to execute in the past will allow DRIV to achieve attractive growth and respectable profitability. DRIV has a strong market presence in some potentially high growth markets. While the loss of a big customer is always a disappointment and setback for a company, on the brighter side DRIV can now truly diversify its customer base to achieve more stable revenue growth and perhaps a higher multiple without the outsized dependency on Symantec.
SA: Does Digital River's management play a role in your position?
SW: The action of DRIV's founder and CEO, Joel Ronning, played a role in our decision process. Soon after DRIV's third quarter 2009 earnings call, Mr. Ronning purchased $5 million worth of DRIV shares and an additional $1 million worth of long-term DRIV call options in the open market. While we recognize that Mr. Ronning had sold a considerable number of shares since DRIV's IPO in the late 1990s and he is investing back into the company only a fraction of those proceeds, nevertheless the total investment is a meaningful amount of money. It is a demonstration of resolve that we do not find in management of many other companies attempting similar turnarounds.
SA : What catalysts do you see that could move the stock?
SW: Investors appear to be concerned about (1) the ability of DRIV to sign new customers and expand/retain existing customer relationships to offset the loss of Symantec, and (2) the prospects of lower profitability (or even losses) near-term as Symantec fully disengages with the company after June 30, 2010. If the company demonstrates good execution over the next few months, these concerns will be alleviated or eliminated.
The management team at DRIV is working hard to grow its non-Symantec business. For existing customers, Microsoft has been increasing its business with the company with the launch of Windows 7 and Office 2010. Contract renewals with existing customers appear to be generally inline with historical experience. New contracts signed recently are continuing to ramp. So far, so good.
If DRIV can gain traction in significant new contracts and/or markets, that will further enhance investor confidence. These may include further success in signing up more customers in consumer electronics and software (both business-to-consumer and business-to-business). Emerging markets for DRIV such as mobile commerce, online gaming transactions, and other software subscription services may also add to revenue growth and stronger profits.
From an overall technology industry viewpoint, there has been much discussion about an "upgrade" cycle for personal computers and data centers. PCs are driven by Windows 7, which appears to be getting much stronger acceptance compared to its predecessor Vista. Data center upgrades are driven by virtualization and a migration to higher speed networks. As an e-Commerce provider to technology products, these trends can only help DRIV.
SA: What could go wrong with this stock pick?
SW: The biggest risk facing DRIV is if some of its larger customers decide not to renew their contracts with the company. They may choose to follow Symantec's decision and develop their in-house solutions or to use another e-Commerce solution provider.
Symantec has publicly said that it made the decision to build its own e-Commerce platform because it believes such an internal solution will allow it to respond more quickly to market, gather more information about customers, and target customers with more specificity. This is not a surprising conclusion as most internal solutions that are customized should provide better results. However, this development is also a very expensive endeavor and will impact negatively on Symantec earnings until late 2010.
We are hopeful that DRIV recognizes the issues facing Symantec and has been working to improve its platform further to offer more flexibility and responsiveness to its customers.
As I am finishing this response, DRIV reported its 2009 fourth quarter results and provided guidance for the first quarter of 2010. Fourth quarter results beat the company's guidance and consensus estimates for both revenue and EPS. Non-Symantec business was very strong, with the strength coming from Microsoft and other customers. First quarter revenue guidance was strong but profits guidance was below estimates. The company explained that it has decided to delay its cost cutting efforts due to its obligation to continue to support Symantec and because it is working on large customer wins which may generate sufficient revenues to utilize capacity.
I am encouraged by the results which appear to indicate that DRIV is continuing to make progress to generate revenue growth. In a growing market, DRIV has to grow to generate prosperity for its stockholders.
SA: Thank you very much, Simon.
SW: My pleasure.
Disclosure: Pantheon Partners is long DRIV

If you are a fund manager and interested in doing an interview with us on your highest conviction stock holding, please email Rebecca Barnett: rbarnett@seekingalpha.com