Over the past few weeks we have seen a notable move higher in the price of uranium. The following chart of shares of Uranium Participation Corp. (OTCPK:URPTF) - a uranium holding company - illustrates this.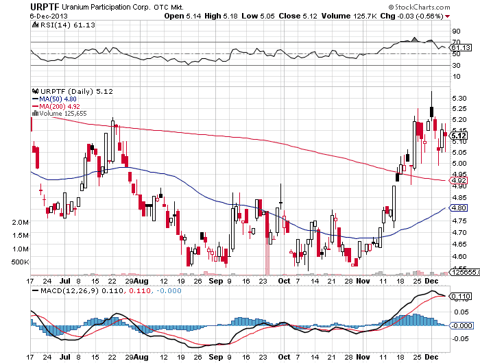 In addition to the strong shorter-term technical signals (price spike and moving averages turning upward) we are also seeing signs of a bottom on the Global X Uranium Miners ETF (NYSEARCA:URA):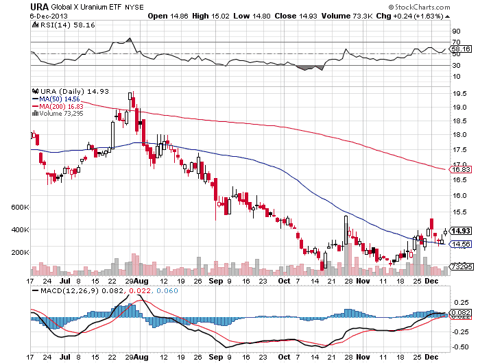 Both of these charts indicate that it might be time to take a look at this beaten down sector.
Since the commodity peak in 2008 few commodities have seen price collapses like uranium, which has lost more than 2/3 of its value. While the price attempted to run after the crash in 2008-9 - reaching about $70/lb for U3O8 - any enthusiasm for uranium was abruptly stymied by the Fukoshima Daiichi debacle. The price currently sits at about $36/lb., which is below the cost of production for many uranium mines.
Nevertheless if we look at a chart of uranium prices over a longer time period there appears to be an extremely long-term base that formed in the late 1980s-1990s, and a long-term bull market.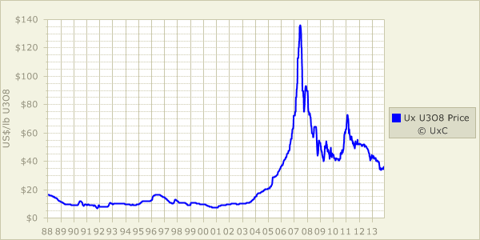 While some observers of this chart might insinuate that the bull market ended in 2007, I would maintain that it did not, and there are two reasons for this. The first is simply that the bull market was an extremely short-term one if it did end at its 2007 peak since it began either in 2001 (the bottom) or in 2004-5 (when the prior tops were breached). Historically secular bull markets last far longer than 3 - 7 years.
Second, the bullish case for uranium is extremely compelling. What makes this market unique relative to others is its predictability. So much planning and regulatory compliance goes into the development of a nuclear power plant that we basically have a road-map of the future of nuclear power demand, and by extension uranium demand. While the supply picture is less predictable, simple economics indicates that there is great potential for a shortage in the not too distant future given the fact that uranium is, in most cases, not profitable to mine. This means that there is little incentive to invest in new projects, or to develop/expand existing ones. While a rising uranium price will engender the necessary incentive, it will take years before projects make it from the exploration stages to production.
Given future demand, and given estimates of future supply, we can see that there will almost certainly be a supply deficit in the uranium market, as the following chart illustrates.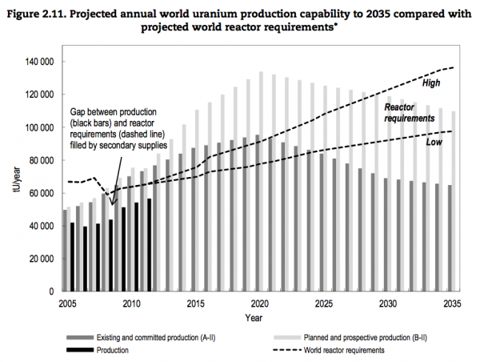 Of course this information has been available for some time, and still the uranium price fell, and the values of the miners more or less collapsed - especially the juniors. What is different now is that the predominant reason to be fearful - excessive government restrictions on nuclear power plant development due to safety concerns - is no longer a pressing issue: Japan's government is lifting the restriction on the development of nuclear power plants, and it is no longer phasing them out. Of the major nations with current nuclear programs only Germany is still intent on phasing its program out. Furthermore, the fact that Japan has ignored environmental concerns and continues to use nuclear power offers Germany (and Angela Merkel) a pretense for reneging on its decision to phase out nuclear power in order to "go green." In other words, what was arguably the best argument for selling uranium and uranium mining shares is no longer applicable.
With technicals aligning and such a compelling bullish case to be made, it seems time to consider taking or adding to a position in the sector.
The easiest way to do so is to simply buy shares in Uranium Participation Corp. Uranium Participation Corp. is a holding company managed by Denison Mines (NYSEMKT:DNN) that holds uranium oxide and uranium hexafluoride, which are forms of uranium "bullion." The management fees are minimal at 1.5% of the value of any uranium bought or sold, and $400,000 per year plus 0.3% of the company's net asset value in excess of $100 million (current NAV is just over $500 million). Uranium Participation Corp. is a great way for investors to gain exposure to the price of uranium without the risks of mining uranium.
Investors can also purchase shares in individual uranium miners or in the above-mentioned Global X Uranium Miner ETF. These companies, for the most part, cannot turn a profit at the current uranium price, and this makes them risky: since its inception in 2010 URA has lost over 70% of its value. However this leverage works both ways, and when uranium prices begin to move upwards the uranium mining shares will perform extremely well. Investors should note that many of the components of URA are extremely small companies, and many of them do not have revenues.
Disclosure: I am long URA, OTCPK:URPTF. I wrote this article myself, and it expresses my own opinions. I am not receiving compensation for it (other than from Seeking Alpha). I have no business relationship with any company whose stock is mentioned in this article.