"Oh, this is the big one! You hear that, Elizabeth?! I'm coming to join you, honey!" - Fred Sanford
Cue the laugh track and hide the smirk on your face. Redd Foxx's character may have feigned heart attacks to get his way with Lamont often, but if I was Lamont, and Fred was long AAMRQ, I'd be dashing for the phone right now.
Announcements
Early Monday morning, the news wire were alit with the announcement from American Airline Group Inc (NASDAQ:AAL):
Today's consummation of the merger between AMR Corporation and US Airways Group, Inc. and the effectiveness of AMR's Plan of Reorganization (the "Plan") will result in the distribution of American Airlines Group Inc. common stock and convertible preferred stock (Nasdaq: AALCP) to equity holders, creditors and employees of AMR Corporation.
Great news! Especially after the company issued a press release stating "Merger Transaction Completed; AMR Emerges from Restructuring with Full Recovery to American Creditors.", and "The common and preferred stock of American Airlines Group will trade on the Nasdaq Global Select Market under the symbols 'AAL' and 'AALCP' respectively." However, what was missing was the total effect on common shareholders.
History
As of Friday, there had been great elation among common shareholders of the old bankrupt American Airlines. In fact, the common stock closed at $11.39 per share on Friday, after hitting a high of $13.50 when the announcement that the merger between US Airways was approved by the Department of Justice.
That's quite a return considering the stock had traded below a dollar a share as recently as January this year.
(Chart courtesy of StockCharts.com)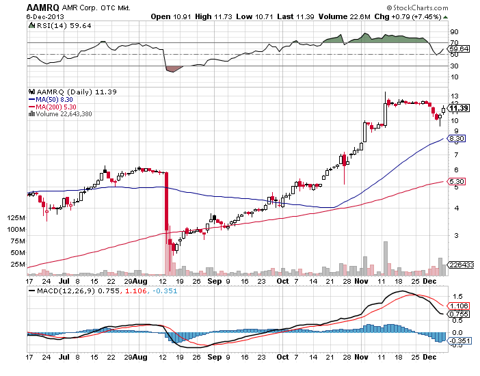 Plus, the terms of the agreement lead common shareholders to believe they were going to come out well in the deal:
Under the terms of the merger agreement, at the time of closing each outstanding share of common stock of US Airways will be exchanged for one newly issued share of common stock of AMR Corporation and stakeholders of AMR Corporation and its debtor subsidiaries will receive newly issued shares of AMR Corporation's common stock.
But, notice that the above statement does not say how many shares of common stock the "stakeholders" will receive. Now, it is important to remember that common stock holders are only one of a number stakeholders, and more important to remember that they are the stakeholders at the bottom of the ladder. Debtors always come before common shareholders.
So, we know that debtors will receive dollar for dollar their economic value in new common stock, but what about the old shareholders. By noon, we had confirmation from DTCC (Depository Transfer Corporation); the exchange rate for cusip 001765106 (AAMRQ) is 0.06654493014 per share of cusip 02376R102.
However, this does not reflect any additional distributions of AAL common stock that may possibly be received over the next 120 days.
Math Time
The new company stock is trading at about $24.65 per share. Therefore old AAMRQ shareholders receive:
$24.65 x .06654493014 = $1.64 per share in value for their old stock.
Summary
Last Friday your stock closed at $11.39. Today it looks like it's worth $1.64 or 85% less.

Ouch! Owners of AAMRQ will have to wait a full 120 days to realize the full economic value of their old shares, pending any additional distributions they may receive.
Disclosure: I have no positions in any stocks mentioned, and no plans to initiate any positions within the next 72 hours. I wrote this article myself, and it expresses my own opinions. I am not receiving compensation for it (other than from Seeking Alpha). I have no business relationship with any company whose stock is mentioned in this article.