Will the Correlation Grinch Steal Your Holiday Season?
-By Don Dale
Hedging has always been recognized as an option for concentrated, actively traded portfolios, usually with tax consequences in mind. It has rarely been thought of as a tool to minimize exposure in diversified portfolios, themselves designed to reduce risk.
This article points out how in today's financial world, the substantial focus on diversification across asset classes may no longer offer the risk protection it used to. For generations, the overriding theme from investment professionals was based on this concept, first described in the novel Don Quixote "It is the part of a wise man to keep himself today for tomorrow, and not venture all his eggs in one basket.". The investment community promoted and focused on diversification as a safer, risk-reducing approach to investing. Everybody has listened, and maybe too well.
We have become so accustomed to central bank support, that the resulting flood of inexpensive money has begun to have unintended consequences for risk averse investors. Overcrowding in 'non-correlated' assets is occurring as investors chase returns for massive amounts of excess capital; the investment of this capital has had a dramatic and intended effect on the bond markets, leading to stock and bond markets to move in tandem.
When all investment classes become exposed to even minor market shocks at the same time, have we created a correlation Grinch that routinely visits? And how do we prepare for his next visit?
Over the last 15 years we have seen a substantial rise in correlation between stocks and bonds, a traditional diversification approach. A portfolio consisting of 60% stocks and 40% bonds (rebalanced year over year), has delivered a correlation of .99 to a portfolio of 100% equities. Moreover, in recent years short term dislocations in the bond market have caused upheaval in equity markets; just this June the bond and equity markets fell meaningfully in sync.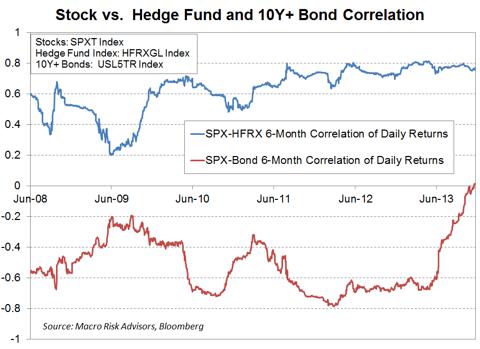 On the surface this seems unusual, but the real story lies underneath.
It makes sense that these correlations have risen given the circumstances, but the question is; are they now working against most investors? I would argue that the increasing dependence on current central banking policies has weakened traditional diversification strategies. Many professional asset managers have already increased their weighting in the alternative asset space (hedge funds) to augment this non-correlated focus. However, the same exact issues that have cropped up with stocks and bonds are occurring within hedge funds as well.
In June of this year when the bond market fell and the equity markets followed suit, the HFRX Global Hedge Fund Index fell right along with them! This may not come as a surprise to active managers, or even to passive family offices and pension funds. But, it is extremely concerning from the standpoint of what to do if this increase in correlations across asset classes and investments continues.
Diversification has been a beneficial long-term risk-reducing approach to investing and within each investment class this is still true. The real long-term problem is the increase in correlation across asset classes and alternatives that compound the possible magnitude of a dislocation for investment portfolios.
Directly hedging equity exposures can aid in solving the problems associated with increased correlation between asset classes. The stock market is breaking all time highs on a regular basis and seeing lower equity volumes while this transpires. Therefore, the current cost of hedging this exposure is at or near historic lows. As we have seen, diversification across asset classes tends to yield a much higher correlation during equity market corrections, in turn causing other asset classes to follow. While hedging an equity portfolio, a manager can maintain desired levels of market exposure, and at the same time engage in intelligent fiduciary responsibility.
Why are more asset managers not engaged in proactive hedging now? The answer lies somewhere between the continued belief that the monetary policies will ward off any end of year holiday bogeyman, and the perceived cost of underperforming benchmarks if the market continues to elevate.
Given its extremely low cost, I would expect that proactive hedging, or at a minimum a passive overlay approach based on fiduciary responsibility (CYA), will win out. Could it be that the Grinch looks like an increasing RSquared?!
Don Dale is the managing partner of Derivaguard Advisors, which helps money managers implement exchange-traded volatility strategies. He is a 20-year equity derivatives veteran with substantial experience in equity portfolio hedging and volatility trading.
Disclosure: I have no positions in any stocks mentioned, and no plans to initiate any positions within the next 72 hours. I wrote this article myself, and it expresses my own opinions. I am not receiving compensation for it (other than from Seeking Alpha). I have no business relationship with any company whose stock is mentioned in this article.