This article will discuss which dividend ETF has the most promising outlook for 2014 and why. In my previous article, I discussed why SPDR S&P Dividend (NYSEARCA:SDY) would be a sound investment for next year given the rise in the market during 2013, and the possibility of a pullback during 2014. I received valuable feedback from readers, suggesting that Vanguard Dividend Appreciation (NYSEARCA:VIG) or Vanguard High Dividend Yield I (NYSEARCA:VYM) could be even better investments. So I decided to analyze how these ETFs compare to one another in different aspects. The following table contains a summary of each ETF, as well as key measures of their performance.
Funds Summary
Click to enlarge image.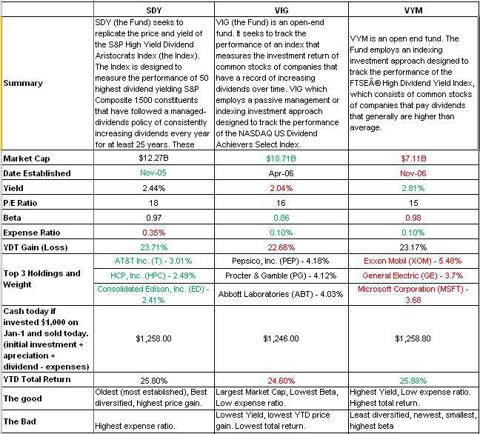 Data used for the analysis was gathered from Yahoo Finance and Morningstar.
Before picking a winner, it is important to establish that my outlook on the market for 2014 is rather conservative. Here are some of the reasons why: Year to date, S&P 500 earnings are up around 7%, while the S&P 500 index is up 26.57% over the same period. Based on these figures, it appears as if market is due for a correction. Although the economy has had a decent recovery,the market appears to be overreacting to it. Part of the overreaction seems fueled by the Federal Reserve and its expansionary policy. However, current levels of quantitative easing by the Fed are not sustainable over the long run. In fact, there has been talk over the last few weeks that the Fed may begin tapering quantitative easing in the coming months. In such a scenario, a market pullback appears imminent.
For the above reasons, VYM is eliminated. Despite outperforming the other two funds in terms of total YTD return, VYM appears to be the riskiest of the three. It is the smallest fund by market cap, meaning it may be more sensitive to the market swings. Also, VYM has the highest beta, meaning it is the most volatile relative to the market. As the riskiest of the three funds, VYM may yield the highest returns during a bull market, as has been the case in 2013. But it may also suffer the most during a market pullback.
With VYM out of the competition, let's take a look at what SDY and VIG have to offer. VIG looks better than SDY in terms of market cap and beta, which are both measures of stability. VIG also has a lower expense ratio. Meanwhile, SDY outperforms VIG in terms of yield, appreciation, and total YTD return (even with a higher expense ratio). SDY also appears to be better diversified as the most it allocates to a single company is 3%, vs. 4.18% for VIG. To break what appears to be a very close contest, let's take a look at a graph of how the funds performed since 2007 (the year when the final crisis began to unravel).
SDY Vs. VIG (2007 to Present)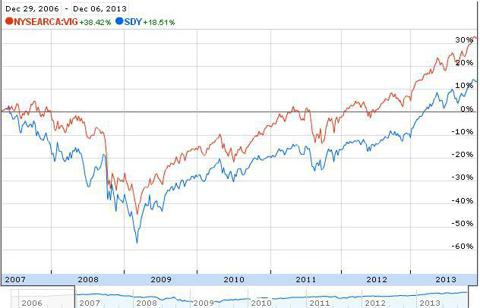 Source: Google Finance.
As it can be seen in the graph above, VIG has outperformed SDY in terms of appreciation over the seven-year period. Also, VIG held its value better during the financial crisis, a very important indication that it might do better through a market pullback. Therefore, VIG is my top pick for 2014.
Finally, it is important to remember that the performance of these ETFs depends on the performance of the underlying companies that make up the funds. Also, keep in mind that VIG appears as the best option in a possible market pullback situation. If you believe the market will continue to go up through 2014, you should consider SDY and VYM as these have been the strongest performers during 2013 so far.
Disclosure: I have no positions in any stocks mentioned, but may initiate a long position in VIG, SDY over the next 72 hours. I wrote this article myself, and it expresses my own opinions. I am not receiving compensation for it (other than from Seeking Alpha). I have no business relationship with any company whose stock is mentioned in this article.