Netflix (NASDAQ:NFLX) is popular now, although one of the main technologies for the future may warrant Netflix as a must need. Google (NASDAQ:GOOG) has released its Google TV and is preparing for its new Nexus TV.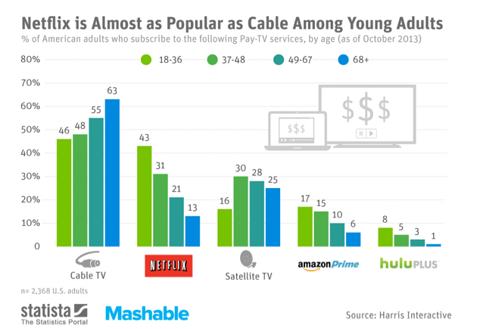 Google's new set top box will rival the much anticipated Apple (NASDAQ:AAPL) TV and Amazon's (NASDAQ:AMZN) rumored FireTube that has been delayed until next year. Moreover, Microsoft's (NASDAQ:MSFT) Xbox utilizes streaming video applications along with Sony's (NYSE:SNE) PS4.
With the onslaught of video streaming capable set top boxes, Netflix and other OTT, or "over the top", providers will likely gain subscribers. As can be seen from the chart above Netflix, Amazon Prime and Hulu Plus are making their mark on the industry. On the other hand two key points are interesting - Netflix is the most popular, and Cable TV and Satellite TV still own the keys to the castle. The latter can also translate into marketshare that can be gained by the former three OTT providers.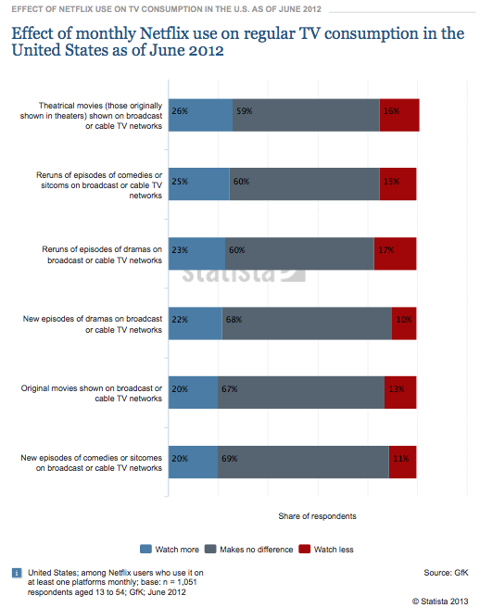 Netflix is the key company I am detailing due to the key fact that it has the most resources to build out its content. This fact can be seen with the company's popular TV lineup of shows such as House of Cards with its season 2 premiering soon and the Daredevil starting soon. Netflix is not unrivaled as Amazon has also been very successful in its attempts to target a proprietary series with Alpha House.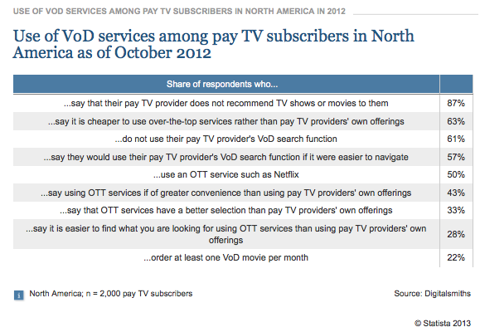 As can be seen above, 50% of pay TV subscribers use a service such as Netflix. The main catalyst for the company is the rollout of set top boxes and gaming consoles that already offer, or will offer Netflix's streaming video service. Moreover, the company is differentiated from its competitors due to the content it currently offers, and its success in expanding its content to include proprietary shows. Cable and Satellite TV's cards are on the table, although with the growth of set top boxes that are set to market in the coming years coupled with those already available - Netflix and its peers are set to gain. As can be seen above, Netflix has made its mark on the industry.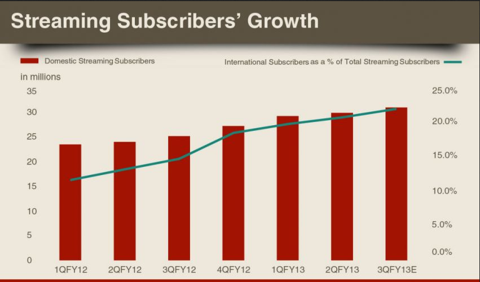 On a side note - Netflix and its competitors are easy to unsubscribe from, with just a few clicks needed. Although Cable TV for example usually comes along with a telephone and internet services. From experience, canceling your telephone will increase your cable and internet bill to make up the difference (FIOS). With the rollout of set top boxes along a wide array of company offerings, Netflix and its peers are set to gain. Moreover, when a consumer buys a set top box and has to choose between Netflix, Amazon Prime or Hulu - content will rein king.
Disclosure: I have no positions in any stocks mentioned, and no plans to initiate any positions within the next 72 hours. I wrote this article myself, and it expresses my own opinions. I am not receiving compensation for it (other than from Seeking Alpha). I have no business relationship with any company whose stock is mentioned in this article.
Additional disclosure: I wrote this article myself and it is in my own personal opinion. Always contact a financial professional before executing any trades.